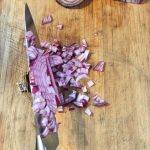 Print Recipe
How to Dice an Onion
Dicing an Onion is a basic kitchen skill. It's easy once you know how. Today we will learn how to mince an onion.
Cut the onion in half from the north pole to the south pole

Peel off the outer skin.

Cut the onion in small layers while holding the onion down with the palm of your hand.

Cut the onion into slices from the top.

Cut the onion from the north pole into slices and the minced pieces will fall right off! When you near the south pole, discard the end.
Use fresh firm onions for your recipes, they are the freshest and best.
If your recipe calls for a certain type of onion, use that type. Onions have a variety of flavors and your recipe is looking for just that flavor.
A small dice to your onion will add a ton of flavor to your recipe. Make sure that the pieces are as evenly cut as you can make them so that all of the pieces are the same size. This will help flavor your dish perfectly.
Use a VERY sharp knife, that's the safest thing to do and then be very careful!
Calories:
11
kcal
|
Carbohydrates:
3
g
|
Protein:
1
g
|
Fat:
1
g
|
Saturated Fat:
1
g
|
Sodium:
1
mg
|
Potassium:
40
mg
|
Fiber:
1
g
|
Sugar:
1
g
|
Vitamin C:
2
mg
|
Calcium:
6
mg
|
Iron:
1
mg