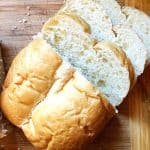 Print Recipe
How to Defrost Bread
Knowing how to thaw bread will save you a TON of time AND MONEY! You'll be freezing and thawing bread like a pro when you know how to defrost bread!
oven

Toaster

freezer

Counter
Remove the bread from the freezer and set it out on the counter for 2-3 hours before you plan to use it.

Heat the oven to 300 and place it into the oven for 5 minutes.

Use the bread as usual. Keep in a sealed container to keep fresh
When freezing bread, freeze it in portions that you will use it in. So, if you live alone, freeze sliced bread in 2-4 slices at a time.
Save your freezing bags. Bread doesn't make the bags dirty and it is easy to wipe them out and reuse them! (great for the environment and easy to store).
If you have just a few slices to thaw, they can be put directly into the toaster and heated as usual.
Calories:
72
kcal
|
Carbohydrates:
12
g
|
Protein:
2
g
|
Fat:
2
g
|
Saturated Fat:
1
g
|
Cholesterol:
13
mg
|
Sodium:
96
mg
|
Potassium:
29
mg
|
Fiber:
1
g
|
Sugar:
1
g
|
Vitamin A:
53
IU
|
Calcium:
23
mg
|
Iron:
1
mg