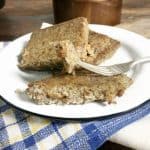 Print Recipe
How to Cook Sausage Patties in the Oven
Wonderful Breakfast Sausage fried in the OVEN without making a mess! Plus, make many at a time rather than cooking up 2 or 3 and splattering all over your stove! Come on, I'll show you how to cook sausage patties in the oven!
Rimmed Baking Sheet

Parchment Paper

knife

spatula

oven
Preheat the oven to 350 degrees. Place a piece of parchment paper across the bottom of a rimmed baking sheet and press down into the corners.

Remove the wrapping from the sausage. Cut into or shape into 2 oz patties (should make 8) and lay the patties onto the parchment lined baking sheet evenly spaced.

Once the oven is preheated, place the baking sheet onto the middle rack of the oven and close the door.

Bake for 10 minutes on one side and then flip using a spatula. Bake for another 3-6 minutes.

Use a meat thermometer and the patties are done when they reach 165. The centers will be brown with no more pink.

Drain the patties on a paper towel covered plate until ready to serve. Serve Hot.
If you do not have parchment paper, aluminum foil and a spray of cooking spray will work. Also you can use a bare cooking sheet, but you may have quite a lot of scrubbing to do afterwards. Make sure to oil the pan slightly if you are using aluminum foil or no cover at all.
If you buy the sausage that is in a log shape, simply remove the plastic wrapping and cut into slices for perfectly round sausage patties.
It is fine to bake your sausage with another dish you are cooking in the oven (like a breakfast casserole).
If you do not have a meat thermometer, I recommend getting one. You can find one in the cooking section of your local store or at any cooking store. Also available online through all kinds of outlets. I have some that I recommend in the Resources section of my website if you need a recommendation.
The higher quality sausage you purchase, the less fat it will have. The fat cooks off and you are left with meat that you are eating. Since I like to eat most of the meat I buy, I usually opt for the more expensive sausage because ultimately, I am paying for the meat to eat and not just grease that I will pour off and discard.
PRO TIP: Once the sausage is nearly cooked, turn on the broiler to high to crisp up the upper layer. You won't regret it. Just be careful and stand right there so as not to burn your sausage.
Calories:
172
kcal
|
Protein:
9
g
|
Fat:
15
g
|
Saturated Fat:
5
g
|
Cholesterol:
41
mg
|
Sodium:
361
mg
|
Potassium:
141
mg
|
Vitamin A:
43
IU
|
Vitamin C:
1
mg
|
Calcium:
5
mg
|
Iron:
1
mg