Wonderful Breakfast Sausage cooked in the OVEN without making a mess! Plus, make many at a time rather than cooking up 2 or 3 and splattering all over your stove! Come on, I'll show you how to cook sausage patties in the oven!
Why This Recipe Works
Easy to make
No mess
Short cooking time
Here's How It's Done
STEP 1. Preheat your oven to 350 degrees. Line a baking sheet with parchment paper. Lay your patties on your baking sheet.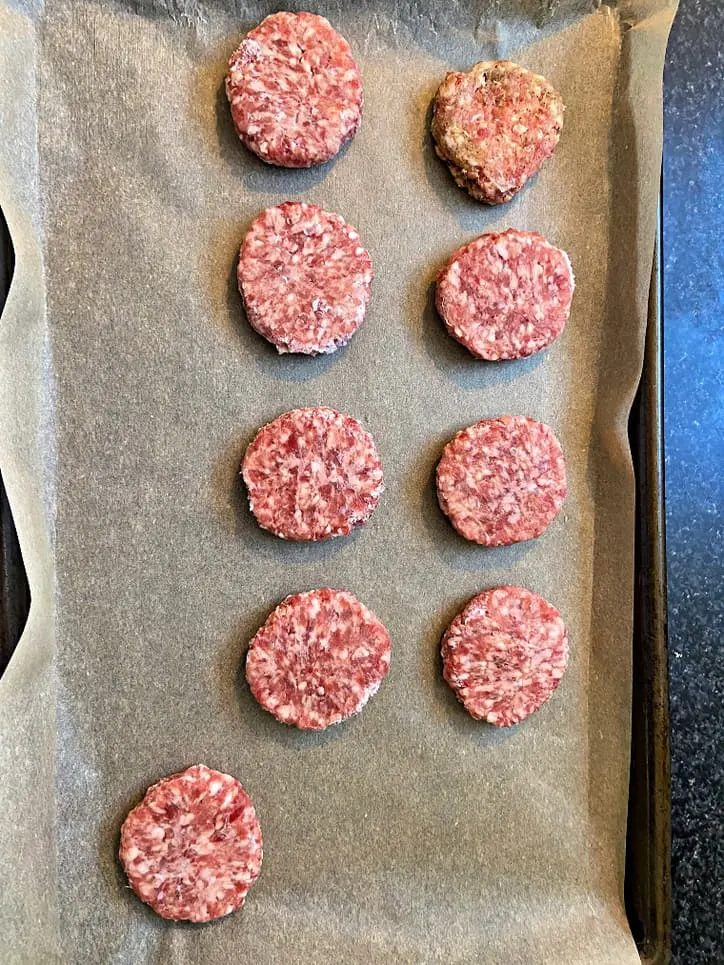 STEP 2. Place the baking sheet with the patties on it in the oven and cook for 10 minutes. Then flip. Cook till done.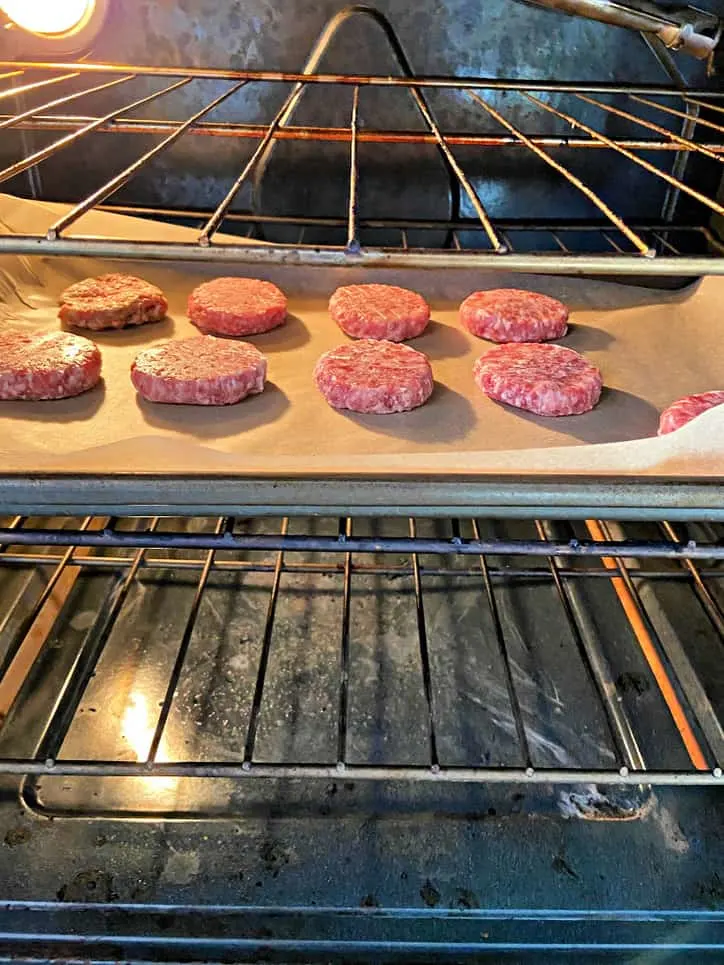 STEP 5. Take your breakfast sausage out of the oven and place them on a paper towel lined plate to drain. Serve hot! You'll notice, it's fine to round or square shapes for your sausage (or whatever shape you prefer).
Frequently Asked Questions (FAQ's).
How Do You Cook Raw Sausage Patties in the Oven?
Preheat the oven to 350 degrees

Put sausage on a parchment lined baking sheet

Put sausage in the oven

Cook 10 minutes then flip

Cook 3-6 more minutes then remove

Drain on a paper towel

Enjoy some wonderful oven baked sausage
What Kind of Pan Do I Use?
You want to use a baking sheet that has sides that go up about half an inch. This will keep any stray grease in the baking sheet and not in your oven.
Can You Bake Patty Sausage?
Yes, preheat your oven to 350, put the sausage patties on a parchment lined baking sheet, and cook until they reach 160 degrees and there is no more pink color.
What Sausage Do I Use?
You can use any sausage that you like. I prefer the Neese's Hot Sausage brand.
How Do I Know When It Is Done?
Your sausage is done when it is cooked through with no more pink in the middle. Its always best to use a thermometer and you'll want to cook the sausage until it reaches an internal temp of 160.
Do Sausage Have To Be Fully Cooked?
Yes. Sausage must be cooked to 160 degrees per USDA. Undercooked sausage could carry food borne pathogens that could lead to food poisoning.
How Long Should I Cook Sausage In the Oven?
13-16 minutes or until there is no more pink color and the internal temperature reaches 160 degrees.
Can I Freeze Sausage Patties?
Yes!
Raw Sausage Patties: Place the sausage meat into a freezer safe container (wrap in plastic wrap first if you are not using a resealable plastic bag). Place into the freezer and it is good for up to 6 months.
Cooked Sausage Patties: Place the cooked patties into a resealable plastic freezer bag, remove as much air as possible and freeze for up to 3 months.
How Long Do Sausage Patties Last?
Sausage Patties will last about 5 days in the refrigerator once cooked.
Do not allow sausage patties to sit out for more than 2 days.
How To Reheat Sausage Patties
Stove Top
Heat a frying pan to medium heat on the stove top with 1 Tbs of vegetable oil in the pan.

Add the sausage patty to the pan, quickly add 1 tsp of water to the pan and cover the patty with a pan lid. Allow to steam like this for about 1 minute, then flip, replace lid.
**Be careful not to spatter yourself with the water so as to avoid being burned.
Microwave
Place patty on a microwave safe plate. Cover with a paper towel.

Microwave on high for 1 minute and then for 30 second intervals until heated through.
Tips and Tricks for Perfect Sausage Patties
Make sure you use enough parchment paper to go up the sides of your pan. If you can contain most of the grease clean up will be much easier and faster.

Make sure that your sausage patties are uniform in size. This will prevent the patties cooking at different lengths of time with some over cooking and some undercooking.

When reheating the sausage put a paper towel over them to ensure that grease doesn't splatter inside your microwave.

Here's some great info on safely cooking sausage in the oven from the USDA.
If You Enjoyed This Recipe, You Might Also Enjoy….
Ya'll Help Me Out, OK?
Please leave me a comment and 5 STAR ( 🌟 🌟🌟🌟 🌟 ) review, I ALWAYS love to hear from you and your comments MAKE MY DAY! (Plus, it helps me out by letting everyone know that this is the place to find good recipes!)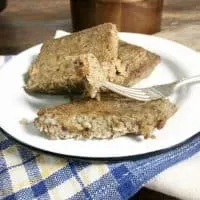 How to Cook Sausage Patties in the Oven
Wonderful Breakfast Sausage fried in the OVEN without making a mess! Plus, make many at a time rather than cooking up 2 or 3 and splattering all over your stove! Come on, I'll show you how to cook sausage patties in the oven!
Print
Pin
Rate
Instructions
Preheat the oven to 350 degrees. Place a piece of parchment paper across the bottom of a rimmed baking sheet and press down into the corners.

Remove the wrapping from the sausage. Cut into or shape into 2 oz patties (should make 8) and lay the patties onto the parchment lined baking sheet evenly spaced.

Once the oven is preheated, place the baking sheet onto the middle rack of the oven and close the door.

Bake for 10 minutes on one side and then flip using a spatula. Bake for another 3-6 minutes.

Use a meat thermometer and the patties are done when they reach 165. The centers will be brown with no more pink.

Drain the patties on a paper towel covered plate until ready to serve. Serve Hot.
Notes
If you do not have parchment paper, aluminum foil and a spray of cooking spray will work. Also you can use a bare cooking sheet, but you may have quite a lot of scrubbing to do afterwards. Make sure to oil the pan slightly if you are using aluminum foil or no cover at all.
If you buy the sausage that is in a log shape, simply remove the plastic wrapping and cut into slices for perfectly round sausage patties.
It is fine to bake your sausage with another dish you are cooking in the oven (like a breakfast casserole).
If you do not have a meat thermometer, I recommend getting one. You can find one in the cooking section of your local store or at any cooking store. Also available online through all kinds of outlets. I have some that I recommend in the Resources section of my website if you need a recommendation.
The higher quality sausage you purchase, the less fat it will have. The fat cooks off and you are left with meat that you are eating. Since I like to eat most of the meat I buy, I usually opt for the more expensive sausage because ultimately, I am paying for the meat to eat and not just grease that I will pour off and discard.
PRO TIP: Once the sausage is nearly cooked, turn on the broiler to high to crisp up the upper layer. You won't regret it. Just be careful and stand right there so as not to burn your sausage.
Nutrition
Nutrition Facts
How to Cook Sausage Patties in the Oven
Amount Per Serving
Calories 172
Calories from Fat 135
% Daily Value*
Fat 15g23%
Cholesterol 41mg14%
Sodium 361mg15%
Potassium 141mg4%
Protein 9g18%
Vitamin A 43IU1%
Vitamin C 1mg1%
Calcium 5mg1%
Iron 1mg6%
* Percent Daily Values are based on a 2000 calorie diet.
A VERSE TO SHARE
How do you talk to others about Jesus? Do you interject into the conversation and insist that the person needs to know Jesus? Do you assume that the other person Does NOT know Jesus first?
I can't tell you how many times someone has tried to convert me to Christianity when I am already Christian.
Somehow, that is such a turn off. If it turns me off, I'm sure its a turn off to someone who isn't Christian.
Something to think about.
1 Peter 3:15
But in your hearts honor Christ the Lord as holy, always being prepared to make a defense to anyone who asks you for a reason for the hope that is in you; yet do it with gentleness and respect