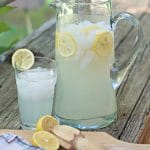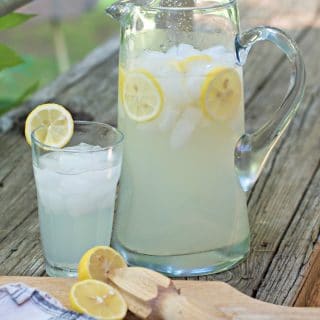 Print Recipe
Fresh Homemade Lemonade
Zesty, Sour, Sweet and JUST THREE INGREDIENTS? What's stopping you from making lemonade today? Fresh Homemade Lemonade is what you've been missing and your family will beg for more! So simple, you'll wonder why you didn't do it sooner!
In a saucepan, over low heat on the stovetop, heat 6 cups of water and 1 Cup of sugar. Stir continuously until the sugar is dissolved (about 2 minutes). Remove from heat immediately.

Roll the lemons on the counter top (this helps extract as much juice from each lemon as possible). Cut the lemon in half around the middle (not from stem blossom end, but around the equator). Squeeze the lemon juice from the lemon into a sieve held over a bowl in order to catch the seeds. Feel free to use a squeezer or a hand held reamer.

In a pitcher, mix the water sugar mixture with the lemon juice. Add lemon slices for garnish. Serve over ice. Refrigerate right away.
You'll want to buy the lemons in bags of several pounds. They are much more affordable this way.
The lemons for this recipe are about fist size. If yours are smaller, be sure to add more lemons to make up for the smaller size.
If you like added flavor and don't mind some pulp, you can zest the outside of the lemons and add that to your lemonade for a burst of lemon flavor.
Slice an extra lemon and add it to your lemonade for a beautiful garnish!
Try mixing your lemonade half and half with tea for a "Jack Palmer" refreshing drink.
Slice up strawberries, add blueberries or mint leaves to your lemonade for a spike of flavor.
Pro Tip: Use slightly less water and add it as ice to your lemonade so that it will be ice cold right away!
Calories:
128
kcal
|
Carbohydrates:
35
g
|
Protein:
1
g
|
Fat:
1
g
|
Saturated Fat:
1
g
|
Sodium:
11
mg
|
Potassium:
149
mg
|
Fiber:
3
g
|
Sugar:
28
g
|
Vitamin A:
24
IU
|
Vitamin C:
57
mg
|
Calcium:
33
mg
|
Iron:
1
mg