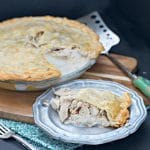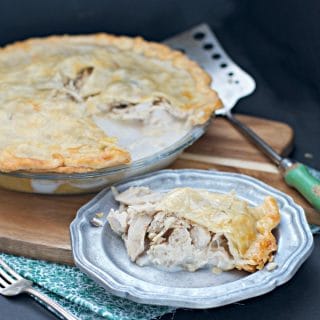 Print Recipe
Easy Chicken Pie - Homemade Chicken Pie Recipe
FULL of Chicken and the best light gravy you EVER tasted!  This easy Chicken Pie will have your family BEGGING for more so you better make two! Easy Chicken Pie - Homemade Chicken Pie Recipe!
Preheat the oven to 450. Press the pie crust into the bottom of a deep pie plate. Pinch along the edges. Scatter the shredded chicken into the pie crust. Whisk together the flour, stock and milk and then pour over the chicken. Salt and pepper the chicken according to taste. Cut the butter into small pea size pieces and place around the dish.

Unroll the second pie crust onto the top of the pie. Pinch the edges together to form a seal. Paint the top of the pastry crust with the beaten egg.

Bake at 450 x 20 minutes and then 375 for an hour. Allow to rest for 10 minutes before serving so that the juices will congeal.
Use the type of chicken that you prefer (white or dark meat) for this recipe, but most people seem to prefer the white meat.  
This recipe WILL be slightly watery in the crust, that is to be expected.  
If you allow the pie to sit in the fridge overnight, it does seem to taste better, but will become more soggy on the bottom crust. 
This is a terrific dish to take for office parties and holiday gatherings! It fits easily inside a gallon zip lock bag if made in an aluminum foil pan. 

If you are going to make this as a "take it and toss it" dish - which I recommend for hostess or office party situations - then use the "deep dish aluminum pie pan"  -it does give you a little wiggle room.

I recommend tossing any leftovers before leaving the office party - because, I mean, honestly - don't carry home a dirty disposable pie dish that everyone has had their hands on during cold and flu season.  The nurse in me just can't allow you to do that.  

Make sure to include reheating instructions for your hostess if you are leaving this with her as a hostess gift.  "Allow to thaw and then reheat at 350 for 30-45 minutes until heated through - cover with aluminum foil if the crust appears to be browning too quickly".

This pie could just as easily be a Turkey Pie if that is what you have left over after Thanksgiving - just saying..
I like to make several of these at once, keep them in the freezer and then, I am ready to go for either of the aforementioned situations OR on a night when I haven't planned a single thing for supper. Easy Chicken Pie is terrific with a salad or some roasted veggies
 
Calories:
373
kcal
|
Carbohydrates:
23
g
|
Protein:
28
g
|
Fat:
18
g
|
Saturated Fat:
6
g
|
Cholesterol:
102
mg
|
Sodium:
357
mg
|
Potassium:
492
mg
|
Fiber:
1
g
|
Sugar:
1
g
|
Vitamin A:
169
IU
|
Vitamin C:
1
mg
|
Calcium:
28
mg
|
Iron:
2
mg