Jump to Recipe
Amidst the festivities I know it seems a little difficult to know exactly what to do when someone says, "Hey, why don't ya'll come over for dinner on Friday?" or "Hey, let's have a potluck for work – everyone bring something". As for me, I work from home and my coworker is Pete. Pete never suggests a potluck, instead, he is often in the way, trying to sabotage my Loaves and Dishes work OR simply passing the worst gas you can imagine. Maybe you have human coworkers like this? I don't know – let's don't talk about them, that would be rude. Instead, we can talk about Easy Chicken Pie in just a moment.
In thinking about my coworker Pete, who is currently asleep at my feet. I thought you might like to see what it is like around here when we do photos. Here is a picture of Pete as he considers sabotaging the peanut butter cookie shoot. I turned my back for just a moment when trying to decide which of the two glasses to use in the photo. He is sneaky. I caught him though.
Anywho – the answer to being a last minute guest or taking something to a work potluck is RIGHT HERE. Easy Chicken Pie. This Easy Chicken Pie can be frozen (just wrap it really well). Conveniently, it fits right inside a ziplock bag if you make it in a disposable aluminum foil pan! You can take it as a gift for your hostess – OR – you can cook it before you leave and then simply reheat in your hostesses oven for a few minutes when you arrive. Same goes for the work pot luck.
I like to make several of these at once, keep them in the freezer and then, I am ready to go for either of the aforementioned situations OR on a night when I haven't planned a single thing for supper. Easy Chicken Pie is terrific with a salad or some roasted veggies.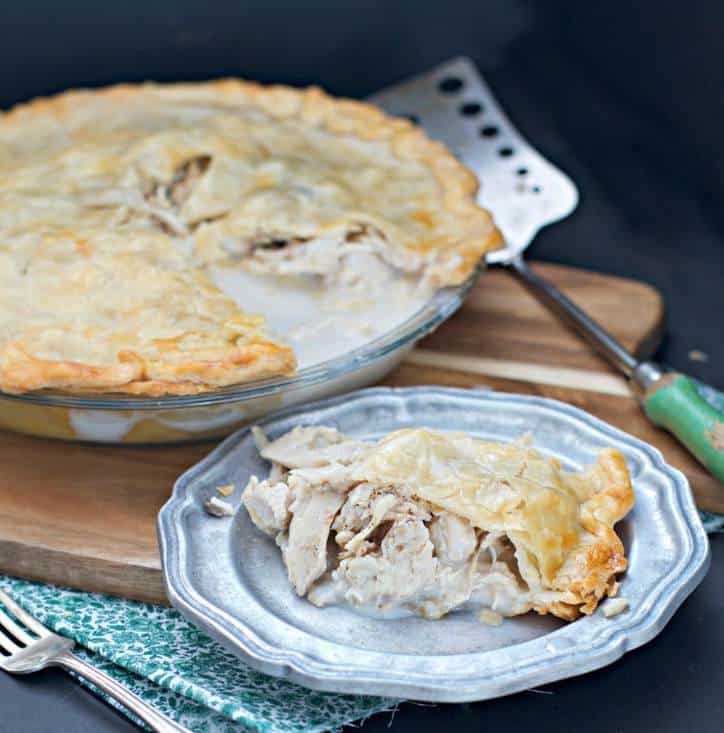 Easy Chicken Pie
TIPS AND TRICKS FOR Easy Chicken Pie
If you are going to make this as a "take it and toss it" dish – which I recommend for hostess or office party situations – then use the "deep dish aluminum pie pan" – I mean, really, it isn't deep dish – but it does give you a little wiggle room.

I recommend tossing any leftovers before leaving the office party – because, I mean, honestly – don't carry home a dirty disposable pie dish that everyone has had their hands on during cold and flu season. The nurse in me just can't allow you to do that.

Make sure to include reheating instructions for your hostess if you are leaving this with her as a hostess gift. "Allow to thaw and then reheat at 350 for 30-45 minutes until heated through – cover with aluminum foil if the crust appears to be browning too quickly".

This pie could just as easily be a Turkey Pie if that is what you have left over after Thanksgiving – just saying.


INSPIRATION FOR Easy Chicken Pie

This recipe comes from the hand written collection of recipe cards that I found at a recent estate sale. I covered that sale HERE and included photos of an impressive collection of canned goods. I am still thinking about that canned food shelf.

I really need to run – I can hear Pete in the other room now getting into something that he shouldn't. What else is new? I believe I have told you before that I have to remember to put him outside when I do photo shoots? Does anyone need an approximately 14 year old raggedy 35 lb dog of questionable breeding? Potty trained but otherwise not well trained at all. Arrived here 4 years ago as a stray, appearing to be on his very last leg and probably approaching death's doorstep. Is currently as terrible as ever but perfectly healthy. Has a penchant for the trashcan. Terrific pet for someone who needs their patience tested.
THE RECIPE FOR Easy Chicken Pie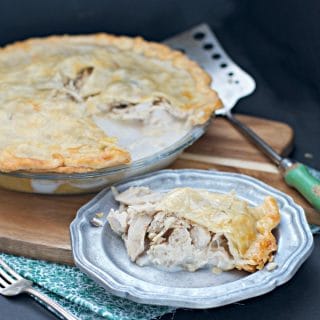 Easy Chicken Pie
Easy Chicken Pie
Print
Pin
Rate
Cook Time:
1
hour
10
minutes
Total Time:
1
hour
30
minutes
Ingredients
2

lbs

chicken breast - cooked and cut into bite sized pieces or shredded

2

refrigerated pie crust

2

tbs

flour

1/3

cup

chicken stock

1/3

cup

whole milk

Salt and pepper to taste

2

tbs

butter

1

beaten egg
Instructions
Preheat the oven to 450. Press the pie crust into the bottom of a deep pie plate. Pinch along the edges. Scatter the shredded chicken into the pie crust. Whisk together the flour, stock and milk and then pour over the chicken. Salt and pepper the chicken according to taste. Cut the butter into small pea size pieces and place around the dish.

Unroll the second pie crust onto the top of the pie. Pinch the edges together to form a seal. Paint the top of the pastry crust with the beaten egg.

Bake at 450 x 20 minutes and then 375 for an hour. Allow to rest for 10 minutes before serving so that the juices will congeal.
Notes
Use the type of chicken that you prefer (white or dark meat) for this recipe, but most people seem to prefer the white meat.  
This recipe WILL be slightly watery in the crust, that is to be expected.  
If you allow the pie to sit in the fridge overnight, it does seem to taste better, but will become more soggy on the bottom crust. 
Nutrition
Nutrition Facts
Easy Chicken Pie
Amount Per Serving
Calories 250
* Percent Daily Values are based on a 2000 calorie diet.
A VERSE TO SHARE
In thinking about the patience that it takes to deal with Pete – I thought about how it probably requires a lot of patience of my family to deal with me. Sometimes I feel that way about them. The glue that holds us all together though is love. Without love, it all means nothing. That reminded me of this verse in 1 Corinthians. I hope this speaks to you today too.
1 Corinthians 13: If I speak in the tongues of men or of angels, but do not have love, I am only a resounding gong or a clanging cymbal. If I have the gift of prophecy and can fathom all mysteries and all knowledge, and if I have a faith that can move mountains, but do not have love, I am nothing. If I give all I possess to the poor and give over my body to hardship that I may boast, but do not have love, I gain nothing.
Love is patient, love is kind. It does not envy, it does not boast, it is not proud. It does not dishonor others, it is not self-seeking, it is not easily angered, it keeps no record of wrongs. Love does not delight in evil but rejoices with the truth. It always protects, always trusts, always hopes, always perseveres.
Love never fails. But where there are prophecies, they will cease; where there are tongues, they will be stilled; where there is knowledge, it will pass away. For we know in part and we prophesy in part, but when completeness comes, what is in part disappears. When I was a child, I talked like a child, I thought like a child, I reasoned like a child. When I became a man, I put the ways of childhood behind me. For now we see only a reflection as in a mirror; then we shall see face to face. Now I know in part; then I shall know fully, even as I am fully known.
And now these three remain: faith, hope and love. But the greatest of these is love. ~1 Corinthians 13.