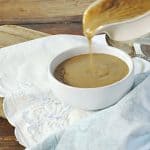 Print Recipe
How to Make Gravy Without Drippings
This creamy easy flavorful gravy will make the perfect gravy lake with your mashed potatoes and will drip onto and enhance everything about your perfect meat dish. Easy instructions and a video are here for how to make gravy without drippings. This is a comforting and hearty gravy that is so easy that anyone can make it. No drippings, no special ingredients are required. You probably have everything you need right now. PLUS I give you some extra things you can do to add even MORE flavor!
In a skillet over medium heat, melt the butter and vegetable oil together.

Once melted, add the onion and garlic and cook till soft and fragrant

Add the flour and cook for at least 2 minutes stirring frequently.

Pour the stock into the frying pay by the ½ cup full and whisk until smooth with each addition.

Add the poultry seasoning, bay leaf, kitchen bouquet, Better than Bouillon, salt and pepper and allow to come to a slow boil.

Cut the heat to low and taste. Add more salt and pepper if needed.
This is an easy recipe for how to make gravy without drippings.
There are a lot of substitutions you can make and ingredients that you CAN leave off if you have to. These are listed in the post and on the recipe.
The essential ingredients for this recipe are: butter or oil in the amount of 4 Tbs total, some sort of veggie from the following for flavor: onion, garlic, mushroom, celery.
You will have to have something for thickening such as flour or cornstarch.
Salt and pepper.
A liquid like stock.
You can make your own stock easily using veggies, meat or better than bouillon or even a bouillon cube melted in water (but if you use that, you will need to adjust the salt in the recipe).
It is very important to whisk as you go to keep the clumps out of the gravy.
The kitchen bouquet and Better than Bouillon are not completely necessary BUT they do add a tremendous amount of flavor.
Both keep for a very long time and are worth the purchase.
If you can't find poultry seasoning, use 1 tsp dried thyme, 1 tsp dried sage and 1 tsp dried rosemary to replace.
You will probably have to add more salt and pepper as well.
There are MANY tips in the post for this post (too many to put in the notes on this recipe), please read through the post if you need more info.
Calories:
130
kcal
|
Carbohydrates:
9
g
|
Protein:
2
g
|
Fat:
9
g
|
Saturated Fat:
6
g
|
Cholesterol:
12
mg
|
Sodium:
343
mg
|
Potassium:
110
mg
|
Sugar:
2
g
|
Vitamin A:
120
IU
|
Vitamin C:
1.8
mg
|
Calcium:
11
mg
|
Iron:
0.5
mg