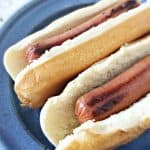 Print Recipe
How To Boil Hot Dogs
Make Your Own Steaming Hot, Rich, Flavorful and Homemade on a Perfectly Toasted Bun When you know the secret to Perfectly Cooked How To Boil Hot Dogs!
1

Quart

of Water

½

tsp

Salt

1-8

Hot Dogs
our the water into a medium sized sauce pan and set the heat on medium high.

Add the salt to the water.

Place the hot dogs in the water.

Continue heating on medium high until water begins to boil. Cut the heat back slightly so that pan won't boil over. Simmer like this for 5 minutes. Turn off the heat and drain and serve.
General Information:
Hot Dogs are fully cooked when you purchase them, so boiling is really just heating them up.
Make sure to give guests plenty of options for toppings.
Toast the buns with butter! You won't be sorry!
TURNING UP THE FLAVOR:
The recipe above is the BASIC hot dog recipe.
If you REALLY want to add flavor choose one of the following:
Add a bouillon cube to the cooking water at the start (any flavor works).
Cook the hot dogs in a chicken, beef or vegetable stock!
Cut the water by ½ (2 Cups) and add a can of beef consume soup to the water, let the hot dogs boil in that soup.
Add a beer, ½ stick of butter, 1 tbs of hot sauce, 1 tsp of onion powder and 1 tsp of garlic powder to 2 cups of water and boil the hot dogs in that mixture.
Calories:
130
kcal
|
Carbohydrates:
1
g
|
Cholesterol:
2
mg
|
Sodium:
189
mg
|
Potassium:
8
mg
|
Calcium:
5
mg
|
Iron:
0.1
mg