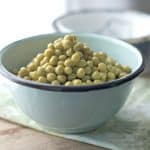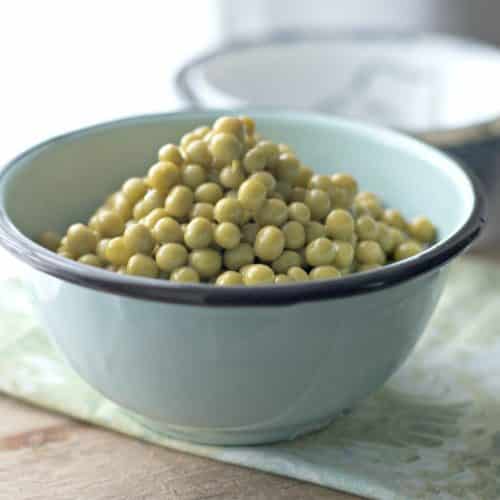 Print Recipe
HOW TO COOK FROZEN PEAS
Bright, green, sweet, tender and flavorful! Amazing results with how to cook frozen peas. Serve these to friends and they are gonna believe you are a magician, you aren't going to tell them, right?
16

oz

package of frozen peas

½

cup

chicken stock

2

Tbs

Butter

1

tsp

onion powder

1

tsp

garlic powder

1

tsp

white sugar

¼

tsp

Cayenne Pepper

½

tsp

cider vinegar

½

tsp

salt

½

tsp

black pepper
In a medium saucepan on the stove top, over medium high heat, bring the chicken stock to a rolling boil.

Add the thawed peas to the chicken stock and bring back to a boil.

Cut the heat to medium and heat for 5 minutes or until the peas are completely heated through. Add more chicken stock by the ½ cup full if the stock in the pot evaporates.

Once the peas are heated through, pour off the chicken stock.

Add the butter, onion powder, garlic powder, sugar, cayenne pepper, cider vinegar, salt and pepper. Mix well and continue to heat over medium heat until the butter melts and the peas are well coated.

Serve hot
If you don't have chicken stock, feel free to use the same amount of water and a bouillon cube instead or chicken stock concentrate. Simply dissolve the bouillon in the water first.
Vegetarian? It's fine to substitute vegetable broth instead.
If you have fresh onion or garlic, feel free to substitute, simply mince and add to the chicken stock initially.
If you are concerned about the cayenne pepper, just go with a pinch instead.
You won't' taste the vinegar, it just adds a pop.
If your peas don't taste vibrant enough at the end, add more salt and pepper.
I use less for the recipe because I don't want anyone to over salt since it can't be removed.
PRO TIP:  Frozen peas have a skin that is a little more thick and noticeable than canned peas.  If this bothers you, allow the peas to cook a little longer OR choose the early baby peas their skin is less developed and has a nicer mouth feel. 
Calories:
169
kcal
|
Carbohydrates:
20
g
|
Protein:
7
g
|
Fat:
6
g
|
Saturated Fat:
3
g
|
Cholesterol:
16
mg
|
Sodium:
391
mg
|
Potassium:
334
mg
|
Fiber:
6
g
|
Sugar:
8
g
|
Vitamin A:
1145
IU
|
Vitamin C:
48.2
mg
|
Calcium:
30
mg
|
Iron:
1.8
mg