Bright, green, sweet, tender and flavorful are the best! You can have amazing results with how to cook frozen peas by following this simple recipe. Serve these to friends and they are gonna believe you are a magician, who could make frozen peas taste this delicious? YOU! That's who!
I'll show you all the best ways to make frozen peas on the stovetop, microwave, oven, crockpot, pressure cooker or instapot.
WHY THIS RECIPE WORKS
Easy
Uses common kitchen stock ingredients.
Unbelievable FRESH taste
Affordable!
Fresh from the garden taste with right out of the freezer ease.
HERE'S HOW IT'S DONE…
STEP 1.
Place the frozen peas into the saucepan.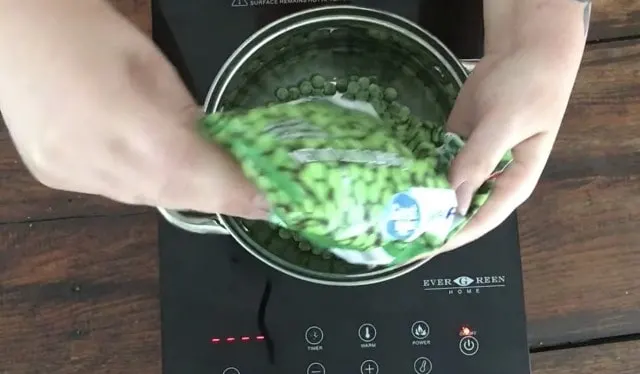 STEP 2.
Add Chicken Stock.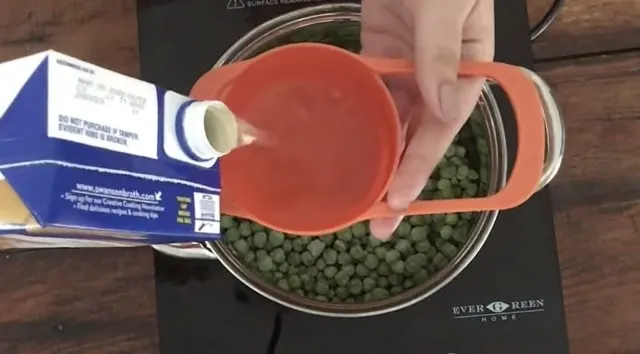 STEP 3.
Add salt, pepper and spices. Add butter.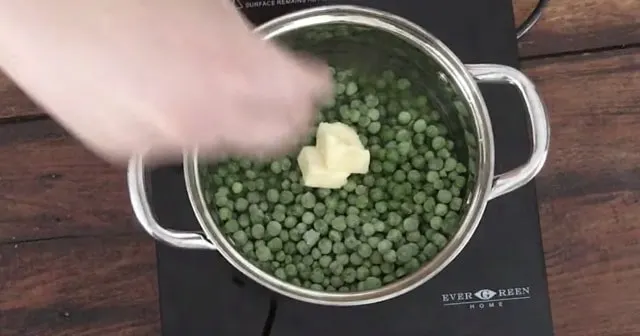 FREQUENTLY ASKED QUESTIONS (FAQ's)
WHAT IS A FROZEN PEA?
They are garden fresh peas that have been flash frozen and preserve much of the natural vitamins and minerals.
ARE THEY GOOD FOR ME?
Certainly! They are full of Vitamins K, C and A and contain all of the nutrients of fresh because they are flash frozen.
If you ever wondered when peas or other veggies are in season, here's a great article about that from my friends at Back Yard Boss.
HOW CAN I MAKE THEM TASTE BETTER?
There are lots of things you can add to make them taste better…
Add a little butter

a teaspoon of sugar will do amazing things!
a 1/2 tsp of lemon juice or vinegar is amazing.

Chicken Stock

Garlic Powder

Onion Powder

Cumin

Cayenne Pepper

Add other vegetables like carrots!
HOW CAN I USE THEM FOR BABY FOOD?
Simply thaw the peas,
DO NOT add any extra ingredients other than ½ cup of water per 2 Cups frozen peas.
Grind the peas to a baby food consistency. (Use blender, food processor, hand grinder)
WHAT CAN I SERVE WITH THIS DISH?
Any great dinner dish works, but we LOVE peas with Pot Roast and Carrots! YUM! Always fantastic with an appetizer of Bacon Cheddar Loaded Ranch Dip!
TO THAW THE PEAS…
Place the peas you want to cook in a colander and run cool water from the faucet over the top for 5-10 minutes.
Or
Set the peas you want to cook in the refrigerator the day before you plan to cook them.
HOW TO COOK IN THE MICROWAVE
Place all of the items from the stovetop recipe into a large microwave safe bowl.

Cover with plastic wrap or lid.

Heat for 2 minutes, stir, then repeat in 30 sec intervals until heated through.

Drain and serve.
HOW TO COOK IN THE OVEN
Preheat oven to 400.

Place peas into a oven safe dish.

Add the chicken stock.

Mix together the onion powder, garlic powder, cayenne pepper, salt, pepper and vinegar and add to the dish

Cover with aluminum foil.

Bake for 20 minutes. Serve hot.
HOW TO COOK IN THE CROCKPOT
Place all of the ingredients noted for stove top preparation into the crockpot.

Set crockpot on low and cook for 4-5 hours.
HOW TO COOK IN THE PRESSURE COOKER OR INSTAPOT
Add all of the ingredients noted in the recipe for stovetop preparation.

Heat to high pressure for 10 minutes.

Allow to naturally release.

Serve hot.
IF YOU ENJOYED THIS RECIPE, YOU MIGHT ALSO ENJOY…
The Recipe for How to Cook Canned Peas and Carrots
How to Cook Canned Black Eyed Peas
Or
Any of our Canned Food Recipes!
TIPS AND TRICKS FOR A PERFECT RECIPE!
Your peas will cook more evenly if you thaw them first. See notes above.

The point of cooking the peas in the chicken stock is to steam them, that is why we aren't using too much liquid, we just want to steam them.

If you like soft peas, cook them a little longer, if you prefer more firm peas, cook them a little less.

The skin on frozen peas tends to be more noticeable than with canned peas, if this is a problem for you, cook a little longer.

See the notes after the recipe for substitution options.
YA'LL BE SWEET NOW, OK?
Be sweet and leave me a 5 STAR COMMENT 🌟🌟🌟🌟🌟 below, please. It helps others to find the recipes here at Loaves and Dishes.
Remember to join me on social media and sign up for my newsletter so I can send you the HOT COOKING TIP of the WEEK!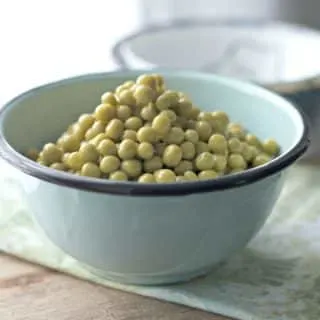 HOW TO COOK FROZEN PEAS
Bright, green, sweet, tender and flavorful! Amazing results with how to cook frozen peas. Serve these to friends and they are gonna believe you are a magician, you aren't going to tell them, right?
Print
Pin
Rate
Ingredients
16

oz

package of frozen peas

½

cup

chicken stock

2

Tbs

Butter

1

tsp

onion powder

1

tsp

garlic powder

1

tsp

white sugar

¼

tsp

Cayenne Pepper

½

tsp

cider vinegar

½

tsp

salt

½

tsp

black pepper
Instructions
In a medium saucepan on the stove top, over medium high heat, bring the chicken stock to a rolling boil.

Add the thawed peas to the chicken stock and bring back to a boil.

Cut the heat to medium and heat for 5 minutes or until the peas are completely heated through. Add more chicken stock by the ½ cup full if the stock in the pot evaporates.

Once the peas are heated through, pour off the chicken stock.

Add the butter, onion powder, garlic powder, sugar, cayenne pepper, cider vinegar, salt and pepper. Mix well and continue to heat over medium heat until the butter melts and the peas are well coated.

Serve hot
Notes
If you don't have chicken stock, feel free to use the same amount of water and a bouillon cube instead or chicken stock concentrate. Simply dissolve the bouillon in the water first.
Vegetarian? It's fine to substitute vegetable broth instead.
If you have fresh onion or garlic, feel free to substitute, simply mince and add to the chicken stock initially.
If you are concerned about the cayenne pepper, just go with a pinch instead.
You won't' taste the vinegar, it just adds a pop.
If your peas don't taste vibrant enough at the end, add more salt and pepper.
I use less for the recipe because I don't want anyone to over salt since it can't be removed.
PRO TIP: Frozen peas have a skin that is a little more thick and noticeable than canned peas. If this bothers you, allow the peas to cook a little longer OR choose the early baby peas their skin is less developed and has a nicer mouth feel.
Nutrition
Nutrition Facts
HOW TO COOK FROZEN PEAS
Amount Per Serving
Calories 169
Calories from Fat 54
% Daily Value*
Fat 6g9%
Cholesterol 16mg5%
Sodium 391mg16%
Potassium 334mg10%
Carbohydrates 20g7%
Protein 7g14%
Vitamin A 1145IU23%
Vitamin C 48.2mg58%
Calcium 30mg3%
Iron 1.8mg10%
* Percent Daily Values are based on a 2000 calorie diet.
***This post originally appeared on Loaves and Dishes on June 19, 2019 and has been updated with new resources, improved copy, equipment in the recipe, what this can be served with***
A VERSE TO SHARE
Have you ever considered the things that you NEED to do that you ARE NOT doing? That is a LONG LIST for me. How about you?
Most of the time, I barely have the strength to make it through the day ahead and I'm already looking forward to bedtime tonight. That isn't because I'm actually tired, it's because a lot of what I have to do is HARD and I don't want to face doing it.
That isn't the message of 2 Timothy though, it's time to get moving through it.
2 Timothy 1:7
For God did not give us a spirit of timidity, but a spirit of power, of love and of self-discipline.