Jump to Recipe
Golden crispy french fries with a perfect crust belong in your home too! We don't have to depend on the restaurant any more! I'll show you how to cook frozen fries (so that they taste good!).
Crunchy, crispy and with a golden tasty edge and soft pillowy center. Isn't that how you LOVE your fries? Me too! Today we will cover all the ways to get that perfect fry and I'll show you in the video my own favorite way to prepare fries!
WHY THIS RECIPE WORKS
It uses only a little oil

Adds the perfect seasoning to the fries

Puts a prefect crunch on the edge of the fries!
MANY WAYS TO COOK A FRENCH FRY
I fully recommend cooking french fries…
In the oven

Using a frying pan on the stove top

In an air fryer
But I do not recommend trying to cook frozen fries in the microwave. They turn out mushy every single time (unless you have the ones that come in a special package and are specifically formulated for cooking in the microwave.
TO COOK FROZEN FRIES IN A SKILLET
First heat oil at a depth of ¼ inch in the bottom of your skillet over medium high heat.
When the oil is glistening hot and when a drop of water spatters loudly
Add a large handful of frozen fries to the oil
Cook until the amount of crispiness that you prefer
Dip from the oil with a slotted spoon or spatula and drain on a paper towel
Apply salt and pepper while draining.
If you prefer less oil, you may wish to follow the instructions in the recipe card below.
TO COOK FROZEN FRIES IN AN AIR FRYER
Spray the basket of the air fryer with cooking spray
Put the amount of fries in the basket that your fryer will allow (handful)
Cook at 400 degrees for 18-20 minutes.
Shake well during cooking at least once.
FREQUENTLY ASKED QUESTIONS
CAN I COOK MY FRENCH FRIES ON ALUMINUM FOIL
Yes, I recommend lining your baking sheet with aluminum foil (shiny side up) to help with browning and for easy clean up!
CAN I COOK MY FRENCH FRIES WITHOUT ANY OIL AT ALL?
Yes, actually you CAN cook your french fries without any oil at all, however, the crunchy exterior will not be as pleasing to your taste buds.
You can give your fries a burst of flavor by spraying them with cooking spray.
If oil is not your thing, you might try an airfryer!
DO FROZEN FRENCH FRIES EXPIRE?
Yes, they do. Check the label on your package to find the expiration date for your french fries.
HOW LONG ARE MY FRIES GOOD FOR?
Once you cook a frozen fry, it will be good for about 5 days if you cover and put in the fridge. That said, it will only taste good for a few hours. Follow the steps for reheating.
HOW TO REHEAT FRIES
To reheat your fries, use 2 Tbs vegetable oil. Toss the fries to coat in oil. Bake in the oven at 400 for about 5-8 minutes till heated through.
WHAT CAN I SERVE WITH MY FRIES?
How to Cook Canned Collard Greens
LETS SEE HOW THIS IS DONE…
Place frozen fries on a baking sheet covered in aluminum foil, pour on oil and seasoning salt, arrange so that the fries have plenty of space on the pan.
Bake for about 20 minutes at 400 degrees (refer to your package of fries for proper cooking time and temp).
Serve hot!
YA'LL BE SWEET AND HELP ME OUT, OK?
Leave me a 5 STAR 🌟🌟🌟🌟🌟 Comment below. If you made this recipe, I would love for you to share it with me on social media or just email me at wendi(at sign)loavesanddishes.net. Reader comments are the best. I answer right back!
Ya'll MAKE MY DAY when you leave me a comment 🌟🌟🌟🌟🌟 or send me an email!
Join me on social media by clicking the links at the top of the page!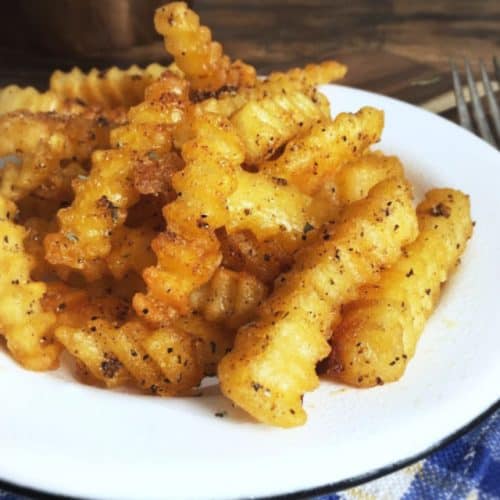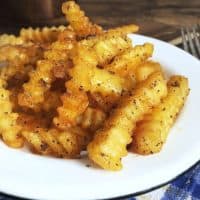 HOW TO COOK FROZEN FRIES
Golden crunchy perfect restaurant quality fries made right at home in the oven using less oil and more flavor! You can't go wrong!
Print
Pin
Rate
Ingredients
1

lb

frozen french fries

1/4

cup

vegetable oil

1

Tbs

Season All salt

salt and pepper

to taste
Instructions
Preheat oven to 400 degrees

Cover baking sheet with aluminum foil (Optional step but it does make clean up easier)

Spread the fries out across the baking sheet

pour oil and season all salt onto the baking sheet with the fries

Using your hands, mix the oil, seasoning and salt well. Spread the french fries out so that they are not touching as much as possible.

Sprinkle with a small bit of additional salt and pepper according to taste.

Bake at 400 for about 20 minutes (refer to the package instructions for time and temp for your particular french fries)

Remove from the oven and serve hot
Notes
Make sure to refer to your own package of french fries for time and temp baking settings, as this will differ with different brands.
If you like your fries more crispy, allow to bake longer.
It's important to mix by hand so that the oil is evenly distributed.  Keep a towel close by to wipe your hands on afterward! 
Change up the season all salt with garlic or onion powder and cayenne pepper for a slight change. 
Nutrition
Nutrition Facts
HOW TO COOK FROZEN FRIES
Amount Per Serving
Calories 824
Calories from Fat 549
% Daily Value*
Fat 61g94%
Sodium 4599mg192%
Potassium 975mg28%
Carbohydrates 68g23%
Protein 6g12%
Vitamin C 14.3mg17%
Calcium 20mg2%
Iron 3mg17%
* Percent Daily Values are based on a 2000 calorie diet.
A VERSE TO SHARE
Have you ever gotten lost while driving to a new place and felt absolutely panicked? Boy, I have! It happens less and less now because of my trusty GPS, but I can recall that panicked feeling easily if I just think about it for a second.
It's the same feeling I had as a small child when I would lose my mom in a store someplace.
Probably the same feeling she had when she lost me while I was hiding from her in the clothing racks at Belks.
Did you ever consider how many stories in the Bible there are about people who are "lost"? Think about that for a second.
Of course, there are lost souls who Jesus helps them find their way.
Paul certainly felt lost while locked in prison, being stoned or many of the other tragedies that befell him.
Moses and his entire clan lost in the dessert for 40 years.
Noah, drifting around in the flood waters for 40 days and nights
Seriously, it is a major theme.
When I put the two together, my feeling of panic when I'm lost with all the stories of those who are lost in the Bible I think God is trying to me something.
God is the answer for LOST PEOPLE!
Thank goodness, He is after all, the Good Shepherd!
Luke 15: 3-7
Then Jesus told them this parable: "Suppose one of you has a hundred sheep and loses one of them. Doesn't he leave the ninety-nine in the open country and go after the lost sheep until he finds it? And when he finds it, he joyfully puts it on his shoulders and goes home. Then he calls his friends and neighbors together and says, 'Rejoice with me; I have found my lost sheep.' I tell you that in the same way there will be more rejoicing in heaven over one sinner who repents than over ninety-nine righteous persons who do not need to repent