Well Butter My Butt and Call me a Biscuit!!
YOU DID IT!!!
CONGRATULATIONS AND WELCOME!!!!
YOU ARE AN OFFICIAL LOAVES AND DISHES INSIDER!
YOU (YES, YOU!) will soon be serving dinners that your family CAN NOT resist! You will see plates licked clean as they BANG ON THE TABLE for MORE!!!
Check your email inbox for an email from me very soon!
Other new members of the Loaves and Dishes Community have told me that the RECIPE BOX (It is one of the tabs just above this page) is a GREAT place to start finding just the right recipe for dinner TONIGHT!
I'll be back in touch when a new recipe comes out and after that you can look for emails from me once or twice per week giving you a heads up about the great new recipes and helpful kitchen tips at Loaves and Dishes! I'll also be sending special information that is only meant for my email subscribers. You are one of the ELITE few!
You'll be WOW'ing them every single day with TABLE BANGING flavor!
Would you do me one little favor before you go?
I love to get to know my new subscribers. Would you send me a quick email (you can simply hit "reply" to the email that brought you here – and it will go straight to my inbox) and share with me, what is your biggest challenge in the kitchen? I absolutely PROMISE to read it and consider how best to help you through this website.
Now – I promised you something, didn't I? Here it is – just CLICK THE BOOK below to be taken to your free download of 9 Secrets to Immediate Kitchen Confidence!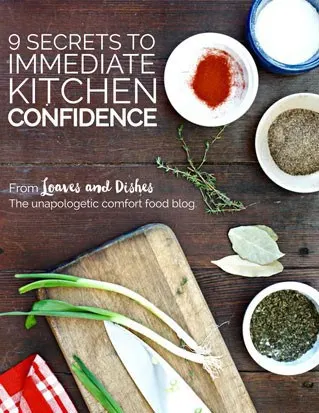 OR, you can CLICK THIS LINK TO GET THE BOOK
Again, thanks for joining me!
Wendi