Jump to Recipe
You ask me and I answer, that is how this website thing works.  More than once, someone has asked, "HOW TO COOK CANNED PINTO BEANS"? I always answer by email, but today I am answering here, "HOW TO COOK CANNED PINTO BEANS".
Perhaps you already know how to cook canned pinto beans.  If so, good for you! You are excused and I hope you will go read a different page on this website.  The recipe for my Chocolate Cake is GREAT and for a more advanced cook.  How about giving these Marinated Pork Chops a try – yum!  These Cowboy Baked beans are the bomb!
Maybe you are saying to yourself, Loaves and Dishes is about home made foods from scratch.  While that is true, it is also true that sometimes people need a little help catching up in order to gain kitchen confidence.  
SEARCHING BROUGHT ME HERE…
So, if you were searching for "How to cook canned pinto beans" and it brought you to Loaves and Dishes then I offer a BIG WELCOME!  I hope you will stick around, sign up for the newsletter and let me show you some other things that you can accomplish in the kitchen!

One day I hope you will be cooking Pinto beans from dried beans on your stove top, in the crock pot or in the pressure cooker.  Those recipes can wait for another day though, first, let's conquer how to cook canned pinto beans !
HAVE YOU BEEN DOCTORING YOUR PINTO BEANS?…
If you have been doctoring up your canned pinto beans for a long time, please leave me a comment below and let me know what you add to pinto beans to make them taste just right?
I would LOVE to see what you did with your pinto beans, please tag me on social media so I can visit you and leave you a big "HOOT HOOT!!".  
Don't forget to subscribe to the Loaves and Dishes newsletter (right hand column, red banner) and get your "9 Steps to Immediate Kitchen Confidence" for FREE and a weekly newsletter with my weekly Hot Cooking Tip!
THE STEPS FOR DOCTORING CANNED PINTO BEANS…
Is doctoring the right word?  I don't know, that is what my grandma, mom and aunt always called it.  Anyway, I'm hoping you know what I mean by saying, "Canned beans need a little doctoring".  
You will need to…
Add some oil or butter or both.

Try adding flavor items (like bacon, onion, garlic)

Definitely add some seasoning (salt and pepper)

Most canned veggies need a little sugar, seriously, add just a tad.

That's it!  You are good to go!
TIPS AND TRICKS FOR HOW TO COOK CANNED PINTO BEANS
It is important to do your cooking math!  One can of beans feeds about 2 people, so if you are feeding more people simply divide the number of people you have by 2 and that's how many cans you need.

Just increase the other ingredients by however many cans of beans you need to use to feed your family.

Always drain the liquid off of the pinto beans before doing anything else.  Some might say there is flavor in that liquid, but honestly, most of the time I think that liquid doesn't taste very good.  It isn't the type of flavor I look for in my bean recipes!

Rinse the beans too if the liquid looks really thick and sticky.  Sometimes it does. I don't know why this happens, but if you are in question, then put your beans in a colander or strainer and rinse them off with cold tap water.

In the recipe, I give instructions for adding onion, garlic and bacon.  All of those are great ingredients but not entirely necessary if you don't have them available.  What is necessary is salt, pepper and a tiny bit of sugar.
CANNED PINTO BEANS…
Canned beans are already cooked enough.  You actually could just eat them right out of the can but who would want to do that?  We want to add a little flavor here instead.

There is a tiny bit of hot sauce in my beans which isn't enough hot sauce to burn your mouth, it is enough to give your tongue something interesting to experience.  If you are sensitive to hot stuff, feel free to leave it off.

When you serve your pinto beans, keep in mind that a lot of people like fresh chopped onion and hot sauce with their beans.  This adds a little crunch and spice to the beans and is a nice addition. How about adding some crunchy bacon sprinkled on top for another nice addition?

You are going to be asking yourself, "Why in the world would I add sugar to beans?".  I'll just give you the final answer, our tongues like to taste a little something sweet combined with salty and smoky, it just makes everything turn out right.
IF YOU ENJOYED HOW TO COOK CANNED PINTO BEANS, YOU  MIGHT ALSO ENJOY THESE SUPER SIMPLE RECIPES….
MORE PINTO BEANS RECIPES FROM LOAVES AND DISHES!
The Secret to Perfect Old Fashioned Pinto Beans
How to Cook Pinto Beans on the Stovetop
TOOLS I USE IN MY KITCHEN
A good can opener is imperative in the kitchen and is especially important for HOW TO COOK CANNED PINTO BEANS!   Years ago I had a dollar store can opener and it was a pain to use every single time I used it.
I finally resorted to opening cans with a big old kitchen knife (I am not kidding).  Do not do such a dangerous thing!  Just spend a few dollars and get a good can opener.  I have this Kitchen Aid opener (I bought mine at Marshalls) and have had it for about 6 years, still works great. (This is an affiliate link and you can click the photo to go straight through to Amazon to look at it and compare prices)
YA'LL HELP ME OUT NOW, YA HEAR?
Please leave me a 5 star 🌟🌟🌟🌟🌟  comment below in the comment section, all right? I would LOVE to know if you made this recipe or even if you are planning to! Of course, head on over to Pinterest, Facebook and Instagram and tag me with some photos of your creation!
I can't wait!
Ya'll know I love your comments!! ❤
THE RECIPE FOR HOW TO COOK CANNED PINTO BEANS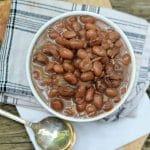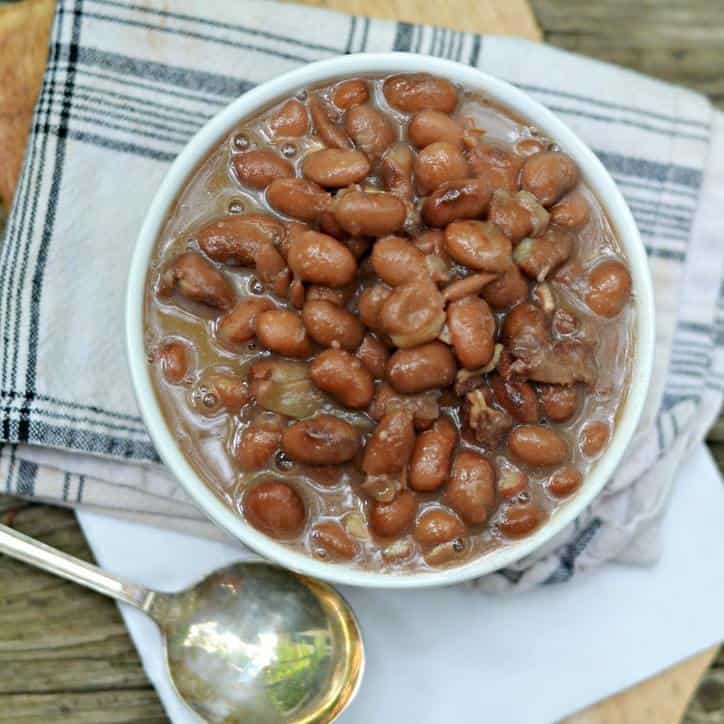 HOW TO COOK CANNED PINTO BEANS
This recipe explains how to turn canned pinto beans into a delicious side dish to be proud of
Keyword:
canned pinto beans, how to cook canned pinto beans
Ingredients
1

tbs

cooking oil

½

inch

slice of yellow onion - chopped

1

clove

garlic minced

1

slice

of bacon - cut into 1 inch pieces

1

can pinto beans

1

tbs

unsalted butter

½

tsp

white granulated sugar

½

tsp

hot sauce

½

tsp

salt

½

tsp

black pepper
Instructions
In a saucepan, heat 1 tbsp cooking oil over medium heat. When the oil is shimmery on the top add the chopped onion and garlic and saute until soft and nearly see through (about 2 minutes)

Add the bacon and cook together until the bacon is soft and nearly done.

Now Add the pinto beans to the sauce pan and continue to heat over medium heat.

Put the butter, sugar, hot sauce, salt and pepper in and heat till bubbly.

Taste before serving and add more salt and pepper if needed. Garnish with chopped onion and hot sauce
Recipe Notes
See the Tips and Tricks section of the post for this recipe at loaves and Dishes for more great information on cooking canned pinto beans.
Nutrition Facts
HOW TO COOK CANNED PINTO BEANS
Amount Per Serving
Calories 250
* Percent Daily Values are based on a 2000 calorie diet.
A VERSE TO SHARE
Luke 6: 27-36
"But to you who are listening I say: Love your enemies, do good to those who hate you, bless those who curse you, pray for those who mistreat you.  If someone slaps you on one cheek, turn to them the other also. If someone takes your coat, do not withhold your shirt from them.
Give to everyone who asks you, and if anyone takes what belongs to you, do not demand it back.Do to others as you would have them do to you.
IF YOU LOVE THOSE WHO LOVE YOU…
"If you love those who love you, what credit is that to you? Even sinners love those who love them. And if you do good to those who are good to you, what credit is that to you? Even sinners do that.  
And if you lend to those from whom you expect repayment, what credit is that to you? Even sinners lend to sinners, expecting to be repaid in full. But love your enemies, do good to them, and lend to them without expecting to get anything back.
Then your reward will be great, and you will be children of the Most High, because he is kind to the ungrateful and wicked. Be merciful, just as your Father is merciful.