I know, I know. It happens to me too! Sweet Hubby doesn't come home until 6:30 or later. I get off of work at 5:30. I have to pick up the teenager from play practice at the high school which is 15 minutes away from here at 6pm. That means we are all rolling in the door at 6:30 and everyone is hungry and grouchy. Unless I have thought and planned what dinner will be, then it is going to be sandwiches, cereal, a can of soup or eat out (again). And that, my friend, is the home of a food blogger. Please tell me this sounds like your house too? I don't want to be alone.
It get's worse, really. The dishes might not be done from yesterday. There might be shoes, school bags and other stuff laying in the kitchen floor (right where we come in). There might be recipe books all over the counters. (How does someone think, plan, write about food but have no plans for supper about 3 nights per week?). Perhaps counseling is in order. Lol.
What are we going to do, friend? We have to tackle this situation. We can't afford to eat out every night, or at least my family can't. I bet yours can't either. I've already had three nights like this this week and today is only the 5th day in the work week!
That is why, I've decided to share some of my down and dirty(ok, not actually dirty as in dirt – it is a saying, you know?) recipes that can keep a family going on nights like this. This series of recipes will be called "Fast Family Recipes" and you can search for that in the categories on the menu bar.
Fast Family Recipes will:
Be made of few ingredients – things that you can easily keep in your pantry or fridge.
Be meals you can prepare in less than 30 minutes with no pre-thinking required.
Be tasty. That is a given at Loaves and Dishes. Everything is tasty.
Be a main dish or a complete meal that you can simply add a veggie (hello bag salad) and/or a piece of buttered toast to make a whole meal.
Not be crockpot meals. That requires you to have things done BEFORE you go to work – which is not where I find myself very often.
require you to keep some things stocked in your pantry and fridge at all times. Like bottled BBQ sauce for example, Parmesan Cheese, Ranch Dressing packets, refrigerated pie crusts, canned biscuits, jarred pasta sauce, etc. I'm not suggesting we eat like this all of the time (you know I prefer made from scratch) but sometimes we just have to get dinner on the table.
Today's Fast Family Recipe is Andouille Raviolli and it is SO GOOD! Seriously. I would have shared this with you anyway, but since it falls in the category of "really super fast" and "almost not like cooking". I thought it should go in this new series!
RECIPE INSPIRATION FOR ANDOUILLE RAVIOLLI
When I was a kid (I know how terrible and unpopular this is to say– Just let me finish this paragraph and then I'll duck and you can throw things at me for even suggesting this) I LOVED canned ravioli. It was a super special treat! My mom never would buy things like that and so on the rare occasion that she did – WOWEE!!! I was in orange colored sauce and weird little ball of meat heaven! And I need some of that in my life as an adult. Except, I did buy some canned ravioli with a lot of nostalgia in mind. Cause, you know, let's go back to our childhood a little, right? (Ok, start throwing, I'm ready). Actually, you don't have to throw anything, I didn't like it anymore. In fact, ewwww.
This, however, is the grown-up version without any of that metal can taste, orange colored sauce or mystery meat. Instead, the ravioli is like soft pillows of delicious cheese coated in a delicious pasta sauce and then topped with a melty comforting cheese. Did I just say cheese twice? Yes! Now everything is right with the world. YUM. Makes me want to run in the kitchen and heat some up right now and it isn't even close to dinner time!
And the best part? It is ready in just a few minutes (not as quick as opening a can and putting in the microwave) but close.
I am sure that this recipe might give you some ideas for how to put your own twist on things. If you do, I hope you will drop me a line down in the comments section…. Down (keep scrolling) at the bottom of this page. I LOVE to get comments. I don't want to sound desperate or anything, but the messages come instantly to my cell phone and I will answer right away. Unless, of course, I have left my phone in the car or somewhere else and can't find it temporarily! (It happens). Does that happen to you? If it does, please tell my children. I get eye rolls a lot around here for losing my phone. I probably won't answer if it is the middle of the night because – sleep- you know?
Anyway, God Bless you and Keep You. You are so important to me. Thank you for visiting.
Surely goodness and love will follow me all the days of my life, and I will dwell in the house of the LORD forever. ~ Psalm 23:6 (I think I did this one before, but it's a good one, so let's just go with it).
RECIPE FOR ANDOUILLE RAVIOLI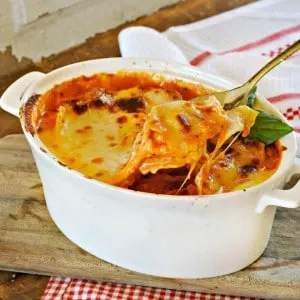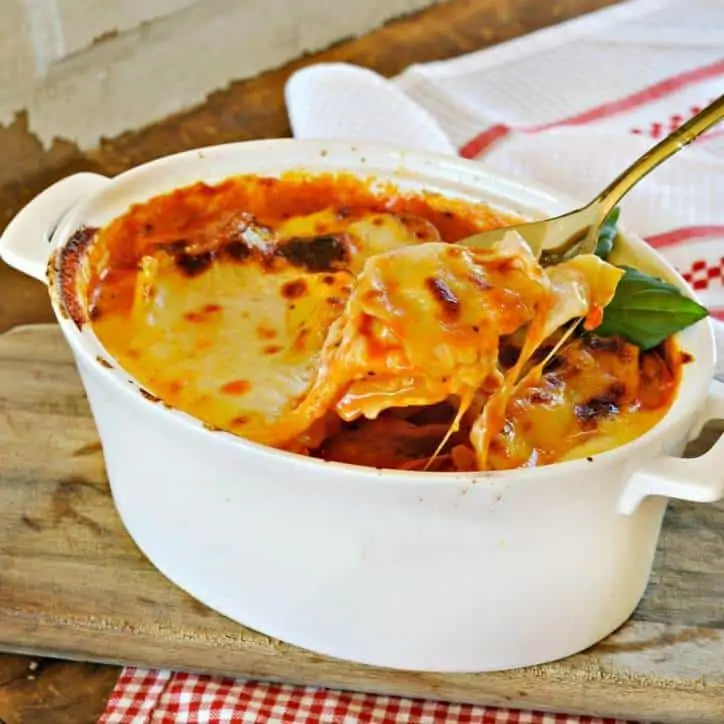 Andouille Ravioli
A simple and easy classic Italian style dish with a twist! The Andouille adds a perfect KICK to an easy to put together weeknight dish!
Print
Pin
Rate
Ingredients
2

tbs

vegetable oil

1

lb

Andouille Sausage cut into disks

ok to use smoked sausage

1

jar of prepared spaghetti sauce

again, any size ok or any flavor ok

½

cup

of heavy cream

milk is ok too

1

package of fresh cheese filled ravioli

other filling ok – any size package that is available in your refrigerated section

½

cup

fresh shredded mozzarella

ok to use the preshredded if that is what you like
Instructions
Preheat the broiler in your oven.

On the stove top, place a large kitchen stock pot filled to ¾ with water on a large burner set on high. Add 1 tsp salt to the water (the instructions for the ravioli probably say to use 5 quarts of water – this would be ideal – but 2 or 3 will work). As the water looks like it will boil soon (probably about 10 minutes), move to the next step.

When the water is about to boil, in a skilled on the stove top over medium heat, heat the vegetable oil until shimmering (1-2 minutes). Add the Andouille Sausage disks and allow to brown slightly. Add the full bottle of pasta sauce to the andouille. Mix well. Add the cream (milk) and stir well ( sauce will become pink colored).

When the pasta water is boiling, add the raviolis all at once. Once it has boiled again for 3 mintues, remove from the water with a dipper and place the ravioli in the pan with the sauce.

Once all of the pasta is removed to the sauce, stir well. Place the pasta and sauce into an oven proof container (I use stoneware, but if you had a skillet that could transfer directly to the oven, that would be ideal – just know that tomato sauces will cause a problem with your iron skillet and you will need to season your iron skillet again soon if you use your iron skillet). Sprinkle the pasta with the mozzarella cheese and place under the broiler of the oven.

Broil until the cheese is bubbly and has started to brown. Remove from the oven and serve.
Notes
The precooked refrigerated ravioli make this an easy weeknight dinner
Nutrition
Nutrition Facts
Andouille Ravioli
Amount Per Serving
Calories 300
* Percent Daily Values are based on a 2000 calorie diet.