Are you ready for tonight? TOOT TOOT!! New Year's Eve. What will 2015 bring? I am praying for health, peace, goodwill, friendship, fellowship and love for all of us. I am earnestly praying that God will bless us with the ability to hear our neighbor and exist peacefully and respectfully together. We can do it together – you and me. Here is how. Simply invite someone to dinner. Eat, talk and laugh. That is how we begin to change the world AND it can all start with a little tad of Cream Cheese with Sun Dried Tomatoes and Pesto Pastry.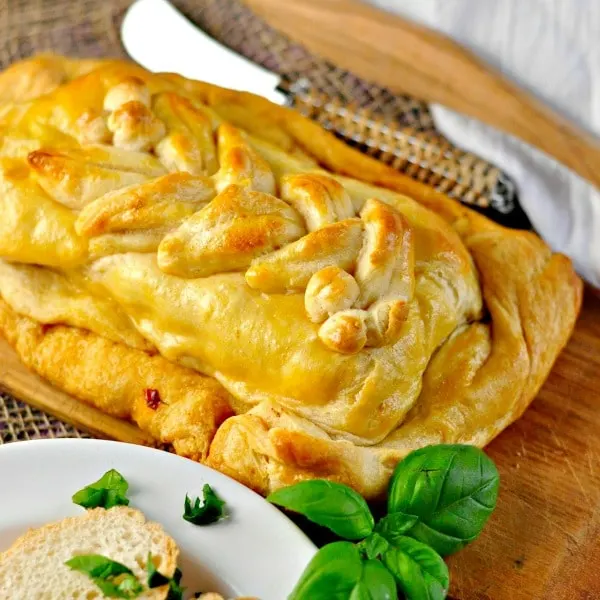 This will be a blessedly short post because I can't say much more about this dish than, YUM! The tangy sun dried tomatoes with the spice of the pesto against the creamy cheese and the crunch of the pasty. I'm having mouth leaking problems again. Just like with the Rosemary Meatball bake! lol.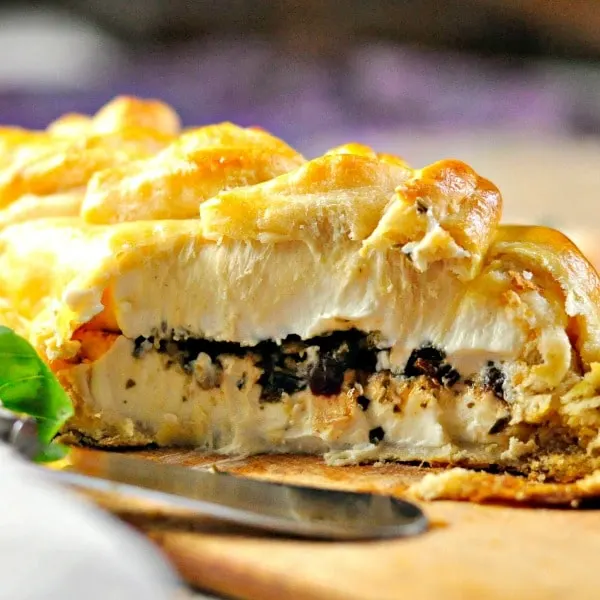 Cream Cheese with Sun Dried Tomatoes and Pesto Pastry looks SO elegant. I once pulled this from the oven just as some friends arrived for dinner. My friend Julie exclaimed, "You must have spent HOURS on that pastry". I laughed and just said, "No, not really".
You will be amazed how quickly this dish comes together and Cream Cheese with Sun Dried Tomatoes and Pesto Pastry looks like you spent all day working on it.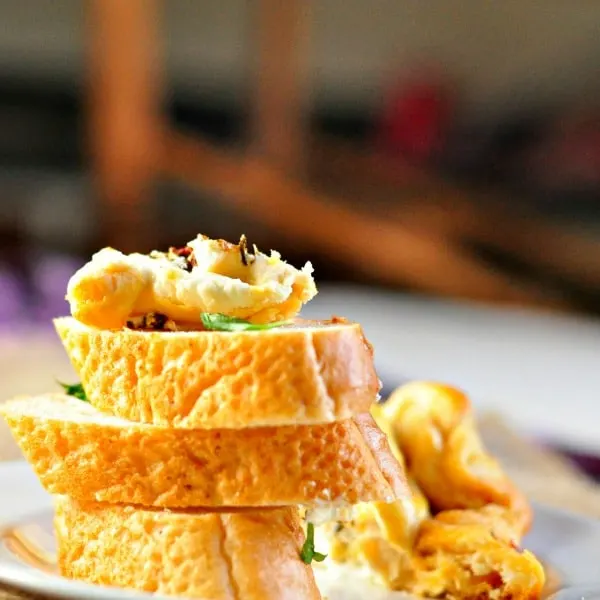 Serving Suggestions:
Serve with bread, dipping chips or with sturdy crackers.
And oh yes I did….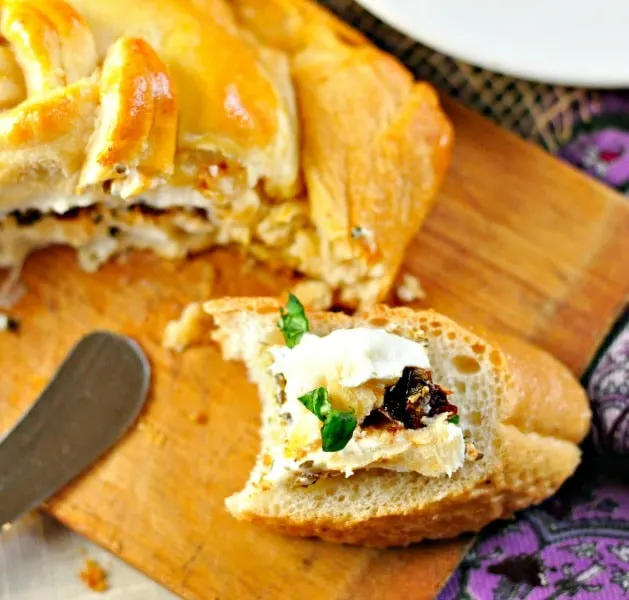 And we know that in all things God works for the good of those who love him, who have been called according to his purpose Romans 8:28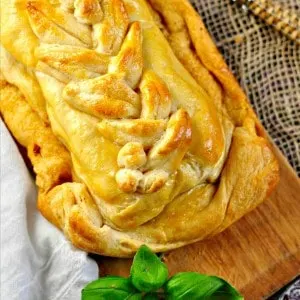 Cream Cheese with Sun Dried Tomatoes and Pesto Pastry
This easy and delicious cream cheese with Sun Dried Tomatoes and Pesto Pastry is delicious and looks like it took all day to make!
Print
Pin
Rate
Ingredients
1

block of cream cheese

½

can regular canned crescents from the refrigerated section of the grocery

2

tbs

pesto

2

tbs

sundried tomatoes packed in oil

minced.

1

egg – beat well
Instructions
Preheat the oven to 350

Cut the block of cream cheese in half like a book

Spread the sundried tomatoes around on the top of one half

Spread the pesto around on top of the tomatoes.

Put the other half of the cream cheese back on top of the bottom half that is spread with pesto and tomatoes.

Open the can of crescents. Unroll the crescents rolls. Pinch together 2 triangles in order to make a square. Repeat with another two triangles. Spread one square out onto a baking sheet that has been prepared with baking non stick spray. Do not push it down into the pan. Lay the cream cheese block on top of the square. Lay the other square of crescent rolls on top of the cream cheese. Pinch the edges of the crescents together to seal the edges. You may use the remaining crescents for decoration pieces.

Paint the top of the crescent with the beaten egg

Bake at 350 for 20 mins. (Start checking at about 18 mins). Remove when pastry is rich golden color.

Serve hot.
Nutrition
Nutrition Facts
Cream Cheese with Sun Dried Tomatoes and Pesto Pastry
Amount Per Serving
Calories 250
* Percent Daily Values are based on a 2000 calorie diet.
Post blog dessert. I'm sharing my flowers today. Aren't they lovely. I have to have fresh flowers in these dark days of winter. I couldn't survive without them. Thank you God for being able to have fresh flowers in the winter as a promise that spring will come again soon. We can never forget how powerful our blessings are. Thank you. And Happy New Year my beloved friends and readers.