Creamy Cheesy Ham Tomato Sauce
Welcome to Loaves and Dishes beautiful person I am so very glad you are here!
By now, if you have spent any time at all on this site, you will know that I can't resist a cheese pull or a creamy tomatoey (is that a word?) pasta sauce. This Creamy Cheesy Ham Tomato Sauce over some fresh pasta noodles and a side of grilled garlic cheese toast – oh my GOSH!!! Zing! Right to the stratosphere! You have GOT to try this sauce. Got to!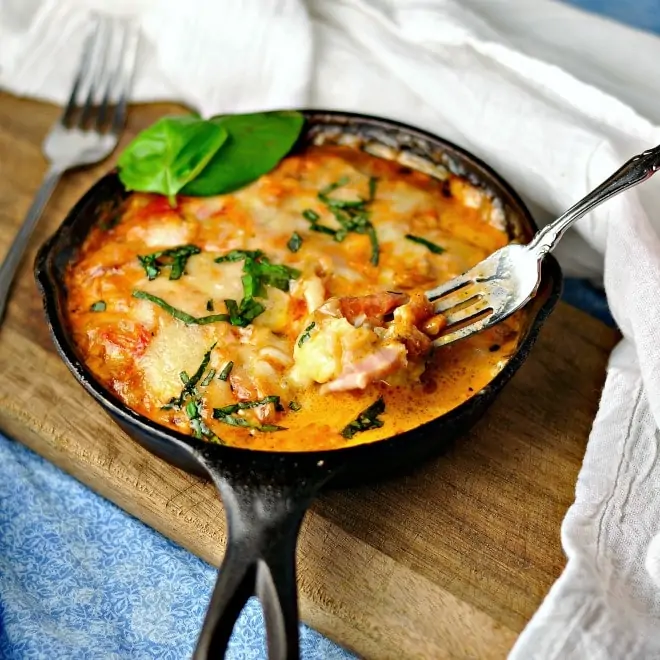 The funny thing is this…… You remember the summer of 1971 – right? I do. I was about 4 years old and playing in the sandbox and making a mud pie ( I was even cooking back then). I decorated the top of my pie with the cute little berries from the bushes near my house. I think I was singing to myself as I baked when suddenly a BIG shadow came across my sandbox. My daddy cast a VERY BIG SHADOW – he was 6'4" and 350lbs. That is an especially BIG SHADOW to a 4 year old little girl sitting on the ground in her sandbox! I looked up at my daddy and I knew immediately I was in trouble for something.
In a deep commanding voice my dad (who never got mad about anything) said, "It is OK if you play with those berries, but DO NOT EVER EAT ONE! They are poisonous and if I see you eat one I will spank you! I started to cry. So –he had to pick me up and tell me that I was ok. I will never forget that.
I'm glad that he doesn't know what is in this Creamy Cheesy Ham Tomato Sauce – because it is those berries! I don't know if these are a different kind or if maybe they weren't really poisonous – but Juniper berries are in here and they are DELICIOUS! Glad I didn't know that as a 4 year old – I would have been in BIG trouble!
You can find Juniper berries at your local more "earthy" grocery store. I found these at Whole Foods but you can also order them on line – through the link below. I only bought a tiny amount – because I have never used these before – but I will be using them more – because, like I said, YUM!
Thank you so much for visiting
Recipe inspiration for Creamy Cheesy Ham Tomato Sauce
I read a recipe in this month's Saveur Magazine for Jamon Au Chablis. You can find that recipe here. The basic recipe sounded delicious to me – but I thought it needed some cheese and a different wine as well – Chablis isn't my favorite. I encourage you to give this a try and make any changes you find interesting. I encourage you to look for fresh ham that does not have the added nitrates and nitrites. I found some at Whole Foods – again, any of your more "earthy" grocery stores should have this. Mine had just as much flavor as any ham I have ever eaten.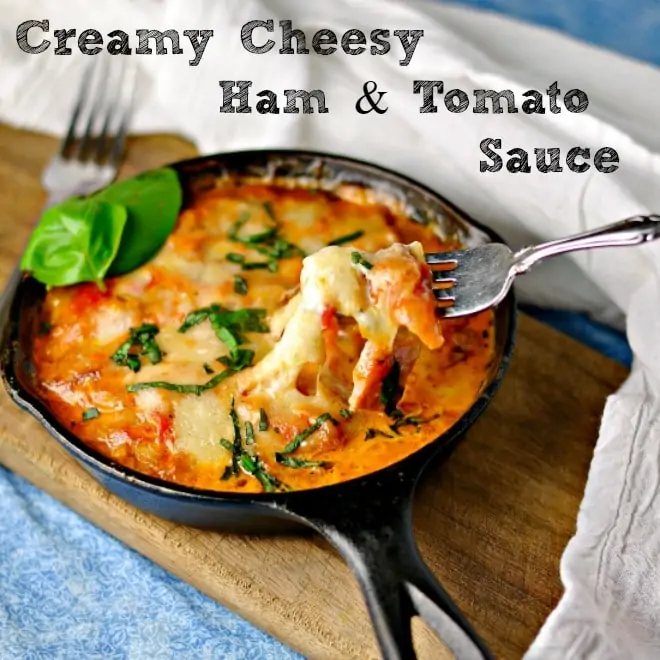 Coming up Next time on Loaves and Dishes
A fast, easy delicious recipe for lasagna that is ready to be frozen for when you need a dish to carry to someone who needs a meal.
Don't forget to subscribe to Loaves and Dishes so that I can send you an email notice when the next recipe posts. I PROMISE to never give (or sell) your email address to anyone else – and I PROMISE not to bug you to death!
Serving suggestions for Creamy Cheesy Ham Tomato Sauce
I recommend serving this Creamy Cheesy Ham Tomato Sauce over a fresh pasta, with a fresh green salad and a crusty bread. YUM!
Now I ask you, Make Dinner, Not War.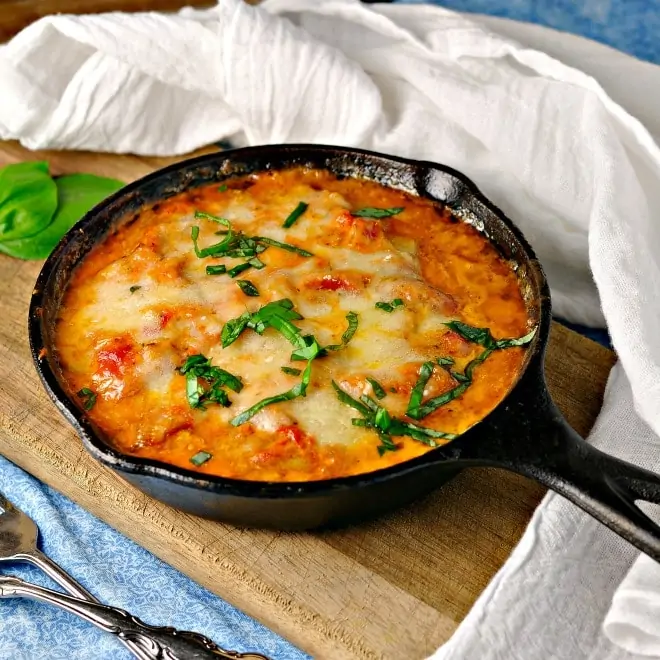 Do nothing out of selfish ambition or vain conceit, but in humility consider others better than yourselves. ~ Phillipians 2:3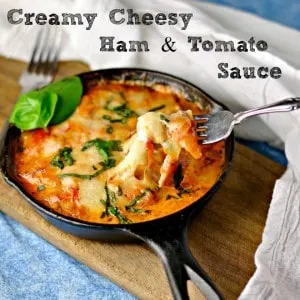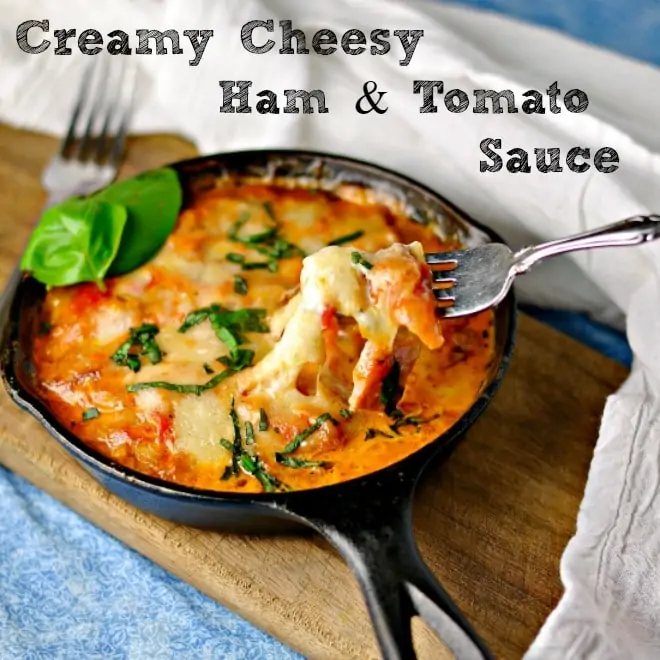 Creamy Cheesy Ham Tomato Sauce
This recipe for Creamy Cheesy Ham Tomato Sauce is decadent and delicious and will taste like a chef is hiding in your kitchen
Print
Pin
Rate
Ingredients
1 ¾

cups

chicken stock

1

Cup

Chardonnay

2

Tbs

Sherry Vinegar

5

Juniper Berries

crushed

4

sprigs Rosemary – chopped.

1

large or 1 small shallots - diced

1 8

oz

can of whole peeled tomatoes – crush them by hand

2

cups

heavy cream

1

lb

cooked ham – cut into 4 whole slices ¼ inch thick and the rest cubed

1 8

oz

ball of fresh mozzarella

½

cup

grated fresh parmesan cheese
Instructions
Preheat oven to 400. Bring stock, wine, vinegar, berries, rosemary and shallots to a boil in a 9-10inch oven proof skillet over medium-high heat. Reduce until there is only about ½ cup left in the pan. Stir in the tomatoes and cook for 5 minutes. Stir in the cream, salt and pepper, simmer stirring occasionally until thickened 10-12 minutes. Arrange the slices of ham in the skillet – spreading them out over the skillet – add the chopped pieces of ham as well. Sprinkle the top with first parmesan and then mozzarella. Bake in the oven until the ham is heated through and the cheese is melted and bubbly – about 30 minutes. Serve immediately over fresh cooked pasta.
Nutrition
Nutrition Facts
Creamy Cheesy Ham Tomato Sauce
Amount Per Serving
Calories 400
* Percent Daily Values are based on a 2000 calorie diet.