My cup is always more than half full! Guess what happens when I am sick? I learn about all kinds of new TV programs that I might never have discovered! I think I told you one time before about how I had been binge watching Ramen Noodle cooking shows on Netflix (food GEEK!) and that has metamorphosed into chef shows on Netflix (more food GEEK!). I am IN LOVE with this 6 part series called Chef's Table! I am IN LOVE! So – since I am still recovering, I started watching the series AGAIN because I felt I didn't catch everything the first time. Now, you see, since I have filled my time watching and rewatching Netflix shows while I recover, I am having to save some time somewhere and that is how you find crockpot Cheeseburger Soup for your recipe today! And, my dear friend, unless I find myself with a WHOPPING cold again, I promise to not show you two crockpot soup recipes in a row anymore!
I'll get to the recipe express lane in a moment, but first I have to tell my REALLY EXCELLENT NEWS!! When I checked to see if Chef's Table had been renewed for a second season – I found that it HAS!! WHOOOPEEE!!! Even better, it has been renewed for FOUR MORE SEASONS!!! So excited. I'm planning my next sickness for after May when it starts again! Lol. OK – not really – but you can bet, I'll be making time to watch it! Now – on with the recipe!! If you would like to join me for some chit chat and recipe tips and tricks – please please meet me after the recipe and the photos and we will do just that.
THE RECIPE FOR CROCKPOT CHEESEBURGER SOUP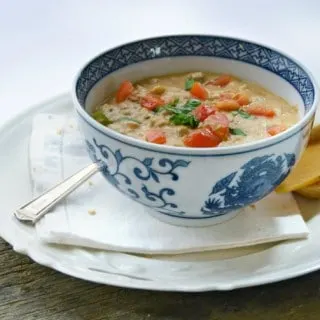 Crockpot Cheeseburger Soup
This is the best I've ever had. What sets it apart? Cream Cheese. Don't skip that part.
Print
Pin
Rate
Ingredients
1

lb

lean ground beef

4

strips bacon

1

large can diced tomatoes

about 15oz size - I use a quart of my home canned tomatoes (if using the soup size cans - use two).

1 ½

cups

chicken broth

1 8

oz

block of cream cheese

1

small onion diced into small pieces

¼

C

A-1 sauce

2

Tbs

Worcestershire sauce

1

tsp

season-all salt

1

tsp

pepper

1

tsp

thyme

1

tsp

cumin

4

oz

American Cheese Food

4

oz

shredded mozzarella
Instructions
Break/pinch the ground beef into small pea sized pieces and place in the crockpot. Put everything else into the crockpot except the american cheese food and mozzarella. Place lid on crockpot and set on low. Cook for 6-8 hours. (Can do 4 hours on high if desired).

When ready to eat, stir in the cheeses and replace the lid and let sit for about 10 mins to allow cheese time to melt. Stir well and serve. Can serve with garnish such as basil. Can even wilt in some fresh spinach leaves if a little green is desired. Doesn't affect the taste and adds some healthy yumminess. I like to serve this with a garlic toast and a yummy green salad! In fact, keep your eyes on my site, I'm gonna share that salad soon!
Notes
You could substitute ground pork or sausage for the ground beef.
Nutrition
Nutrition Facts
Crockpot Cheeseburger Soup
Amount Per Serving
Calories 330
* Percent Daily Values are based on a 2000 calorie diet.
TIPS AND TRICKS FOR CROCKPOT CHEESEBURGER SOUP
In my mind, and perhaps it is only in my mind, this soup tastes JUST LIKE a big ol meaty hamburger with ketchup, tomatoes and onion on top. YUM! Now, my favorite hamburger topping is mustard, pickle and mayo – but I haven't quite figured out how to put that in a soup yet – although, I am thinking at little mustard might be just right at home in this soup.

I think some hamburger bun croutons would be PERFECT with this soup- but didn't include those in the instructions. HERE are the instructions for making your own croutons – so EASY!! Go check it out. So much more tasty than a store bought crouton!

THIS is an IMPORTANT TIP. Do NOT. I MEAN DO NOT just dump your whole pound of ground beef into the crockpot and let it cook. You will end up with a huge lump of cooked ground beef – that is quite difficult to break up into bite sized pieces. That is why the instructions say to break/pinch it up into tiny pieces. I know this to be fact.

If you wanted this recipe to taste even better – you could brown your meat before putting it in the crockpot and that would ensure that it wouldn't clump – and would add that yummy crusty burnt edge flavor – but it isn't necessary. If you are going to go to that trouble – do the onions too. But as I said before, I belong to the tribe of "dump it in" crockpot lovers. You still end up with a good dinner this way and no hassle and no extra dishes to wash. Thank you grandmother crockpot who lovingly cooks for my family all day – especially when I have a cold and am not cooking too much for myself!
RECIPE INSPIRATION FOR CROCKPOT CHEESEBURGER SOUP
Well, I was zooming around Pinterest one day and saw a cheeseburger soup. I read the recipe which started out with browning celery and carrots in butter in the bottom of a stock pot. Which, I admit, is the way I too start most soups too. However, I needed a crockpot recipe and I wanted mine to taste like one of my cheeseburgers – and I definitely don't put carrots or celery in my cheeseburgers. I am a weird kind of sick at the moment in which I am STARVING hungry but am having some trouble swallowing – so, I want something to EAT that will FILL ME UP without taxing my throat too much! That started me in on my own creation.
I ended up with my own basic hamburgers ready for the grill recipe mixed with some of the cheeseburger toppings in soup form (tomatoes, onions, A-1, etc). I learned a long time ago that virtually anything you can bake in the oven or that you can cook on the stovetop, you can cook in a crockpot. It just takes a little finagling.
OTHER STUFF BESIDES CROCKPOT CHEESEBURGER SOUP
OK – Let's get back to the whole Netflix thing. I am stuck on this Chef's Table series and that is really saying something, because I never watch TV. I am usually too busy perusing my cookbooks, planning my garden or canning something to worry with TV watching in the evening. I think I have maybe even been a little "Holier than thou" about it at times – which is wrong – because I LOVE the people I live with who DO enjoy watching TV! What about you? Do you have a favorite show? Do you despise TV? Do you binge watch anything? I would love to chit chat about it! I wish the comment section would start RIGHT HERE, but alas – they are down at the bottom of the page – I hope you will scroll down there and leave me a comment. I LOVE To hear from you!
One thing I ask from the LORD, this only do I seek: that I may dwell in the house of the LORD all the days of my life, to gaze on the beauty of the LORD and to seek him in his temple. ~ Psalm 27:4