Ready for later, easy and the perfect way to save for a quick supper on another day! I'll show you how to freeze soup and you'll be on your way to saving money! Learn more about preserving food here!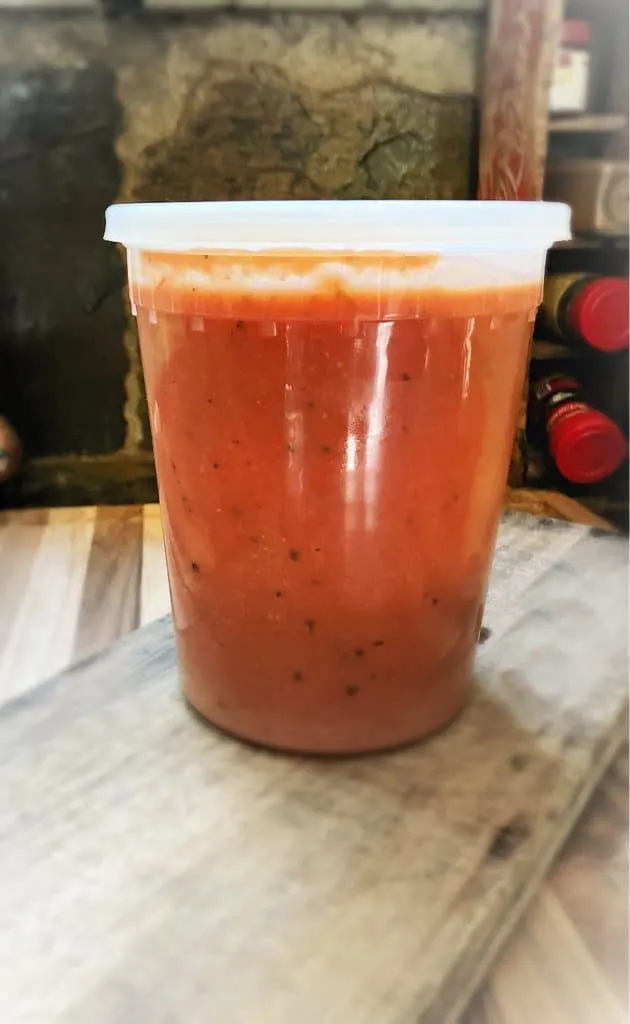 How to Freeze Soup
This is a FAVORITE way to have a quick meal, in my opinion! I LOVE knowing I've got homemade soup tucked away in the freezer.
The best part? It can go from frozen to hot and ready in a matter of minutes!
Here's How!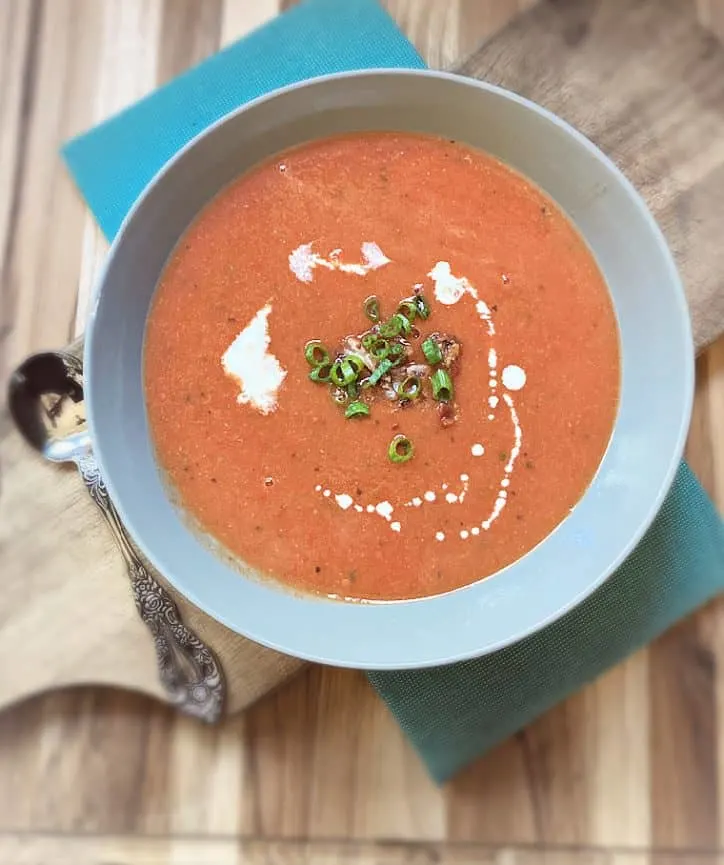 What You'll Need:
Freezer Quality Container – I'm using a quart size carry out container but a resealable freezer bag works just fine!
Sharpie Marker – so that you can write on the container what is inside and the date.
Measuring Cups – so that you'll know how much you have!
Ladle – Not completely necessary but can sometimes make the work a lot easier.
Step By Step Photos
Frequently Asked Questions (FAQ's)
How To Thaw Soup?
To thaw the frozen soup,
Place the container into the refrigerator 24 hours before you plan to use it so that it can thaw OR…
Microwave on "thaw" in 1 minute intervals, stirring occasionally until melted OR….
Place the frozen container into a bowl of warm water in the sink. Change the water every 30 minutes until thawed.

Can I Freeze Homemade Soup?
Yes!
Absolutely freeze homemade soups as long as they don't contain mayonnaise or cream.

Neither of those freeze well. Avoid freezing soups with noodles as well.

If you need to freeze a homemade soup that contains cream, mayo or noodles in the final product, make the soup to that point, leave that item out, freeze and then add it when you thaw and are ready to use it.

What Soups Are Good To Freeze?

Here are some good options:

Tomato Soup
Chicken Soup
Vegetable Soup
Chili

Avoid freezing soups that include cream or pastas.

How Long Is Frozen Soup Good For?
You can save soup for about 3 months in the freezer.
What Soups Should I NOT Freeze?
Don't freeze soups with the following:
Cream
Sour Cream
Mayonnaise
Noodles
Rice
How Do I Freeze Portions of Soup?
Freeze portions of soup by putting the serving amount you want to reheat later into a freezer safe container. Examples of this would be a freezer safe resealable plastic bag, a plastic carryout soup container that is freezer safe or a freezer safe glass mason type jar.

Leave as little air in the container as possible and then freeze asap.

Use within 3 months.
Examples of Freezer Safe Containers for Soup
(The photos listed below are affiliate links to Amazon. Clicking one of the photos will take you to Amazon where you can compare prices and products. I am an Amazon affiliate and do receive commission for any purchases made by clicking this link, and I thank you so much! Amazon commissions do not increase your price).
Pint Size Freezer Ball Jars
Ball Plastic 8 oz Freezer Jar
Resealable Plastic Freezer Bags
If You Enjoyed This Article, You Might Also Enjoy….
How To Freeze and Thaw Hamburger Buns
How To Freeze And Thaw A Hot Dog
Can You Help Me Out?
Would you please leave a 5 STAR review in the comment section below? This helps other readers find the recipe at Loaves and Dishes! (Thank You!)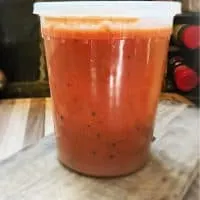 How To Freeze Soup
Ready for later, easy and the perfect way to save for a quick supper on another day! I'll show you how to freeze soup and you'll be on your way to saving money!
Print
Pin
Rate
Instructions
Ladel cooled soup into the freezer safe container of your choice. Label the container. Remove as much air as possible.
Notes
Only freeze soups that work for freezing. Do not freeze soups that use cream, noodles or rice.
Nutrition
Nutrition Facts
How To Freeze Soup
Amount Per Serving
Calories 100
Calories from Fat 45
% Daily Value*
Fat 5g8%
Cholesterol 5mg2%
Sodium 650mg27%
Potassium 560mg16%
Carbohydrates 11g4%
Protein 2g4%
Vitamin A 500IU10%
Calcium 40mg4%
* Percent Daily Values are based on a 2000 calorie diet.
Lately I've been thinking a lot about humility and how rare a quality it has become in our society. So wonderful to know that humility is still, and always will be, preferred in my heavenly home. What's the opposite of humility? Pride.
Ephesians 4:2
Be completely humble and gentle; be patient, bearing with one another in love.