Ever wonder why some baked beans are rich, thick, smoky, sweet, barbecuey (is that even a word?) and deeply delicious while yours are flavorless and pale? You've tried adding some molasses, ketchup, weenies, ground beef or maybe brown sugar to the store bought baked beans but…… nope. No use. Great news! I'm sharing my 7 Secrets to the Richest Most Flavorful Cowboy Baked Beans Ever. These are the best Cowboy Baked Beans you will EVERRRR put in your mouth. Promise.
Cowboy Baked Beans are not difficult and are the perfect dish for a party. If you look around you will see you have a lot of choices for baked beans. You could try other recipes. You could just open a can from the store. But if you keep doing what you've been doing, you'll keep getting what you already got, right?
7 Secrets to the Richest Most Flavorful Cowboy Baked Beans Ever
However, if you are looking for MEATY, smoky, barbecuey, rich, thick, sweet, tangy PERFECT baked beans, then Cowboy Baked Beans is the dish for you. And now, as promised, I'll share with you my 7 Secrets to the Richest Most Flavorful Cowboy Baked Beans Ever.
The Beer Reduction. I know many of you will be tempted to skip this step. It DOES smell up the kitchen (if you don't like the smell of boiling beer). However, the fruity rich flavor that the beer reduction adds is hard to beat. I like cooking with hardy pale ales the best – something a little more flavorful is good. I found that the Fat Tire Pale Ale worked perfectly for these beans. If you are interested in learning more about cooking with beers, The Beer Lover's Rating Guide is a good place to start.
Crispy Bacon. Fry that bacon till its crispy – that imparts the most flavor – fry it in the skillet that you will be using – not in the microwave.
The Onion. Use a Sweet Onion and cut it into tiny pieces – pencil eraser size or smaller- sweet onions have an entirely different taste than a white onion and add a richness to the sweet in this dish – try to find Vidalia Onions – but if out of season – then use any of the "Sweet Onions". (they are almost always a yellow color). The tiny pieces gives you the great flavor without a mouthful of onions when you eat the beans.
Season at each stage. Season the beef with salt and pepper when you brown it. Add a little more salt to the bean mix. Season the final product until it tastes right to you. Always season in layers.
The Barbecue Sauce – Use a sweet red sauce – not the vinegary sauces. Something like a Baby Rays or a KC Masterpiece sauce. Something you like the taste of by itself.
The various layers of heat – You will notice that this recipe calls for jalapeno, green chilies, Hot sauce (like Cholula or Texas Pete), chili powder, chipotle chili powder and cayenne pepper. You might think "that is a lot of hot". It isn't a lot of hot – its a lot of flavor. Promise. It's only a little heat. These baked beans are no more hot than the salsa at your local favorite mexican restaurant. In fact, if you are turned off by any heat – you should probably stick with "Clay's Famous Three Bean Casserole" (which till now, have been my favorite baked bean recipe).
The Bean – start with the B&M Brand Original Baked Beans – cute little brown glass jar. This is essential to this recipe. Do NOT drain them. Then add 2 cans of drained black beans and a can of drained Great Northern Beans (you can use Cannellini Beans if you find them) – the reason? The B&M beans have great flavor and are small and pleasant in your mouth. The Great Northern Beans and Black beans give layers of flavor to the beans and a little texture while remaining soft and pleasant. Big 'ol honking Red Kidney beans tend to be tough and have that thick skin. I just don't like it. I don't think you will either.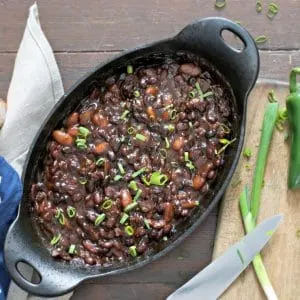 7 Secrets to the Richest Most Flavorful Cowboy Baked Beans Ever
This recipe is from www.loavesanddishes.net
Print
Pin
Rate
Ingredients
2 - 12

ounce

bottle of pale ale - I used Fat Tire Pale Ale

½

pound

Applewood Smoked Bacon - chopped

1

large sweet onion - like Vidalia

1

medium jalapeno - diced small

½

cup

green onion

1

lbs

ground beef - 80/20

4

cloves

minced garlic

Salt and pepper to taste

2 16

oz

jars B&M Original Baked Beans - do not drain

2 16

oz

cans Black Beans - drained

1 16

oz

can Great Northern Beans - or Cannellini Beans - drained

1 4

oz

can chopped green chilies - drained.

1

Cup

sweet red thick Barbecue sauce - like Sweet Baby Rays

¾

Cup

Ketchup

¾

Cup

molasses

¾

cup

dark brown sugar - packed

3

tablespoons

of good quality dijon mustard

2

tablespoons

of apple cider vinegar

2

Tbs

worcestershire sauce

1

Tbs

hot sauce

Tabasco - like Texas Pete or Cholulas.

¼

tsp

chili powder

¼

tsp

chipotle chili powder

1

Tbs

garlic powder

1

tsp

dried thyme

Salt and pepper to taste

Green onion for garnish
Instructions
In a heavy pan (like an iron skillet), bring the beer to a boil and allow to boil at medium high until it is reduced by half. Pour into a large bowl and allow to cool.

Move the oven rack to the bottom two rungs and preheat to 350. Lightly grease a deep 9x13 baking dish. (Alternately, you can use two smaller baking dishes or even a couple of cast iron skillets)

In the same iron skillet you reduced the beer in, cook the bacon pieces over medium heat till crispy. Remove the pieces and drain on a towel but reserve the bacon fat. Add the onion and cook until tender and translucent. Add in the chopped jalapeno and the green onions and saute for about a minute. Add in the hamburger and brown until just past pink. Add in the minced garlic and cook one more minute. Add salt and pepper to taste. Remove from the heat and allow to cool.

In the large bowl where the beer reduction is cooling, combine all of the beans and the chopped green chilis. Stir well and season with salt and pepper to taste - yep, that means taste it. Add in your hamburger and veggie mix and mix well. Make sure to add any of the juices that have accumulated in the frying pan.

Add in the barbecue sauce, ketchup, molasses, brown sugar, mustard, apple cider vinegar, worcestershire sauce, tabasco, chili powder, garlic powder, thyme. Mix well. Taste and then add salt and pepper to taste again.

Bake in oven at 350 until thickened and bubbling throughout (check at an hour and 10 minutes) recheck every 5 minutes until bubbling through. When done, allow to rest for 10 minutes before serving. Garnish with green onion.
Notes
It is important to get the correct beans for this recipe, it makes a huge difference.
If you don't want to use beer, then use chicken stock instead, same amount.
Nutrition
Nutrition Facts
7 Secrets to the Richest Most Flavorful Cowboy Baked Beans Ever
Amount Per Serving
Calories 350
* Percent Daily Values are based on a 2000 calorie diet.
A VERSE TO SHARE
I had an epiphany yesterday about this website. Thank you God for the epiphany. When I started looking up verses about having an epiphany, I found this. While this part of Isaiah 60 is not about having an epiphany, I was struck at the beautiful and awesome promises of God. So beautiful – I just had to share. Please keep our friends over in Gatlinburg in your prayers as they work to rebuild. Let's just say a short prayer now, together.
Lord, thank you for your many blessings. Thank you for epiphanies that help guide us in our work and thoughts. Lead us in the way we should go, Lord. Lord, we ask that you watch over our friends in the Gatlinburg area. Bring them safely. Comfort them. Restore their lives and their souls Lord. We ask for healing. We ask for rebuilding. We ask for your presence Lord. We ask that you open the hearts of those across this nation to be generous and helpful. Amen.
Isaiah 60: 15-22
15"Although you have been forsaken and hated,
with no one traveling through,
I will make you the everlasting pride
and the joy of all generations.
16 You will drink the milk of nations
and be nursed at royal breasts.
Then you will know that I, the Lord, am your Savior,
your Redeemer, the Mighty One of Jacob.
17 Instead of bronze I will bring you gold,
and silver in place of iron.
Instead of wood I will bring you bronze,
and iron in place of stones.
I will make peace your governor
and well-being your ruler.
18 No longer will violence be heard in your land,
nor ruin or destruction within your borders,
but you will call your walls Salvation
and your gates Praise.
19 The sun will no more be your light by day,
nor will the brightness of the moon shine on you,
for the Lord will be your everlasting light,
and your God will be your glory.
20 Your sun will never set again,
and your moon will wane no more;
the Lord will be your everlasting light,
and your days of sorrow will end.
21 Then all your people will be righteous
and they will possess the land forever.
They are the shoot I have planted,
the work of my hands,
for the display of my splendor.
22 The least of you will become a thousand,
the smallest a mighty nation.
I am the Lord;
in its time I will do this swiftly."