Welcome to Loaves and Dishes! I am so so glad you are here! I introduce you to… Blackberry Pie Cobbler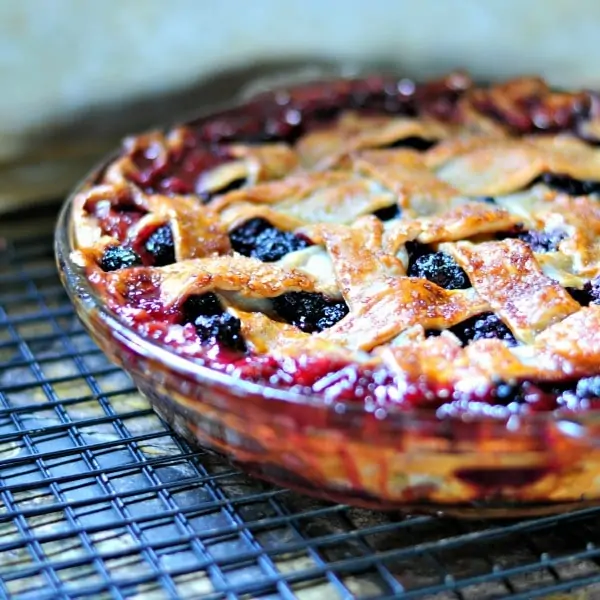 This week's dish of Blackberry Pie Cobbler brings back so many good memories for me. I hope that once you fix this dish, it will make some wonderful memories for you too.
At one time, my aunt and uncle had blackberry vines and I can remember visiting them in the summer time and picking blackberries in the humid morning air as the sun rose into the sky. By the time it started to get too hot, we were done and we would go back to the house and my aunt would fix a wonderful breakfast. I would love to sit down at that table again and eat some of my aunt's delicious cooking.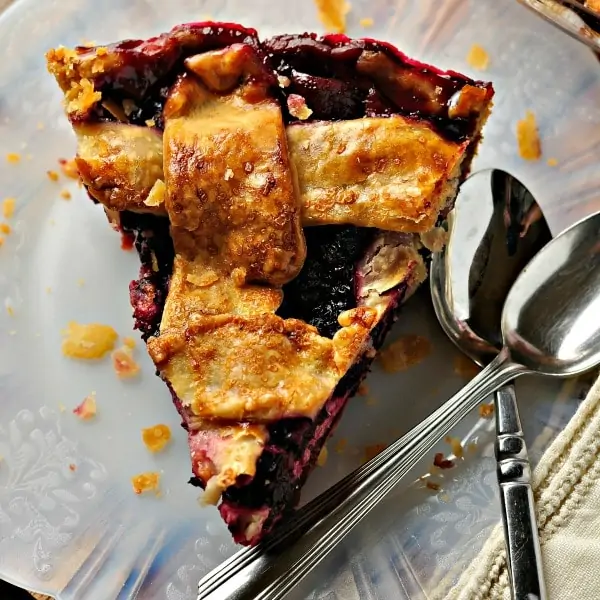 I can also remember my grandfather, at 98 years old making a surprisingly delicious blackberry cobbler. He was an amazing man. His own parents died when he was a small child. He was raised by an older sister and quit school while still in elementary school in order to work and do his fair share to help financially. He went on to raise a personal fortune by his own wits and hard work. In his 80's, my grandfather who had outlived my grandmother survived a house fire and remarried a woman 20 years younger than himself. I can distinctly remember visiting his new home and he proudly produced a blackberry cobbler that he had made after picking the blackberries himself.
Wow. We should all be so sturdy, hardworking and sharp minded.
Thank you for visiting me and I hope you will come back often.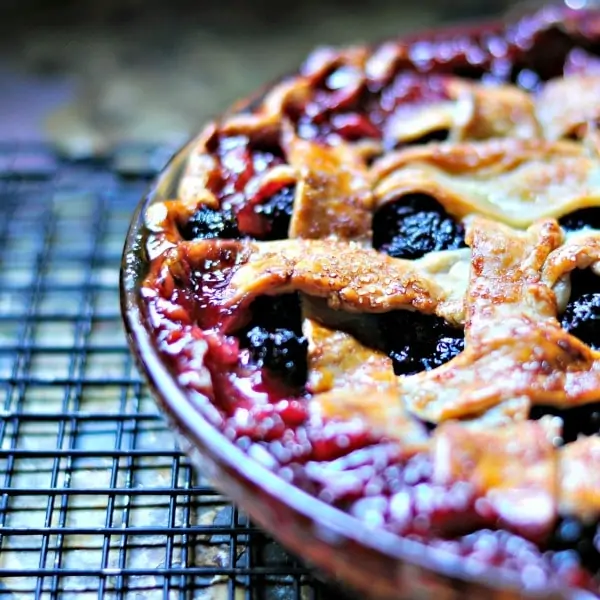 This recipe is inspired by the Blackberry Cobbler found in Southern Pies: A Gracious Plenty of Pie Recipes, From Lemon Chess to Chocolate Pecan by Nancy McDermott. That said, inspired isn't the right word. This is Nancy McDermott's recipe, I simply adapted it for a pie plate. I have an entire library of cookbooks and this is in my top favorite 3 books. I have made nearly every pie in this book and haven't found one that wasn't sensational. (I will say that I tried to make the muscadine pie and became distracted while cooking the grapes. I burnt my good sauce pan so badly that it took me months of scraping to free the pan from the burned places. That was my fault, not the fault of the recipe).
If you would like your own copy – and I highly recommend that you get one if you love pie as much as me, you can find a copy right here.
Next time on Loaves and Dishes…
I am hoping that we will be having a delicious Roasted Citrus and Avocado Salad or perhaps a Roasted Chicken with Mushroom and Jalapeno soup. Maybe both together? Maybe something else that my heart desires? If you have a request – please comment below and let me know.
Don't forget to subscribe to Loaves and Dishes so that I can send you an email notice when the next recipe posts. I PROMISE to never give (or sell) your email address to anyone else – and I PROMISE not to bug you to death!
Serving suggestions for Blackberry Pie Cobbler
The best way to serve this dish is warm with the best vanilla ice cream you can find!
Now I ask you, Make Dinner, Not War.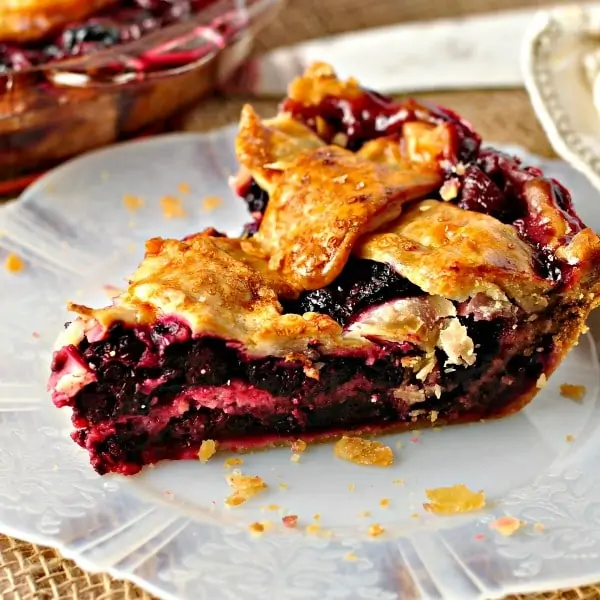 You are my refuge and my shield; I have put my hope in your word. ~ Psalm 119:114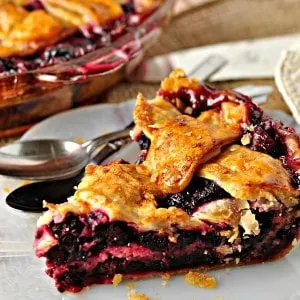 Blackberry Pie Cobbler
This recipe for Blackberry Pie Cobbler will tickle your sweet tooth and jiggle your memory for days gone by.
Print
Pin
Rate
Ingredients
3

refrigerated pie crusts

1

Cup

Sugar

2

Tbs

All-Purpose Flour

2

tsp

real vanilla extract

5

Cups

Blackberries – fresh preferred – frozen is ok too

about 1.5 lbs

2

Tbs

cold butter chopped into small pieces

1

egg - beaten

1

Tbs

Raw Sugar
Instructions
Preheat oven to 450. Unroll one pie crust onto a lightly floured surface and set your pie plate onto the crust. Using the pie plate as a pattern, cut around the bottom of the pie plate with a butter knife. (This will form the middle crust in your pie/cobbler). Place this circle onto a baking sheet lined with parchment paper, waxed paper or aluminum foil. Place this on the center rack of the oven and bake until the pastry is dry and lightly browned and developing small bubbles on the surface – about 10 minutes. Set this pie crust aside to cool.

Into a pie plate, place one refrigerated pie crust and allow the extra to hang over the edges.

Unroll the final pie crust onto a lightly floured surface and cut into 1 ½ inch wide strips.

In a small bowl, combine the sugar and the flour and set aside. Stir the vanilla into a ¼ Cup of water.

Scatter ½ of the blackberries into the the bottom pie crust that is in the pie plate. Sprinkle half of the sugar mix over the berries and half of the water mix over the berries. Scatter ½ of the butter chunks onto the berries as well.

Placed the prebaked pie crust on top of the berries and repeat step 5 above, scattering the remaining berries, sugar, water and butter.

Using the strips of cut pie crust, weave the top of the pie crust. Wetting your fingers with water, dampen the underside of each strip where it will attach to the bottom pie crust and pinch together. Going around the pie plate – crimp the bottom edge and top edge together. Using a pastry brush, brush the top of the pie with the beaten egg. Sprinkle with the Raw Sugar.

Place the pie on a baking sheet to catch any drips and place on the bottom rack of the oven. Bake for 10 minutes at 450 and then reduce heat to 350 for another 45 minutes or until the filling is juicy and bubbling up through the pastry strips. Place on a cooling rack or folded kitchen towel and let cool for at least 20 minutes. Serve warm or at room temperature.
Notes
The fresher the berries that you use with the pie, the better and sweeter it will taste.
Adjust the sugar in the pie according to this. You can add more sugar if needed (if berries are out of season)
Nutrition
Nutrition Facts
Blackberry Pie Cobbler
Amount Per Serving
Calories 350
* Percent Daily Values are based on a 2000 calorie diet.
And now for a Post blog dessert for my faithful readers. Don't you love a story of perseverance? A story of someone, who in their 80's takes on a new task? I do. This past weekend I met a woman by the name of Ann Kirkman who at 80+ decided to become an author! She has self published her own story of becoming the first female travel agent in Winston Salem, NC. You won't find her book if you google search or amazon search. She is self published. As I said before, we should all be…..