Jump to Recipe
Have you ever taste something that immediately set your brain on fire? Pickled Blackberries do that for me and I'm hoping so for you to. I've been eating Pickled Blackberries on ice cream, on creamy pies as well as plucking them right out of the jar plain.
Initially, I learned about Pickled Blackberries from my March 2017 issues of Epicurious Magazine. Further research has informed me that I'm not the only one who has learned the secrets of pickled blackberries. It's like a secret underground trend!
Apparently, the rest of the world enjoys pickled blackberries on salads. That too is yet another use for these fine berries.
When I served these pickled blackberries at a dinner party a few weeks ago, my friend, Dave scooped one up (not knowing it was pickled) and dropped it in his drink.
Talk about a conundrum. I love a good laugh as much as anyone and patiently waiting for him to get to the bottom of his drink was almost more than I could bear.
I caved and told him that the berry is pickled.
Anyway, this pickled blackberry isn't the usual fare at Loaves an Dishes, but if you will indulge me this once, I promise to get back to things like Mac and cheese in the coming weeks.
WHAT IS A PICKLED BLACKBERRIES?
A pickled blackberry is just exactly what it sounds like, a blackberry that is quick pickled in vinegar and sugar. Perfect for any salad, creamy drink, ice cream topping or creamy pie topping.
HOW TO MAKE PICKLED BLACKBERRIES ?
Pickled Blackberries are made by submersing blackberries in a mixture of vinegar and sugar which pickles the blackberries almost immediately. Blackberries will remain usable for about a month.
IF YOU ENJOYE PICKLED BLACKBERRIES, YOU MIGHT ALSO ENJOY…
Creamy Thyme Chicken and Mushrooms
Peach Pie with a Pecan Brown Sugar Crumble
YA'LL, HELP ME OUT, OK?
Please leave me a 5 star comment below in the comment section, all right? I would LOVE to know if you made this recipe or even if you are planning to! Of course, tool on over to Pinterest, Facebook and Instagram and tag me with some photos of your creation!
I can't wait!
Ya'll know I love comments!! ❤
THE RECIPE FOR PICKLED BLACKBERRIES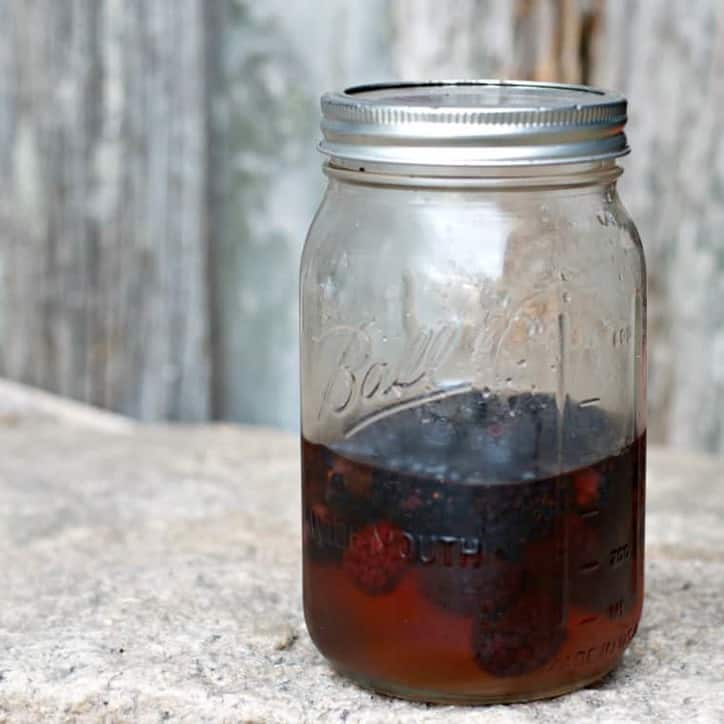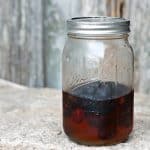 Pickled Blackberries
Simple Recipe for Pickled Blackberries
Keyword:
pickled blackberries
Ingredients
8

Tbsp

White wine vinegar

3

Tbsp

Fish sauce

3

Tbsp

White granulated sugar

1/2

Tsp

Cinnamon

10

0z

Fresh Blackberries (ripe)
Instructions
Mix vinegar, fish sauce, sugar an cinnamon together well until sugar is completely dissolved.

Add the blackberries an allow to sit for at least 4 hours. Swish the blackberries around gently to make sure that they are covered by the vinegar mixture. Allow to sit Overnight for best result.
Recipe Notes
Easy way to preserve fresh blackberries and SO tasty!  See the tips and tricks section of this post!
Nutrition Facts
Pickled Blackberries
Amount Per Serving
Calories 50
* Percent Daily Values are based on a 2000 calorie diet.
A VERSE TO SHARE
So, this week I am in Salt Lake City, Utah for a food conference. During my free time yesterday, I visited the Mormon Temple, heard a recording of the Mormon Tabernacle Choir and visited the HUGE statue of Jesus in the museaum.
While I am not Mormon and I don't believe in all of their teachings, I do really enjoy their grounds and appreciate their peaceful ways.
While visiting their US flag, I noted the backdrop of the flag, a huge stone tablet that includes the following:
THE WAY
…"Thou shalt love the Lord thy Go with all thy heart an with all they soul and with all thy mind. This is the first an great commandment and the second is like unto it, Thou shalt love they neighbor as thy self".
THE ONLY THING I HAVE TO SAY IN RESPONSE IS…
Amen, Mormons. Amen.