Tart, sweet, sour, plump and PERFECT! There is nothing like pickled blackberries to brighten up nearly any dish! Don't let blackberries go to waste, here's another way to save them for later!
Why This Recipe Works
Fast
Easy
Cheap
The sweet, sour and acid balance PERFECTLY with the blackberries to brighten flavors!
Here's How It's Done
STEP 1.
Mix the sugar and liquid ingredients together and heat over low just until the sugar dissolves. Then allow to cool.
STEP 2.
Once cooled, add the blackberries and swish around. Allow to sit for at least 4 hours.
What Are Pickled Blackberries Good With?
We love these blackberries on a good chicken salad or on something sweet like these Apple Pie Baked Apples. Try also on Pork Chops with Steak or as a side with Sweet Potatoes! On top of a Sugar Cream Pie? Heavenly!
How To Make Pickled Blackberries
Mix vinegar, sugar, fish sauce and cinnamon together. Heat gently over medium low heat until sugar dissolves.

Allow to cool.

In a jar, add blackberries, gently swish around until blackberries are well covered.

Allow to rest for 4 hours. Keep refrigerated. Good for up to 1 month.
Frequently Asked Questions (FAQ's)
WHAT ARE PICKLED BLACKBERRIES?
A pickled blackberry is just exactly what it sounds like, a blackberry that is quick pickled in vinegar and sugar. Perfect for any salad, creamy drink, ice cream topping or creamy pie topping.
HOW TO MAKE PICKLED BLACKBERRIES ?
Pickled Blackberries are made by submersing blackberries in a mixture of vinegar and sugar which pickles the blackberries almost immediately. Blackberries will remain usable for about a month.
Are These Canned Pickled Blackberries?
You do not can these in a water bath or pressure canner. They are instead pickled as a method of preserving them. No need for canning.
Can I Process These In a Waterbath Canner to Make Shelf Stable?
Actually, I have never tried that. I believe the blackberries would be pretty delicate and wouldn't hold up to the heat so well.
Can I Use Frozen Blackberries for This Recipe?
Yes, you can, but they won't look as plump as these photographs, but will still taste good. Once frozen fruits are thawed, they are usually kind of limp.
IF YOU ENJOYED PICKLED BLACKBERRIES, YOU MIGHT ALSO ENJOY…
YA'LL, HELP ME OUT, OK?
Please leave me a 5 star comment below in the comment section, all right? I would LOVE to know if you made this recipe or even if you are planning to! Of course, tool on over to Pinterest, Facebook and Instagram and tag me with some photos of your creation!
I can't wait!
Ya'll know I love comments!! ❤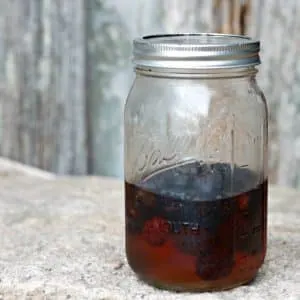 Pickled Blackberries
Simple Recipe for Pickled Blackberries
Print
Pin
Rate
Ingredients
8

Tbsp

White wine vinegar

3

Tbsp

Fish sauce

3

Tbsp

White granulated sugar

1/2

Tsp

Cinnamon

10

0z

Fresh Blackberries (ripe)
Instructions
Mix vinegar, fish sauce, sugar and cinnamon together and heat in a saucepan over medium heat just until the sugar dissolves.

Allow to cool to room temperature

Pour the liquid into a jar and add the blackberries. Swish the blackberries around gently to make sure that they are covered by the vinegar mixture. Allow to sit for at least 4 hours. Allow to sit Overnight for best result.
Notes
Easy way to preserve fresh blackberries and SO tasty! See the tips and tricks section of this post!
Nutrition
Nutrition Facts
Pickled Blackberries
Amount Per Serving
Calories 19
Calories from Fat 9
% Daily Value*
Fat 1g2%
Sodium 425mg18%
Potassium 20mg1%
Carbohydrates 4g1%
Protein 1g2%
Vitamin C 1mg1%
Calcium 4mg0%
Iron 1mg6%
* Percent Daily Values are based on a 2000 calorie diet.
***This post was originally published on Loaves and Dishes on May 18, 2018 and has been updated with step by step instructions, why this recipe works, new FAQ's, additional photos, a video and nutrition information***
A VERSE TO SHARE
So, this week I am in Salt Lake City, Utah for a food conference. During my free time yesterday, I visited the Mormon Temple, heard a recording of the Mormon Tabernacle Choir and visited the HUGE statue of Jesus in the museum.
While I am not Mormon and I don't believe in all of their teachings, I do really enjoy their grounds and appreciate their peaceful ways.
While visiting their US flag, I noted the backdrop of the flag, a huge stone tablet that includes the following:
THE WAY
…"Thou shalt love the Lord thy God with all thy heart and with all thy soul and with all thy mind. This is the first great commandment and the second is like unto it, Love thy neighbor as thyself".
THE ONLY THING I HAVE TO SAY IN RESPONSE IS…
Amen, Mormons. Amen.