The name is a mouthful but the bite is delicious! Blueberry Balsamic Chicken Salad is the bodacious creation that happened when trying to figure out what to do with the leftovers from Blueberry Balsamic Chicken! And now you know the rest of the story.
It's never a problem, but in order to have a bite of this delicious chicken salad, you first have to have some Blueberry Balsamic Chicken leftovers and you can find those instructions HERE. Make plenty of that recipe so you will have enough for this recipe!
That recipe is truly one of a kind and a wonderful dish for a small dinner party, a birthday celebration or simply to say, "I love you" to someone special.
The leftovers though. THE LEFTOVERS! WHOOPEE. THE LEFTOVERS. I'm just going to tell you something. I made this dish last week with the idea that we would eat some for dinner and I would have enough left to photograph for the blog.
(Laughing uncontrollably). Haven't I lived in this house long enough to know that these leftovers wouldn't last that long? Yes. I have. Where was my brain?
The tiny scrap of chicken breast that I had left wasn't enough to photograph for the main dish and certainly wasn't enough to turn into chicken salad.
For this post and the last one, I had to make the dish on my lunchbreak and then photograph it right after work – BEFORE anyone came home.
#foodbloggerproblems
So, anyway, now you have seen it – we can eat it AGAIN this week – and all is well. Except one thing. I forgot to make any process photos. So, you will just have to hang in there with me. I tried to do extra good instructions to give you a perfect mental picture.
Eat this chicken salad on crackers. Eat it on toast. Eat it on top of a salad. Eat it with your fingers. It is that good and you will be glad that you did. Change it up a little to your own liking and come back and tell me what you did! I would love to hear.
THE RECIPE FOR BLUEBERRY BALSAMIC CHICKEN SALAD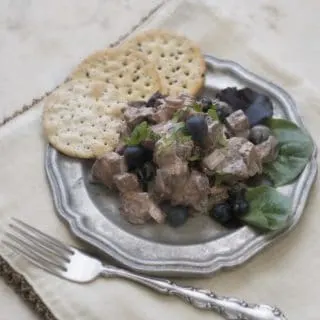 Blueberry Balsamic Chicken Salad
If you can resist eating this ALL by yourself before leaving home, you'll make a million friends by taking this to a pot luck!
Print
Pin
Rate
Ingredients
1

Cup

of Chopped Blueberry Balsamic Chicken Breast

⅓

Cup

Good Mayo

like Helmann's or Duke's

1

tsp

lemon juice

½

celery stalk chopped

½

small purple onion chopped small

¼

cup

toasted almond slivers

¼

Cup

fresh blueberries

Salt and pepper to taste

Enough left over juice from the Blueberry Balsamic Chicken to make as moist as you like
Instructions
Chop the leftover Blueberry Balsamic chicken into small bites.

Mix the chicken with the mayo, lemon juice, celery, onion, toasted almond slivers, blueberries, salt and pepper and left over juice.

Mix well and then allow to rest in the fridge for at least 2 hours.

Serve cold on crackers, salad, sandwich, etc.
Notes
But FIRST you have to make the blueberry balsamic chicken!
Nutrition
Nutrition Facts
Blueberry Balsamic Chicken Salad
Amount Per Serving
Calories 220
* Percent Daily Values are based on a 2000 calorie diet.
Tips and Tricks for Blueberry Balsamic Chicken Salad
There really aren't many tips and tricks – because you just mix up what you have. You can adjust the proportions to however you like it. It is that simple. If you don't have an ingredient – just don't put it in. If you have something else to try in there – throw it in!

You might like your onion pieces bigger – some people do – I do, as a matter of fact. Other people at my house do not though – so I was just being kind to them.

You can also shred the chicken instead of chopping it. I like my chicken salad chopped – you might like shredded, it is your choice.
Introducing Our Newest Team Member
I just wanted to take a moment to introduce our newest Team Member. This is Bad Leroy Brown. You can be assured that he is ALWAYS right here at my feet or more likely, sitting in my lap as I write to you. Contrary to his name, he is the sweetest little guy ever. He DOES have his moments though. Thank you for welcoming him into the Loaves and Dishes Community. He sends his love too and wants you to know that living the life as a food blog studio dog is HARD work!
How do you forgive someone? Does something happen with a friend and then you become angry with them? After seething over it for a while, maybe talking to other friends or your spouse you decide to forget about it and that is forgiving? Do you wait for the offending person to recognize that they have hurt you and apologize and then you forgive?
I've been giving this a lot of thought lately. I don't like to admit it, but sometimes I'm more like that first example. My forgiving more resembles just forgetting about it a lot of the time. What about you?
It has been a while since Easter when I first heard about the concept I'm about to share with you. I was riding in my car and heard a radio preacher (I don't know which one) talking about Jesus on the cross.
Jesus on the cross only says a few things – because, as you can imagine, it would be near impossible to talk while hanging on a cross. What Jesus does say is "Father, forgive them for they know not what they do".
Pretty amazing that Jesus is hanging there after being tortured asking God to forgive his torturers, isn't it? But then again, that is our Jesus, right?
I often think that I need to emulate Jesus more – especially about forgiveness. 'Cause, I am really good at holding grudges.
I went digging around for what else the Bible has to say about forgiveness. Here is what I found. I thought you would like to see too.
Colossians 3:13 – Bear with each other and forgive one another if any of you has a grievance against someone. Forgive as the Lord forgave you
Luke 17: 3-4 So watch yourselves. "If your brother or sister sins against you, rebuke them; and if they repent, forgive them. Even if they sin against you seven times in a day and seven times come back to you saying 'I repent,' you must forgive them."
Ephesians 4: 31-32 Get rid of all bitterness, rage and anger, brawling and slander, along with every form of malice. Be kind and compassionate to one another, forgiving each other, just as in Christ God forgave you.
Yeah, sticks me right in the gizzard, if you want to know the truth of it.
The real truth is, if you just "forget about" something that someone has done – then, you haven't really. Right? If you believe you have forgotten about it – it will pop up again and the memory will come flooding back along with the rage, bitterness and anger.
Perhaps the thing to do is to follow Jesus' lead. Pray for the person.
I'll admit – I'm usually praying for the person – but it isn't a nice prayer. It's more like, "get him God!".
How Christian is that? It isn't.
I have to remember that while Jesus was up there hanging on that cross asking God to forgive those who didn't know what they were doing, he was also praying for me.
How many times have I sinned and hurt Jesus while not really realizing what I was doing?
Plenty, I'll tell you that.
So- if like me you have some forgiving to do, then I would recommend starting with prayer and working on from there. But please, don't just forget about it.