Were you ever glad you took a picture of something because it was so fleeting that it was gone before you knew it? Yeah, me too. It applies RIGHT NOW! Because I am polishing off the rest of these CARAMEL M&M'S KICKING BROWN SUGAR COOKIES as I type this. THEY ARE THAT GOOD! I mean, I SERIOUSLY can't quit – and I bet you won't be able to either!
First, let's talk cookie. This is a soft tender cookie that STAYS SOFT and doesn't turn hard after 2 hours. HONEST! I don't know how long it takes them to turn hard – but I've had them for 72 hours so far – in a zip lock type bag – and they are still soft.
Then let's talk about including those SUPER DELICIOUS brand new M&M's Caramel Chocolate Candy Sharing Size, 9.6 oz
CARAMEL M&M's! I mean, come on, they are DELICIOUS, but… a little hard to find.
I sent Sarah and Richie in search of them and I don't know how many places they looked, but the slightly angry "Mom! We FINALLY found the M&M's you wanted and are now heading home" didn't sound very cheery and I didn't ask for more information. Sometimes it is better not to know.
I first had the chance to try these M&M's Caramel Chocolate Candy Sharing Size, 9.6 oz
" M&M's at the Everything Food Conference in Salt Lake City, Utah last weekend when my friend Janelle said, "Hey! Have you tried these new M&M's" and so graciously shared some with me!
If you are a regular Loaves and Dishes reader, then please go check out Janelle's blog, "Nums the Word". We do the same types of food. You will love her blog too – and she is a fabulous person – so, there's that. You could say that she inspired these cookies.
Just so you know – M&Ms isn't paying me to say any of this. Some of the links on this page ARE affiliate links though and if you purchase using those links then I get a tiny percentage of the sale.
The M&M's that Sarah and Richie bought are in a larger "sharing" size bag. I don't know if they make these M&M's in the smaller personal sized bag – but, who am I kidding, you read Loaves and Dishes – just get the big bag and try to control yourself, ok? Buy two bags, because they are a little hard to find!
THE RECIPE FOR CARAMEL M&M'S KICKING BROWN SUGAR COOKIES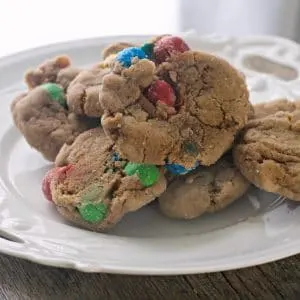 CARAMEL M&M'S KICKING BROWN SUGAR COOKIE
Designed to be eaten on laps sitting outside, these cookies will have you covered in delicious crumbs and you won't care a bit.
Print
Pin
Rate
Ingredients
2

Cups

All Purpose Flour

1

tsp

baking powder

1 ½

tsp

cornstarch

1

tsp

ground cinnamon

½

tsp

salt

¾

Cup

unsalted sweet cream butter

melted.

1

Cup

Brown Sugar

packed (get dark brown if you can, but lite brown works too)

1

large egg

2

tsp

pure vanilla extract

1

tsp

almond extract

⅛

tsp

cayenne pepper

1

Cup

of Caramel M&M's.

½

cup

granulated sugar
Instructions
Mix together the dry ingredients: flour, baking powder, cornstarch, cinnamon and salt in a large bowl ( I put in the bowl of my stand mixer and beat it around a few times).

In a separate bowl, mix the melted butter, brown sugar, egg, vanilla, almond and cayenne and whisk well until well mixed.

Pour the wet ingredients into the dry and mix well (again, if you have a stand mixer, this is the way to go on this). Mix for about 1 minute. The dough will be very soft and wettish.

Mix the Caramel M&M's in by hand and cover with plastic wrap.

Place in the fridge for 2 hours.

After 2 hours, remove from the fridge and preheat the oven to 325 and prepare 3 baking sheets with parchment paper or with a silpat mat.

Pour the sugar into a bowl

Using a small scoop (approx. 2 tbs size), scoop out dough (make sure each scoop has an M&M or two) and then roll in your hands to a ball shape then roll in the sugar to coat and place on cookie sheet spaced evenly on the silpat/parchment paper.

Only put 12 on a baking sheet.

Bake on the center wrack in the oven for 8 minutes.

Remove from the oven and using the back of a wooden spoon, smash the cookie (at this point the cookie will not seem done at all and will make a crackling sounds when you smoosh it).

Place the cookies back in the oven for 2 minutes.

Remove from the oven and place out of the way to cool for at least 10 minutes. You won't think the cookies are done - but they are. Then remove to a baking cooling rack to finish cooling.

If you used parchment paper, remove the parchment paper and throw it away - and that part of your clean up is done! Try not to eat all of the cookies in one sitting. Makes about 2 ½ dozen cookies.
Notes
You can always substitute other candies for the M&M's.
Nutrition
Nutrition Facts
CARAMEL M&M'S KICKING BROWN SUGAR COOKIE
Amount Per Serving
Calories 250
* Percent Daily Values are based on a 2000 calorie diet.
TIPS AND TRICKS FOR CARAMEL M&M'S KICKING BROWN SUGAR COOKIES
Mix the dry ingredients and the wet ingredients separately and then mix them together – that's how it works best.

The reason to put in the fridge for 2 hours? This causes the dough to get very hard – which is what you want – because otherwise the cookies will spread out too far on the cookie sheet and you won't have a thick delicious soft cookie like you want, right?

The reason for using the scoop? So you get the same sized cookies over and over again!

Why smash? Because that gives the cookie some LOVELY crackling and gives it a flattened appearance- trust me – just smash them – ever so gently – and you will be happy.

Trust me on this – you WON'T THINK THE COOKIE IS DONE WHEN IT IS DONE. This isn't like most cookies you have ever baked. Just follow the timing and your cookies should be perfect.

Allow them to cool for 10 minutes before you try to remove them or try to eat them! Why? Because it's in the rules – just follow the rules. 🙂

Let's talk for a moment about a Silicone Baking Mat SILPAT mat versus Parchment Paper, (you can click these links to see what I'm talking about or to purchase). Why use one over the other. Well, for one, silpat keeps you green, right? You aren't increasing your carbon footprint by throwing away some paper that you only baked a few cookies on. On the other hand, it sure makes cleanup easy! Silpats can be washed off easily enough though – then ready for reuse. Either makes cookies a breeze.
Secondly, let's talk baking sheet. Do you have a good Baker's Half Sheet" BAKING SHEET? Is yours warped from use and heat? Does yours have crusties in the corners? Is yours so discolored from baking on it that you can't even recognize what color it was to begin with? Yeah? I thought so. You might not know this – but the color your baking sheet is makes a difference in how long you have to bake something and the quality of the outcome. A shiny new Baker's Half SheetBAKING SHEET bakes things PERFECTLY! An old brown/black baking sheet can cause your baked items to turn out over done on the bottom. Baking sheets aren't expensive. I recommend investing in a couple of really good ones. Like Baker's Half Sheet" THESE. I bought my own at Sam's Club for about $10 for 2. Just wanted you to know.
A VERSE TO SHARE
This week a super tragic thing happened here in my community. A young person is no longer with us. I thought a LOT of this particular young man. I hadn't talked to him in several years because I haven't had the opportunity to see him.
He had a wonderful smile. He had a bright and fun personality. When I was around him more, when he was about 12, I always knew him to be an easy talker who loved to share a joke or a funny story.
There is something I want to reach out to you to say, sometimes things seem really rough and tough. Sometimes you feel like life isnt worth living. We all do.
Trust me, someone cares about you very much. More people than you know care about you. I care about you.
Beyond that, your Maker cares about you.
Please reach out before you make any rash decisions that can't be undone.
If you reach out to me – I PROMISE to answer as quickly as I can – and all you have to do is leave a comment on this page or email me at wendi (at sign) loavesanddishes (dot) net. I usually get comments right away on my cell phone and I check my email several times a day.
Isaiah 41:10
So do not fear, for I am with you;
do not be dismayed, for I am your God.
I will strengthen you and help you;
I will uphold you with my righteous right hand