I didn't really intend to share CARDAMOM PLUM JAM here – but some things are too good to keep to yourself. Do you eat plums? Have you ever thought of pairing plums with the Indian spice, Cardamom? Yeah, me either – but let me tell you, it is GOOD! Sweetened and spread on a cracker with some cream cheese? Irresistible.
If you aren't familiar with Cardamom – perhaps you have heard of Chia tea? Cardamom is one of the spices used in Chia – so see, you did know about Cardamom.
Simply smelling the Cardamom straight from the spice bottle will remind you of something citrusy and warm, maybe like Florida in February? Yeah – that is what we are going with.
Add some sugar to those tart plums and WHOOP! It's good and so BEAUTIFUL too!
And I apologize right now because I can't seem to spell the word plum. I want to add a b at the end – as if the plums also need to stand up exactly straight. If one slips through, I apologize and swear that I am actually fairly educated and should know better!
INSPIRATION FOR CARDAMOM PLUM JAM
The 89 Farm Market in Danbury had some LOVELY plums last week. Seriously though, how many raw plums can one person eat? I HAD to find a way to use those beautiful plums.
It is a shame that I didn't get a photo of those beautiful plums before I made them into jam. A real shame.
I found a recipe for Cardamom Plum Jam in one of my canning cookbooks. I have to say that the author is a lot more adventurous than I am though because she cans without using Sure Jell. I'm not that confident.

(PS – DO NOT buy Sure Jell from these links – I only included them so that you would know what I am talking about. This is WAY too expensive on Amazon – just pick up a box at your local grocery for like $2)
However, discussing the jam situation with my friend Heidi did lend to a fun conversation about copper jam pots. Man I hope I come across one some day! I'm envious Heidi! Heidi can's jam without Sure Jell in her copper jam pot – AND – her jams are WONDERFUL!
Instead, I adapted the recipe from the insert in the Sure Jell package and added the spice to that.
(Just so you know – in general – it is safe to add spices and flavorings to a jam but it is never safe to stray far from the sugar, citric acid, fruit ratio AND you should always follow the guidelines for canning times as stated in the USDA book of canning or in the Ball Canning Book).
Please see my recipe for "how to make and can strawberry jam" for the basic process of how to make jam.
Again – if you are wanting to learn how to do canning and are just unsure what to do – please write me. I will help you. We can set up a time to do facetime or whatever and get you up and running. It isn't hard. You can learn. I will help you. There is a charge for facetime meetings, but it isn't much and it will make a world of difference to you as you start learning how to can. My email if you want to reach me is wendi(at)loavesanddishes(dot)com.
RECIPE FOR CARDAMOM PLUM JAM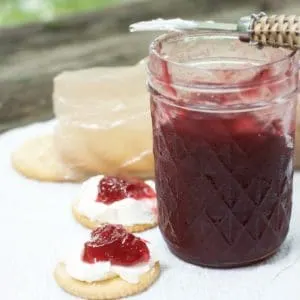 CARDAMOM PLUM JAM
This jam is everything that is right in the world.
Print
Pin
Rate
Ingredients
4

lbs

fresh plums

3

Tbs

bottled lemon juice

4

tsp

Ground Cardamom

1

package of Sure-jell

8

Cups

Granulated white sugar
Instructions
Wash the plums and gather your canning supplies while the plums dry. See the instructions for "How to make and Can Strawberry jam" for basic canning instructions.

Cut the plums into small pieces, removing the seed. Once all of the plums are cut, place in a 6-8 quart stock pot on the stove top.

Mix in the lemon juice, cardamom and then whisk in the Sure-jell.

Heat over medium high heat on the stove top until the plums come to a full rolling boil that can't be stirred down.

Add the sugar all at once and continue to heat on medium high until it comes to a full rolling boil again.

Once boiling time for 1 minute and then remove from the heat.

Skim off any foam that accumulates.

Place into hot half pint jars allowing ⅛ inch head space.

Can in water bath for 10 minutes.
Notes
The skins of the plums may be larger than you like, simply remove or break up before jarring.
Nutrition
Nutrition Facts
CARDAMOM PLUM JAM
Amount Per Serving
Calories 220
* Percent Daily Values are based on a 2000 calorie diet.
TIPS AND TRICKS FOR CARDAMOM PLUM JAM
This is just so simple that there really aren't any tips and tricks EXCEPT to say, I used my kitchenaid to smash up the plumbs before putting them in the cooking pot. I simply halved the plumbs, removed the pit and threw them in the mixer. This works GREAT for strawberries – not so much for plums. You will do better to just cut them with a knife into smaller bits. The mixer does a great job of smashing but the skins hold together and that isn't so terrific.

If you have canned jam before, this is the same basic process as all other jams, just add the spice.
A VERSE TO SHARE
Do you spend too much time on social media? I'll admit right now that I spend WAY too much time surfing facebook. I LOVE knowing what my friends from across my lifetime are doing. I LOVE to see pictures of their grandbabies and of their children graduating high school and college.
My friend Olivia and I were lamenting the other day about all of the people that we are still friends with on facebook who have passed away. Their birthday's come around with Facebook cheerfully telling us to wish them a happy birthday when in fact, they are long gone.
Our conversation reminded me of the whole book of Ecclesiastes, which I like to call "The Eeyore of the Bible". Yet, Ecclesiastes has some beautiful sentiments. If you haven't ever read the whole book, I encourage you to do so.
So see – although Ecclesiastes doesn't specifically say so – there is probably also a "time to surf facebook". Maybe? lol. Probably no.
With that, I'm going to share just part of this chapter of Ecclesiastes 3.
Ecclesiastes 3: 1-17
There is a time for everything,
and a season for every activity under the heavens:
a time to be born and a time to die,
a time to plant and a time to uproot,
a time to kill and a time to heal,
a time to tear down and a time to build,
a time to weep and a time to laugh,
a time to mourn and a time to dance,
a time to scatter stones and a time to gather them,
a time to embrace and a time to refrain from embracing,
a time to search and a time to give up,
a time to keep and a time to throw away,
a time to tear and a time to mend,
a time to be silent and a time to speak,
a time to love and a time to hate,
a time for war and a time for peace.
What do workers gain from their toil? I have seen the burden God has laid on the human race. He has made everything beautiful in its time. He has also set eternity in the human heart; yet no one can fathom what God has done from beginning to end. I know that there is nothing better for people than to be happy and to do good while they live. That each of them may eat and drink, and find satisfaction in all their toil—this is the gift of God. I know that everything God does will endure forever; nothing can be added to it and nothing taken from it. God does it so that people will fear him.
Whatever is has already been,
and what will be has been before;
and God will call the past to account.[b]
And I saw something else under the sun:
In the place of judgment—wickedness was there,
in the place of justice—wickedness was there.
I said to myself,
"God will bring into judgment
both the righteous and the wicked,
for there will be a time for every activity,
a time to judge every deed."