Choriqueso Dip. Let's holler it out! CHORIQUESO DIP! So simple, so delicious, so EASY. This dip will be your choice the next time you have company over, go to a pool party, play cards or watch TV by yourself! Personally, I think the best use of this dip is to make some for the best person in the world – YOU! Come on, I'll show you how!
WHAT IS CHORIQUESO DIP ANYWAY?
You might be wondering, "What is Choriqueso Dip anyway?". Keep reading and I'll tell you!
Have you ever ordered the White Cheese Dip, at a Mexican restaurant? Perhaps some was on top of your favorite burrito when it arrived at the table. Maybe you have wondered what makes Arroz Con Pollo SO DELICIOUS? You can also find this cheese in my own recipe for Chori-pollo! Yeah, it's the white cheese!.
For this post, I've married this INCREDIBLE white cheese with WONDERFUL Mexican Chorizo and a few other choice goodies to create THE ABSOLUTE BEST DIP in the world (that's not too braggadocious is it? I mean – humble is good. I don't want to sound like I'm trying to take over the world like an evil overlord or something). OK – I will not claim that this is the BEST dip in the world – instead – I'll say – try it and see what you think.
I'll be forgetting about my usual cheese food with tomatoes and green chilies dip and I'll be upping the ante with this dip from NOW ON!
You do need to know a few things about Chorizo before you start though….
WHAT IS CHORIZO?
Chorizo is a reddish pork sausage that is wonderfully spiced. In American grocery stores, you will find Chorizo in two main forms. One form is similar to a smoked sausage with a thin casing – this type can be sliced into discs that would remind you of pepperonis and is typically associated with Spanish Chorizo. Spanish Chorizo is spiced with smoked paprika and is EXCELLENT and fantastic sliced on crackers as an appetizer. This is NOT the type of chorizo to use for this recipe, however.
The other type of Chorizo is sold in a thick plastic-like casing and is fresh type of sausage. This is Mexican Chorizo. The recipe in this post calls for this fresh type of Chorizo. This chorizo is spiced with pepper flakes. For this recipe, you will remove the casing by cutting off the end clip and then squeezing the sausage out from the casing into the pan.
There are also types of Chorizo from other countries such as Brazil, Portugal and Puerto Rico – but those aren't readily available all over the U.S and thus, not discussed here.
If you google chorizo you will find references to both Spanish Chorizo and Mexican Chorizo. Mexican Chorizo is what we are using in this recipe.
You can find this same type of Chorizo in my recipe for Chorizo Mouth Party Lasagna Rolls!
WHAT KIND OF CHEESE IS USED IN QUESO BLANCO
This recipe uses the same kind of cheese used in queso blanco. I'll just tell you that Chef Google has some recipes for this type of cheese. I haven't tackled making this cheese from scratch yet.
I like to use the kind that I find in the refrigerated section of my local grocery store. I find it near the hot dogs and prepackaged lunch meat. It could be different in your store. Just ask someone who works there, I'm sure they will point you in the right direction.
My biggest question is, why does this come in such small containers? We need it in GALLON sized containers. Serious.
THE RECIPE FOR CHORIQUESO DIP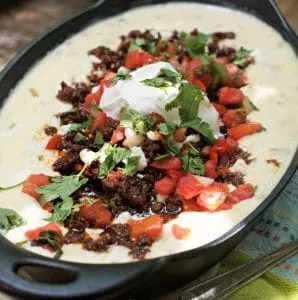 CHORIQUESO DIP
It's basically impossible not to like this choriqueso dip, I mean, come on, it has cheese, spicy sausage and all the addictive things that make southwestern food so fun.
Print
Pin
Rate
Ingredients
1

Tbs

vegetable oil

1

lb

fresh chorizo sausage - removed from the casing and chopped to hamburger consistency.

1 12

oz

package of white cheese dip

4

oz

chopped green chilis

I used mild - but use whatever spice level you prefer.

2

oz

mexican melting Queso

Oaxaca - crumbled.

Garnish - pico de gallo

sour cream and cilantro
Instructions
Preheat the broiler on your oven.

While the oven preheats, heat a frying pan on medium heat on the stove top and add 1 Tbs of vegetable oil until glistening.

Add the chorizo sausage and brown through.

While browning the chorizo, in a small sauce pan heat the white cheese sauce over medium heat and add in a 4 oz can of chopped green chilis. Stir well and continue to stir occasionally until heated through.

When chorizo is browned and the cheese is heated through, pour the cheese into a 1 quart oven safe pan and top with the chorizo. Sprinkle the mexican melting cheese on the top and place under the broiler for 2 minutes.

Remove from the oven and garnish with pico de gallo, sour cream and cilantro.
Notes
Of course, you can top this dip with anything you want, or nothing. Either is great.
Nutrition
Nutrition Facts
CHORIQUESO DIP
Amount Per Serving
Calories 360
* Percent Daily Values are based on a 2000 calorie diet.
TIPS AND TRICKS FOR CHORIQUESO DIP
The Chorizo sausage has a serious amount of grease in it and you will need to drain it well before adding to your cheese dip.
Watch the cheese carefully as you heat or it will begin to stick to the bottom of the pan!
Choose the green chilis at the heat level you prefer – but remember that the Chorizo does have some heat to it. It doesn't have a lot – but it is some.
I've shown the packages for the white cheese and the chorizo below.
Please NOTE: the chorizo is a fresh meat product – DO NOT ATTEMPT TO COOK IT IN THE CASINGS THAT IT COMES IN! Remove the casing and the metal staple – you don't eat that part.
The chorizo must be cooked BEFORE you put it in the cheese – it is not a precooked meat product.
You CAN make this in a crockpot – simply brown the meat first and then put all of the ingredients in the crockpot and set it on low (do not include the garnishes) and it will be ready in an hour or so.
If you don't like the garnishes – then leave them off – no harm done.
A VERSE TO SHARE
I started out today led to share with you some scriptures that God gives us about forgiveness. We have all had those experiences when someone has been spiteful, hateful and hurtful to us. We all need to forgive – sooner rather than later.
However, my research led me to 1 Timothy. Wow. Just hang onto your hat. I had to set aside my thoughts to concentrate on 1 Timothy for a moment.
1 Timothy written by Paul
1 Timothy was written by Paul. I haven't been a big fan of Paul. That said, I respect him. I can't think of any other believer who endured what Paul did. If you are wondering what I am talking about – dig into your bible and read the books that Paul wrote. What a crazy life that guy had…. All because he followed Jesus.
Anyway, in 1 Timothy, Paul is writing to a young man (Timothy) who is making headway in the church. Paul is giving him advice about how to conduct himself. (It's always important to know the context of what you are reading – why it was written – who wrote it and what their possible mindset was when they did write it).
So – you can imagine that scenario – right? You've been in the situation where you have been telling someone new to your profession where the pitfalls are and where the benefits are, right?
At the same time, you and I can certainly learn a lot from Paul too. It really gets me in the feels along about verse 14 where Paul writes "Do not neglect your gift that was given to you by prophecy."
Your Gift
Do you have a gift that was given to you? Do you ignore your gift or keep it to yourself? Could God be praised with your gift? Have you ever missed an
opportunity to share love with someone because you failed to share your gift? I sure have.
I have missed A LOT of opportunities to use my God given gifts to give praise, to lead and to show someone else the way.
You and I both have to remember that gift is from God! He wants you to share it. I hope you will. Perhaps someone will see the good you are doing and want some of what you've got – did you ever consider that?
We should probably all think about that and pray for strength to share our gifts.
Here's 1 Timothy. Enjoy.
The Spirit clearly says that in later times some will abandon the faith and follow deceiving spirits and things taught by demons. Such teachings come through hypocritical liars, whose consciences have been seared as with a hot iron.
They forbid people to marry and order them to abstain from certain foods, which God created to be received with thanksgiving by those who believe and who know the truth. For everything God created is good, and nothing is to be rejected if it is received with thanksgiving, because it is consecrated by the word of God and prayer.
If you point these things out to the brothers and sisters, you will be a good minister of Christ Jesus, nourished on the truths of the faith and of the good teaching that you have followed. Have nothing to do with godless myths and old wives' tales; rather, train yourself to be godly.
For physical training is of some value, but godliness has value for all things, holding promise for both the present life and the life to come. This is a trustworthy saying that deserves full acceptance. That is why we labor and strive, because we have put our hope in the living God, who is the Savior of all people, and especially of those who believe.