Ya'll – CHORI-POLLO is WHERE it is AT! This is my favorite dish when we visit a Mexican Restaurant! (sometimes called Shorty Chicken – don't ask me why). A drooling mixture of chorizo sausage, chicken breast and the OMG white Mexican queso cheese served with Mexican rice and refried beans. One bite and BOOM! I just hit the floor. SO GOOD!
I looked around for a recipe that would taste like my local Mexican joint – and couldn't find one. So, I had to make up my own. I experimented with this recipe and tried it out on my kids and their spouses. We had a Mexican food throw down! Everyone loved it! In fact, I had to hide a little bit so that I could take a picture for you!
So, here it is!
What is Chori-Pollo, anyway?
Chori-Pollo is a dish that you can often find in Mexican restaurants. Sometimes Chori-Pollo is called "Shorty Chicken". The dish is made of Mexican Chorizo Sausage, Chopped or shredded boneless skinless chicken breast mixed with white Mexican queso cheese. Usually, this dish is served over Mexican rice with a side of refried beans and Pico De Gallo. Here, I show my Chori-Pollo with a dollop of sour cream and garnished with cilantro.
What is Chorizo?
Chorizo is a reddish colored pork sausage that is deliciously spiced. In American grocery stores, you will find Chorizo in two main forms. One form is similar to a smoked sausage with a thin casing – this type can be sliced into discs that would remind you of pepperonis and is typically associated with Spanish Chorizo. Spanish Chorizo is spiced with smoked paprika and is EXCELLENT and fantastic sliced on crackers as an appetizer. This is NOT the type of chorizo to use for this recipe, however.
The other type of Chorizo is sold in a thick plastic-like casing and is fresh type of sausage. This is Mexican Chorizo. The recipe in this post calls for this fresh type of Chorizo. This chorizo is spiced with pepper flakes. For this recipe, you will remove the casing by cutting off the end clip and then squeezing the sausage out from the casing into the pan.
There are also types of Chorizo from other countries such as Brazil, Portugal and Puerto Rico – but those aren't readily available all over the U.S and thus, not discussed here.
If you google chorizo you will find references to both Spanish Chorizo and Mexican Chorizo. Mexican Chorizo is what we are using in this recipe.
Try Chori-Pollo with these Best Canned Refried Beans Ever!
Serving suggestion for Chori-Pollo
Chori Pollo is best served over a Mexican rice with a side of refried beans. It is also terrific in a hot flour tortilla. I have even tried it served over a salad – but I am crazy about this stuff – so, try it and let me know what you think – salad? Not salad? I don't know.
By the Way – Chori-Pollo is NOT diet food. It is GOOD food. It is DELICIOUS food. It is not diet food. Just saying.
For our light and momentary troubles are achieving for us an eternal glory that far outweighs them all 2 Corinthians 4:17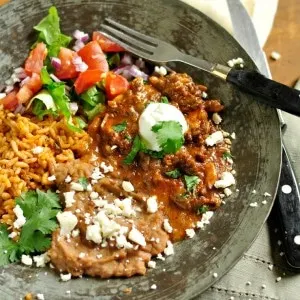 Chori-Pollo
This delicious creamy flavorful dish is a favorite at most Mexican restaurants and it can be at home too!
Print
Pin
Rate
Ingredients
1 16

oz

package of Chorizo Sausage

the kind in the plastic casings – looks like short hot dogs.

1 ½

lbs

chicken breast – sliced in small thin pieces.

1

small can of chopped green chilies

½

container of white Mexican dipping cheese

I like Gordo's original Cheese Dip 16 oz package
Instructions
Remove the chorizo from the plastic casing by cutting off the clamp on one end and squeezing the contents into a skillet. Brown the chorizo over medium heat.

When nearly cooked through, add the chicken breast slices.

When chicken is cooked through, add the can of green chillis and stir well.

Add ½ the container of Mexican dipping cheese, stir to melt the cheese well. Add more as desired.

Serve hot. Garnish with Mexican crumbling cheese and cilantro
Notes
Make sure to remove the chorizo from the casing.
Be sure to purchase the type of chorizo that comes in a casing and not the kind that resembles keilbasa sausage.
Nutrition
Nutrition Facts
Chori-Pollo
Amount Per Serving
Calories 392
Calories from Fat 180
% Daily Value*
Fat 20g31%
Cholesterol 194mg65%
Sodium 2009mg84%
Potassium 629mg18%
Carbohydrates 1g0%
Protein 47g94%
Vitamin A 659IU13%
Vitamin C 25mg30%
Calcium 34mg3%
Iron 2mg11%
* Percent Daily Values are based on a 2000 calorie diet.