Welcome to Loaves and Dishes Hungry Meatless Monday Eaters!!! It's been a WHOLE week since we've seen each other! Welcome BACK! Today I have the quintessential "getting ready for summer" dish! Tomorrow- this Creamy Ranch Pasta Salad will travel with me to a "moving to our first house" party! Therefore, this pasta salad is made to please the greatest number of regular folks. No strange ingredients. No trying to sneak in vegetables. Just a pasta salad for a lovely spring day.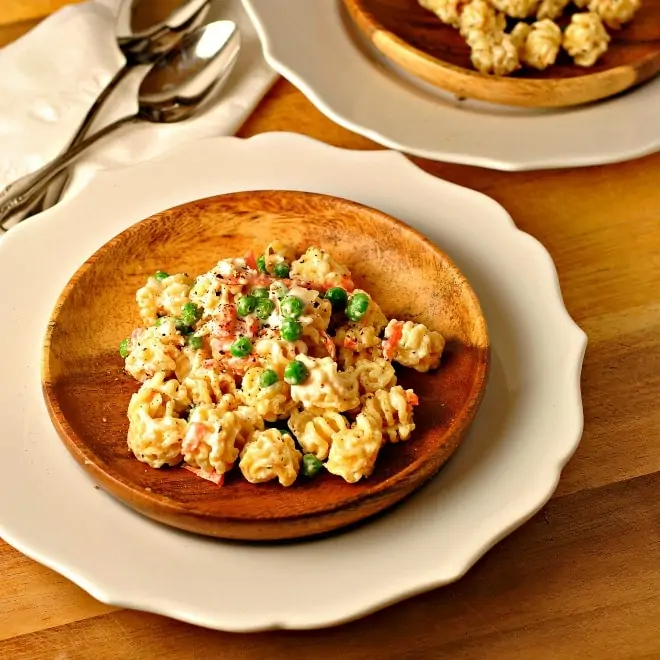 Tomorrow marks a super important day in the life of our family. My son and his lovely bride are buying their first home. The best part? They will be living ONLY ABOUT 10 MILES FROM ME!!! They are expecting their first baby together. YAY! I will only be 10 miles from my new grandbaby!!! I already have some pretty special things planned for me and that baby to do together!
Anyway, I have to work at my regular day job tomorrow and will not be able to be there for the start of the moving – but I promised to bring dinner for everyone who is helping in the move.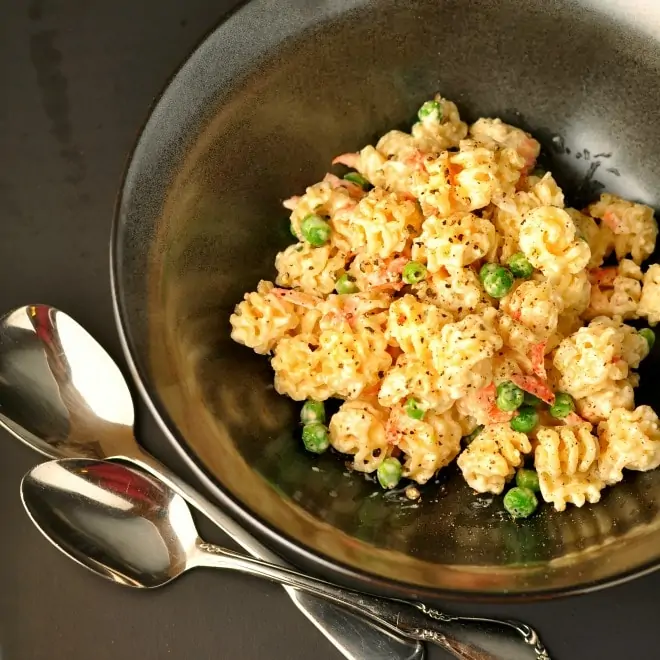 When I put something like this together, I try to have a few homemade treats with a few store bought items – makes for an easier day for me!
The Menu? Hangry Hamburgers with all the usual burger trimmings, Pasta Salad, chips, chip dip and because of a special request from my favorite daughter-in-law (who is expecting) my "death by macaroni and cheese". Which is a lot of carbs and no real veggies – I know – but I'm feeding a crew of 20+ year olds and they will be working it off. I'll also have a treat for dessert too – still in the planning stage.
With that – I have some more things to get ready for the moving dinner – and have to get moving myself.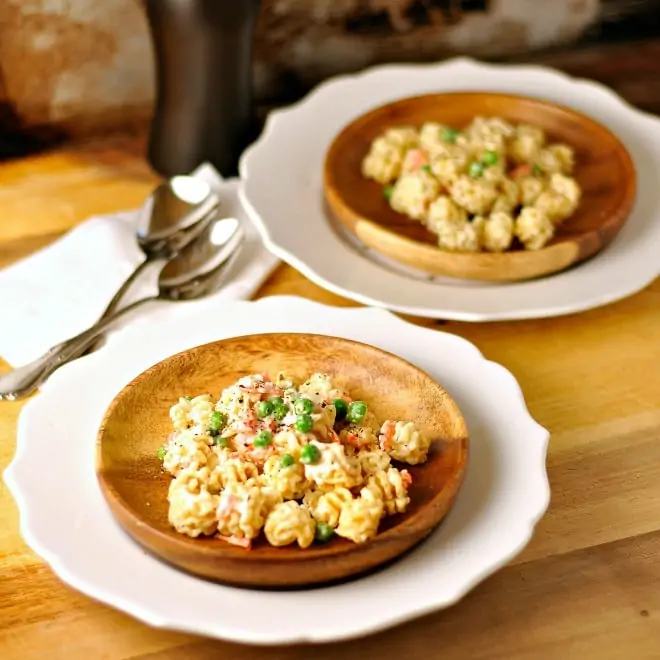 Recipe inspiration for Creamy Ranch Pasta Salad.
You know that boxed pasta salad that you mix in mayonnaise and it is ready? I really like that stuff! (shhh… don't tell anyone). I refuse to pay that amount of money for pasta salad though – so, I threw this together to approximate that taste.
Don't forget to subscribe to Loaves and Dishes so that I can send you an email notice when the next recipe posts. I PROMISE to never give (or sell) your email address to anyone else – and I PROMISE not to bug you to death!
Serving suggestions for Creamy Ranch Pasta Salad
Serve this with a sandwich and some chips – perfect quick summer lunch.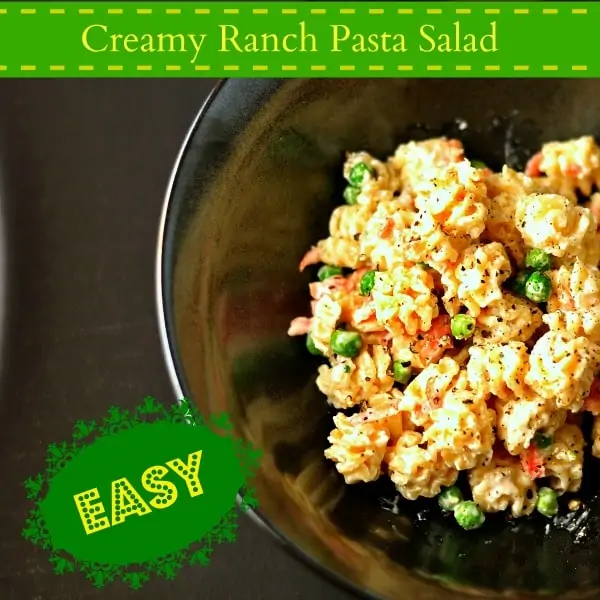 Now I ask you, Make Dinner, Not War.
The next day John saw Jesus coming toward him and said, "Look, the Lamb of God, who takes away the sin of the world! ~ John 1: 29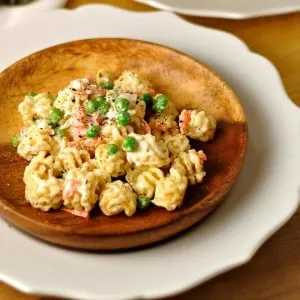 Creamy Ranch Pasta Salad
A simple ranch pasta salad that is easy to make
Print
Pin
Rate
Ingredients
½

lb

pasta – cooked to al dente per box instructions

1

small carrot – shredded

¼

Cup

– frozen baby peas

3

Tbs

Onion – minced

¼

Cup

parmesan cheese

for vegan - do not use this

1

packet Hidden Valley Ranch Salad Dressing mix

1

Cup

Mayonnaise

we prefer Hellman's (for Vegan use Veganaise)

1

Cup

Milk

for Vegan - use almond milk

Salt and pepper to taste
Instructions
Cook pasta according to package directions – drain and set aside to cool. Any pasta is fine – shells, macaroni or penne work great. Once cool, grate the carrot and add to the pasta. Add the peas to the pasta as well as the onion and parmesan cheese.

In a separate bowl, mix dressing mix and mayo together with a whisk. Whisking vigorously, pour the milk into the mayo little by little, whisking until well combined and creamy. Pour the dressing mix over the pasta and mix well with a large spoon. Salt and pepper to taste. Cool in fridge for an hour before serving. If taking to an outdoor event – keep cool until ready to serve and place any leftovers immediately in the fridge.
Notes
Use bottled ranch dressing as a substitute
Nutrition
Nutrition Facts
Creamy Ranch Pasta Salad
Amount Per Serving
Calories 270
* Percent Daily Values are based on a 2000 calorie diet.