For a long time I was a Pot Roast failure. I even failed at making pot roast in the crock pot with the onion soup mix – really – it's true. In a minute I am going to tell you the SECRET to perfect pot roast. This recipe is so easy and I really hope that you will give it a try. In fact it is Delicious, Easy and Perfect Pot Roast & Daddy's Drooling Again Gravy!
Beef roast is what I have in the freezer – a lot of it. I buy a half of a grass-fed cow at a time and put it in the freezer. Steaks are gone first and the things that are at the bottom of the freezer are what I am not sure how to cook. This is what I learn to fix during the final months before ordering again– and that is where I am now.
If you have ever considered buying beef from the local farmer or meat processor, or even if you haven't. I totally recommend it. It's nice having the satisfaction of knowing that the cow lived a normal cow life until one day his farmer loaded him up. A friend of mine says, "he only had one bad day".
Worried about how much space that much beef will use? I have the smallest chest freezer one can buy at the local big box hardware store. It doesn't take up much room and it holds about half a cow. I pay less than $4/lb – and that is for roast, hamburger, steaks, steak tips, etc.
THE SECRET TO PERFECT Delicious, Easy and Perfect Pot Roast & Daddy's Drooling Again Gravy
Oh WAIT! I said I was going to tell you the SECRET to perfect pot roast. Back when I was a pot roast failure, my pot roast always came out tough, chewy and without flavor. This recipe fixes the flavor part. But the big secret – if your roast is tough – cook it MORE. Yes. That's it! Isn't that simple? I used to think that because the meat was tough and chewy that I was over-cooking it.
That is not true.
Pot Roast is from a strange parallel universe where the opposite is what must happen for moist deliciousness. You simply have to cook the devil out of that thing! Here is a good rule of thumb. If you have a 2 lb pot roast – it needs to cook for at least 3 hours at 275! If you have a 3-4 pound roast – it needs to cook for 4-5 hours!! Really!!! It does!!!
Eventually…
it will be just falling apart – and that is how you know its done! Stick a fork in it – it's done you'll see! That means… allow extra time for cooking a roast because it might need to cook longer than you originally thought and after it comes out of the oven, it still needs to rest for about 10 minutes. Quote for the day: Pot Roasts will never win a fast food race!
THE RECIPE FOR Delicious, Easy and Perfect Pot Roast & Daddy's Drooling Again Gravy!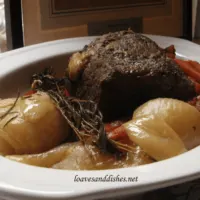 Delicious, Easy and Perfect Pot Roast & Daddy's Drooling Again Gravy
A mouthwateringly delicious and easy to make pot roast that really will have daddy drooling again
Print
Pin
Rate
Ingredients
For the Pot Roast
Salt and Pepper

A 3-5 lb pot roast

for these pictures – I used a sirloin roast- but really – any cut of beef roast will work

2-3

tbs

olive oil

2

whole onions cut in half

8

whole carrots cut in half lengthwise

1 ½

cups

wine

red is recommended but white works too – any that you would drink yourself – don't' ever cook with wine you wouldn't drink – your food doesn't want to drink it if you don't'!

About 3 Cups of Beef broth

if you can make your own – that's optimal – we will cover that in a later post – but store bought is fine.

3

sprigs of Rosemary

3

sprigs of Thyme

tie together with the rosemary with some kitchen string

6

cloves

of garlic

yes 6! – smash them!

1

Bay leaf

1

tsp

of raw sugar
For the Gravy:
Liquid from the roast/vegetables noted above.

1

capful of Kitchen Bouquet

4

Tbs

Heavy Cream or milk

Salt and pepper to taste

2

heaping TBS of flour
Instructions
Preheat oven to 275. Liberally – and I mean VERY liberally – more than you think is prudent - salt and pepper the roast and then sprinkle with the raw sugar (brown sugar will do if you don't have raw).

Then let the roast sit while you work on the other things.

Put the oil in a Dutch oven (make sure you have a pot you can put the whole thing in the oven – with the lid on). Anyway, this same pot - put on top of the stove and set the burner on HIGH (really, high) and let it heat.

While this preheats – cut your onions and carrots in half.

When the oil is hot – put your onions in – the entire half onions and let it get good and brown on both sides. Remove the onions to a plate (we are just developing some flavors here- remember I said this recipe takes care of the flavor issue). Then do the same thing with the carrots – you can put them all in at one time. Let them get good and dark in some places – turn them over and do the other side. Remove to a plate. Now do the same thing with the roast – plunk that bad boy in there and let him sizzle for a good 2-3 minutes on each side – top and bottom and all sides. Then remove to a plate. (they can all sit on the same plate)

Once everyone is out of the pot, pour the wine in all at once and use a wooden spoon to scrape up the burnt bits from the bottom of the pot – turn the heat down to medium. (this is where the great flavors come from)

Allow the wine to bubble for a minute or two while you scrape and then return the meat to the pot – put the carrots and onions on top and add the Rosemary and Thyme bundle. Poke the smashed garlic cloves and the bay leaf down in the wine. If you don't keep the rosemary and thyme tied up in a bundle, you will end up with little sticks in your dinner – ask me how I know.

Add the beef broth – you want the broth to come up to a little more than half way up the side of the roast. Add more or less but use the side of the roast as a guide to how deep the broth needs to be.

Put the lid on your dutch oven and put the whole thing into the oven on the middle rack – and that is all you need to do until dinner time!

After 3 ½ hours – check the roast – spoon some of the drippings over the top of the roast and do this every 15 minutes until done. Check the roast at the 4 hour mark and if its falling apart – great – its done. If it still seems tough – put it back in for another 30 minutes. Keep spooning the liquid over the top and checking every 30 minutes until you can stick a fork in it and it separates easily.

Once its falling apart – remove the whole pot from the oven. Remove the roast from the pot to a plate with all of the vegetables.

For the Daddy's Drooling Again Gravy

Heat the liquid from the roast on the stove top on medium high heat.

Add the Kitchen Bouquet and cream – stir.

In a small bowl mix the flour mix with just enough cool water to turn it to liquid. Whisk into the liquid on the stove top and whisk furiously until you don't see any flour lumps.

Allow to heat until thickened – taste – add salt and pepper until it tastes just right.
Notes
This roast is a more involved roast than some but it really brings out the flavor. You'll be glad you put the work in!
Nutrition
Nutrition Facts
Delicious, Easy and Perfect Pot Roast & Daddy's Drooling Again Gravy
Amount Per Serving
Calories 320
* Percent Daily Values are based on a 2000 calorie diet.
TIPS AND TRICKS FOR Delicious, Easy and Perfect Pot Roast & Daddy's Drooling Again Gravy
Use leftovers to make steak and cheese sandwiches, freeze the leftovers to use again as they are or do what we did – make burritos! Simply heat the leftovers in a pan with 1/2 cup water and add taco seasoning! Easy and yummy. Top with any usual taco seasoning – serve with rice, beans and a green salad.
As a special treat for my faithful readers who read all the way to the end, I have included a picture of my wonderful husband enjoying some pot roast reimagined as a burrito. He is, afterall, the chief taste tester at Loaves and Dishes.
(He ate TWO)
IF YOU ENJOYED Delicious, Easy and Perfect Pot Roast & Daddy's Drooling Again Gravy MIGHT ALSO ENJOY….
All the Secrets to Perfect Crockpot Pot Roast