Jump to Recipe
You might not think that weddings and all the secrets to perfect crockpot pot roast go together, but if so, then you don't know what you are talking about.  If you are looking for flavorful, fall apart on your fork, mouthgasm "Oh My GOSH THAT is the BEST Pot Roast EVER" quickly followed by, "How did you DO THAT?" and "YOU are the QUEEN of the kitchen and the pot roast!" – then THIS is the right place for you.
The very first recipe I ever posted here was pot roast.  To say that pot roast is a favorite at my house is an understatement.  I love THIS other recipe, I do.  I have to admit though, it is A LOT of work.  It takes some serious TIME and a little SKILL but is, delicious.  
My daugher in law said it best.  On the first bite of this pot roast she exclaimed, "This ain't your grandma's pot roast!!!" She is right.  It isn't.  (She said she had been dreading coming over to eat pot roast – because all the pot roast she has ever eaten has been dry and laying on the plate next to limp onions and carrots). I know, eww.
HOW I CAME TO KNOW ALL THE SECRETS TO PERFECT CROCKPOT POT ROAST
The recipe I am going to share with you today from my new friend Mary the Magical and Magnificent Pot Roast Chef is simply BEYOND words.  You will think so too, my friend, Oh BELIEVE ME, you will think so too.  
Mary the Magical and Magnificent Pot Roast Chef shared this recipe with me after feeding a houseful of people with this pot roast.  I'm not kidding when I say that the crockpot was LICKED clean.  I saw at least three people, dip around in the juice and make a sad face to discover that there would be no seconds, or thirds, or fourths… you get the idea.
The wedding was September 14 and we have eaten this pot roast TWICE in two weeks at my house since because it turns out perfectly every single time.  Daughter Sarah has cooked it at her house (she used a different cut of meat and she says don't do that).  
My good friend Judy also gave it a whirl and her husband has already requested this to be their Thanksgiving dish AND their Christmas dish!  WHOO HOO!  IT IS PERFECT!
HOW DO YOU COOK A POT ROAST IN THE CROCK POT
If you came here wondering how to cook a pot roast in the crock pot, then worry no more.  This recipe will save the day.  Follow my instructions EXACTLY and you won't be sorry.  What you need to know about cooking ANY large piece of meat in the crockpot is YOU HAVE TO LET IT COOK LONG ENOUGH.  Unlike any other kind of cooking – almost – meat will get more tender the longer you cook it in the crockpot.  
If you find that your pot roast is still a little tough after the required time, then it hasn't cooked long enough and that is the end of story.  Put the lid back on and let that pot roast cook longer.
Do not take the lid off and stir it every hour or two because when you remove the lid, consequently, the steam and heat escape and it takes longer to cook the meat.  You probably have a glass lid on your crock pot, just look through there to see your happy pot roast and be satisfied.
HOW DO YOU COOK A BONELESS CHUCK IN THE POT ROAST?
Cooking a boneless chuck isn't going to be a lot different than any other cut of beef.  The chuck roast is a flavorful cut of meat (ever heard of ground chuck when buying hamburgers?) and is very affordable.  You will see that it has a nice balance of fat and meat in the roast.  
I beg you, do not ruin your dinner by deciding that a chuck roast has too much fat and therefore choosing some other cut for your pot roast.  Then you will come back here complaining that your roast didn't turn out right.  That fat that you see equals BIG flavor!  Just don't look at it if the fat disturbs you that much – I promise, you'll be so pleased when you serve it.  
IS A CHUCK ROAST THE SAME AS A POT ROAST?
The short answer is YES, a chuck roast is a pot roast.  There are other cuts of meat that people also use for pot roasts.  If you want the BEST pot roast though, choose a chuck roast of a decent size and then follow this recipe EXACTLY.  
WHERE IS THE CHUCK ROAST ON THE COW?
A chuck roast comes from the shoulder of the cow.  It is one of the largest cuts on a cow.  Because, as you can imagine, it takes a giant effort and force to move a cow around, the shoulder muscle itself would be tough.  That is why cooking in the crockpot is the perfect kitchen expert move.  Slow cooking renders the tenderest meat in the end.
HOW LONG DOES IT TAKE TO COOK A CHUCK ROAST IN THE CROCKPOT?
It takes about 8 hours on a low temp.  Please follow the recipe below to the LETTER and you will have a perfect pot roast.  Put it on in the morning before you leave for work.  Come home to a perfect dinner!  You really can not mess this up (unless you don't follow the recipe exactly).
WHERE DO YOU FIND THE INGREDIENTS FOR THIS RECIPE?
The chuck roast will be in the fresh cut meats section of your grocery and will be labeled "Chuck Roast".  Check to make sure the pounds are correct.  If you do not see one, ask the butcher.  Do NOT opt for some other cut of meat because it is really important that you pick a chuck roast.
The Au Jus that we are using here comes in a packet.  In my grocery store there is an entire section of packets and they have things like meatloaf seasoning, instant gravy, etc.  The one I buy is a McCormick Brand Spice packet.
The Ranch seasoning mix is found in the salad dressing aisle and is used to make Ranch dressing in its usual application.
The pepperoncini peppers are found in the same area where the pickles are (at my store).  Like anything, if you can't find what you are looking for in your store, ask one of the employees.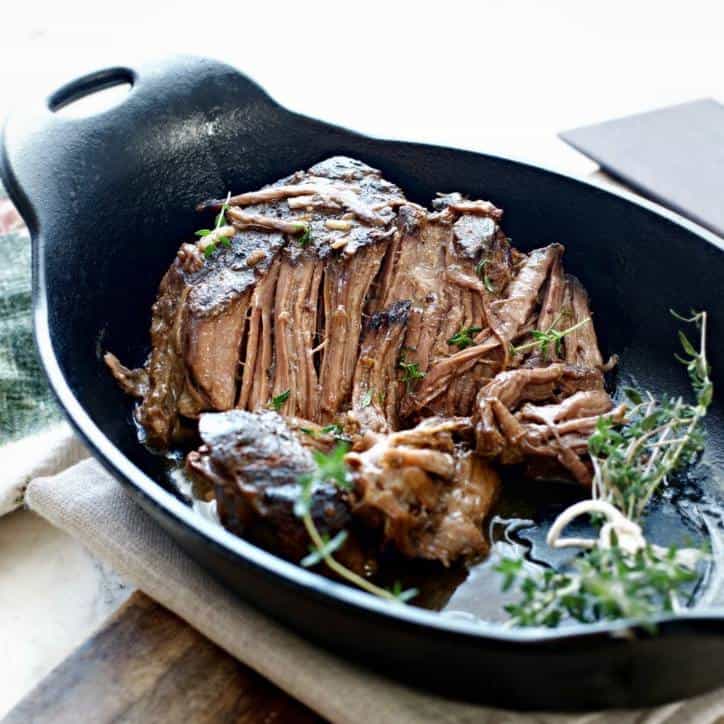 ALL THE SECRETS TO PERFECT CROCKPOT POT ROAST
TIPS AND TRICKS FOR THE PERFECT CROCKPOT POT ROAST
This is so simple – just throw it all in the crockpot and come back 8 hours later and eat.  That said, you want to choose the best piece of meat that you can at the store.  Choose meat that is a deep red with a lot of fat marbling.  The fat will cook out and stay in the crockpot, you won't' eat that part anyway. It sure adds a lot of flavor though.

If you are feeding a crowd, you can put TWO roasts in the same crockpot and simply double the other ingredients.  No need to double the water though.

I realize, and you do too, that the Au Jus packet and the Ranch packet might have ingredients that you aren't too tickled about.  I agree.  That said, this really does beat any other beef roast I've had.  Ever.  That is A LOT of roast ya'll.  If you are dead set against adding those things – then I firmly suggest that you check out THIS recipe >>>HERE<<<.  It is delicious and tasty and perfect.  Just not quite as perfect as this recipe on this page.  
I have made this substituting a whole head of garlic sliced in half rather than the minced garlic – I LOVE it this way!
If you like the taste of Bay Leaves – then feel free to use extra – I actually think 5 is about right for our house.
If your pepperoncini peppers are long like a finger, then only use three.

This recipe is pretty fail proof – I think you will be happy.  I know I am.

And finally – a special CONGRATS to the Bride and Groom!
IF YOU ENJOYED THE PERFECT CROCKPOT POT ROAST
Then you might also enjoy…
How to roast a chicken in the crockpot
Slow Cooked Crock Pot Cuban Sandwiches
YA'LL, HELP ME OUT, OK?
Please leave me a 5 star 🌟🌟🌟 🌟 🌟 in the comment section, all right? I would LOVE to know if you made this recipe or even if you are planning to! Of course, tool on over to Pinterest, Facebook and Instagram and tag me with some photos of your creation!
I can't wait!
🌟Ya'll know I love comments!! ❤
THE RECIPE FOR  ALL THE SECRETS TO PERFECT CROCKPOT POT ROAST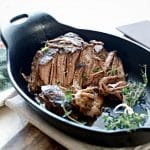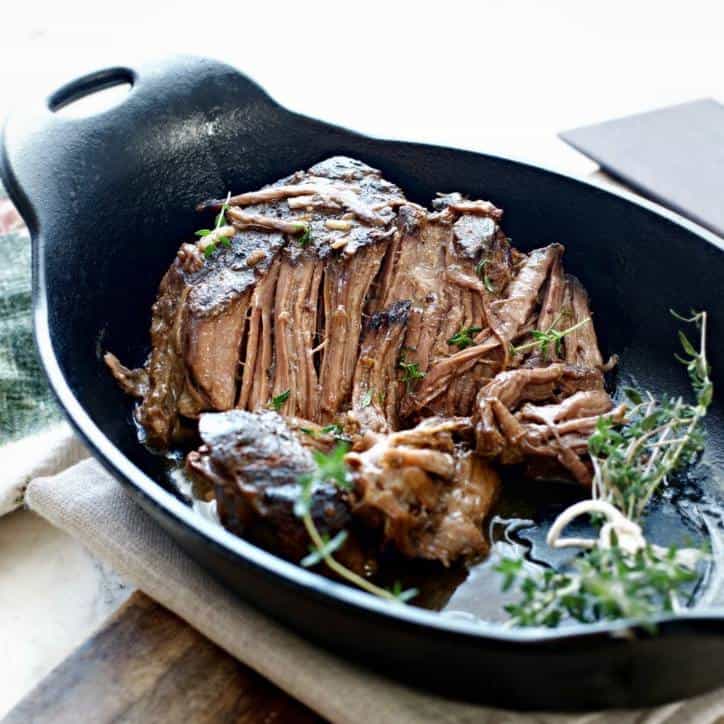 ALL THE SECRETS TO PERFECT CROCKPOT POT ROAST
This is a recipe for the BEST and EASIEST Pot Roast, EVER!
Keyword:
Pot Roast, Crock pot chuck roast
Ingredients
Pinch

of salt

Pinch

of pepper

3-4

lb

chuck roast - well marbled with fat

1

packet of Au Jus

1

packet of Ranch seasoning mix

4

pepperoncini peppers

⅓

cup

water

4

Bay leaves

2

tsp

minced garlic OR 1 head of garlic sliced in half like a book
Instructions
Sprinkle the surface of the chuck roast with salt and pepper on both sides.

Place the chuck roast into the bottom of a medium size crockpot.  Set the crockpot on low

Sprinkle the Au Jus, Ranch Seasoning over the top of the roast.

Place the pepperoncini peppers, water, bay leaves and minced garlic in the crockpot too.

Place the lid on securely.

Allow to cook on low for at least 8 hours. After 8 hours you may remove the lid and using a fork, see if the roast is tender.  If it is not falling apart (fork tender), place the lid back on and cook for another hour or more until it is fork tender and falling apart.

When falling apart, remove to a serving platter OR you may use a large slotted spoon to remove the meat from the crockpot directly onto plates. Do not serve/eat the Bay leaves. Some people really like to eat the peppers and the garlic cloves if you have used those.

This is awesome with a good baked potato, mashed potato, rice or even just right out of the pan.
Recipe Notes
The EASIEST and Best Recipe Ever!
Nutrition Facts
ALL THE SECRETS TO PERFECT CROCKPOT POT ROAST
Amount Per Serving
Calories 400
* Percent Daily Values are based on a 2000 calorie diet.
A VERSE TO SHARE
I've been reading as much as I can about the Las Vegas attack.  I no longer watch TV news because I just can't handle it.  My heart goes out to all of the many victims and their families as well as to the shooter's family and loved ones.   Furthermore, I can't imagine what you are going through and my prayers are with you.
In remembrance of those victims, I am sharing Psalms 61 today verses 1-5.  I ask that you lift up a prayer for the victims and their families.  
Psalms 61: 1-5
Hear my cry, O God;
   listen to my prayer.
From the ends of the earth I call to you,
   I call as my heart grows faint;
   lead me to the rock that is higher than I.
For you have been my refuge,
   a strong tower against the foe.
I long to dwell in your tent forever
   and take refuge in the shelter of your wings.
For you, God, have heard my vows;
   you have given me the heritage of those who fear your name