Easy 15 minute Beef and Rice and Corn Burrito
This post was sponsored by Sunshine Sweet Corn as part of an Influencer Activation for Influence Central and all opinions expressed in my post are my own.
Have you seen the beautiful fresh Sunshine Sweet Corn at the grocery store? Like me, you've been wondering where it came from with winter barely past. Today I'm sharing a simple beef and rice and corn burrito that is ready in 15 minutes for dinner using that delicious fresh sweet corn! Sunshine Sweet Corn, grown in Florida, is available now. You don't have to wait for summer!
Generally speaking, Mr. Loaves and Dishes and I put a HURTING on burritos – especially ones made with fresh corn. We've patiently been waiting for July and August to chow down when corn is in season. Since we aren't quite there yet, Sunshine Sweet Corn is our best bet for delicious sweet tasting corn in April and May. I found mine, here in North Carolina, at Food Lion.
Sunshine Sweet Corn is a non-GMO, extra tender and regulated for quality control fresh corn and is an easy addition to your spring meals. I know you will be super interested to visit their website and check out the other great recipes using fresh Sunshine Sweet Corn. Actually, I am SURE you will be interested in how they move the corn from the field to the grocery and keep it from going bad. Click through to the retail button and you'll find the video. Super Interesting. I'm hooked!
The best part? I found my Sunshine Sweet Corn on sale now for 2 for $1.00. That means that this entire recipe that feeds AT LEAST 4-6 people is only about $5.00. Visit your local grocer to get some today. This sweet corn is cream of the crop and once you taste it you will be hooked!
THE RECIPE FOR Easy 15 minute Beef and Rice and Corn Burrito
For today's recipe, I ask that you visit the Sunshine Sweet Recipe page for "Sweet Corn Beef Burrito". I used that basic recipe and in the Tips and Tricks below, I'll tell you what I changed up.
Tips and Tricks for Easy 15 minute Beef and Rice and Corn Burrito
Here's how to make this a 15 minute recipe: Preheat a heavy frying pan with 1 tbs olive oil until oil is glistening. While preheating the pan, mince 2 cloves of garlic and then add those to the oil – allow to cook for about 1 minute. Crumble the ground beef into the pan with the garlic. Stir frequently and when just browned through, add one package of "HOT taco seasoning" and one package of powdered ranch dressing seasoning then add 1 cup of water and stir. While browning the beef, heat a package of ready made Brown and Wild rice in the microwave for 90 secs. Also while browning the beef, cut the kernels from the corn cob. Add the Brown and Wild rice and the corn kernels to the beef and rice mixture and heat until the water is absorbed and the mix is heated through – about a minute.
Use the corn before the kernels start to look dimpled.
Serve on flour tortillas or over a bed of lettuce. Garnish with fresh tomato, cilantro, sour cream, shredded cheese, crumbling cheese, purple onion, avocado or whatever blows your skirt up.
Make this a burrito bowl by skipping the burrito and just put it all in a bowl and smother it with your favorite toppings!

Serve hot with an ice cold drink!

When cutting corn from the cob, it is sometimes easiest to do it like THIS.
STEP BY STEP FOR BUILDING AN AWESOME Easy 15 minute Beef and Rice and Corn Burrito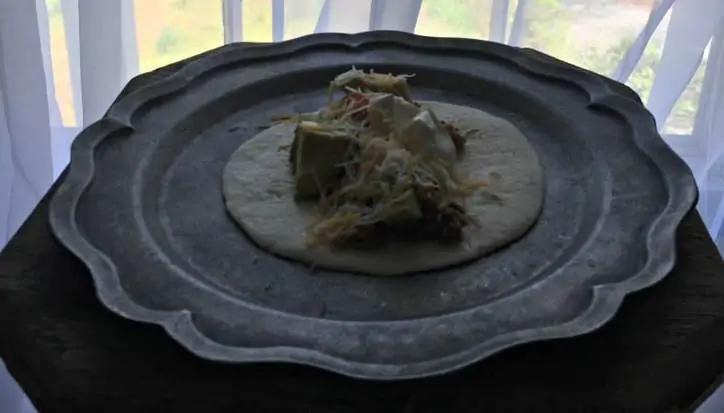 Step 5 – add sour cream – don't miss this step!
Try Out These Other Recipes Using Ground Beef Too!
Easy Homemade 15 minute Sloppy Joes
15 Minute Beef Rice and Corn Burritos
A VERSE TO SHARE
You might have noticed that it has been quiet here for a little while. Things have been busy.
The day job has been over the top lately. I'm in prayer about that. I ask for your prayers too. I ask that God lead me in the way He would have me go.
Finally, my co-worker, shadow and 24 hour per day sidekick – Pete – died. Let me say first, Pete was a OLD guy. We don't know exactly how old – but at least 15. He showed up here about 5 years ago as a stray (someone put him out at the general store across the street and he wandered this way). As they say, all who wander are not lost. Pete was wise and I'm sure he smelled a sucker and came this way.
Pete was ornery and grouchy and didn't enjoy anything that involved playing or horsing around. Pete had good qualities too though – he was faithful and protective (even though he was small). He learned how to get along and how to give and receive love while he was here. Those were big steps forward for an old man in the late fall of his life.
I miss that old guy. A lot. Even though I know he is gone, I can't help looking for him to be at the door when I come in. As I say, he was my shadow.
I have a favorite Meme in which a dog is looking down through a hole in the clouds and the meme says, "What I hope the entrance to heaven looks like". That made me think yet again if perhaps there will be dogs in heaven – I certainly hope so. I hope my own dogs will be there.
Thinking about that lead me to Isaiah. God telling about what it will be like gives me hope. I hope it does you too.
Farewell Pete, RIP little guy. We loved you a lot. We know you loved us too. You were a good boy, despite how many times I told you that you were not when you got in the trash.
Isaiah 65: 20-25
"Never again will there be in it
an infant who lives but a few days,
or an old man who does not live out his years;
the one who dies at a hundred
will be thought a mere child;
the one who fails to reach a hundred
will be considered accursed.
They will build houses and dwell in them;
they will plant vineyards and eat their fruit.
No longer will they build houses and others live in them,
or plant and others eat.
For as the days of a tree,
so will be the days of my people;
my chosen ones will long enjoy
the work of their hands.
They will not labor in vain,
nor will they bear children doomed to misfortune;
for they will be a people blessed by the Lord,
they and their descendants with them.
24 Before they call I will answer;
while they are still speaking I will hear.
The wolf and the lamb will feed together,
and the lion will eat straw like the ox,
and dust will be the serpent's food.
They will neither harm nor destroy
on all my holy mountain,"
says the Lord.
Here are some times that Pete appeared on Loaves and Dishes…. always a willing clean up crew…