Jump to Recipe
***This recipe for Biggest Baddest Best Hamburgers is an entry into BUDWEISER SAUCES ULTIMATE BLOGGER RECIPE CHALLENGE-FREEDOM RESERVE recipe contest and it is a TABLE BANGING good recipe too!  Budweiser sent me free sauces and marinades to use in the creation of this recipe, however, the post, recipe and descriptions are all my own thoughts, ya'll know how I am.****
Something fun came in my email a couple of months ago and I can't wait to tell you about it! Loaves and Dishes was invited to participate in a Recipe Challenge using some new sauces and marinades from the Budweiser Company and thus we have Biggest Baddest Best Hamburgers.
Ya'll know what that means, I was busy like a mad scientist in my tiny North Carolina kitchen creating and running to the grill with one recipe and then another.
THE CTO SAYS….
Of course, I had to enlist the help of my CTO (Chief Tasting Officer), Mr. Loaves and Dishes, who states that he personally approves each of these recipes.
You'll find three of these recipes rolling in here over the next couple of days and I sure hope you give them all a try because, boy howdy, they are GOOD.
Budweiser has outdone themselves on these sauces and marinades and I mean that wholeheartedly. They are fantastic.
HERE'S THE DEAL WITH Biggest Baddest Best Hamburgers
Budweiser is going to evaluate my recipe below (as well as the other two recipes) for taste, appeal and creativity against the other entries they have received. They will award the winner when the time comes.
Please say a little prayer and keep your fingers crossed and whatever else you think might help because I sure would love to win. Ya'll know how I love a good barbecue sauce, especially one that I don't have to make for myself!
THIS Biggest Baddest Best Hamburgers
What I can say about this burger is that it is super juicy and moist with a smoky flavorful taste that will have you BEGGING for more, even long after your belly has said, "STOP! I'm FULL!".
Don't set the burger platter near your seat unless you WANT to catch yourself cutting off "just a small bite" more until the whole platter is gone!
TIPS AND TRICKS FOR THE Biggest Baddest Best Hamburgers
It's important to use the right cut of beef. In this case, I used sirloin steak which has a wonderful beefy flavor.
You'll notice that having COLD meat is key for this recipe, it is important that you follow the directions exactly so that the burger clings together but isn't sticky and gummy.  

When patting out the burgers, handle the meat as little as possible, however, press it together well so that it clings together while you are grilling it.

It is SUPER important to oil your grill grates very well before you set the burgers on the grill so that they will not stick.
Please DO NOT USE non stick cooking spray on your grill while the fire is burning.  I want you to keep your eyelashes, head hair, facial hair and arm hair. Besides, singed hair smells terrible and will ruin the experience of eating this most delicious burger you ever put in your mouth!
If you love cheeseburgers, this is EXACTLY the burger for a slice of real provolone or cheddar.  We have a lactose sensitive someone at our house and that is why there's no drippy cheese on this particular burger, but believe me, they are EXCELLENT with cheese! 
WHERE DO I FIND THESE WONDERFUL BUDWEISER SAUCES?
One place you can find these terrific marinades and sauces is on Amazon!  The following photo is a link and you can click it to go through to Amazon to check out prices and the products.  I am an affiliate of Amazon and receive a commission if you decide to buy something.  Thank you in advance!
IF YOU ENJOYED THESE Biggest Baddest Best Hamburgers YOU MIGHT ALSO ENJOY….
The Secret to Perfect Old Fashioned Pinto Beans
How to cook canned corn on the stove
Ultimate Southern Pimento Cheese
YOU CAN CHECK OUT BUDWEISER AT THE FOLLOWING PLACES:
Hey!  Join the fun and check out Budweiser Sauces on Budweiser's social media channels and use the hashtags #BudweiserSauce, #BudweiserBBQSauce, #KingOfSauces when you recreate these dishes!  It'll be fun and I'll be looking for your recipes!
YOU CAN CHECK OUT BUDWEISER HERE….
YA'LL HELP ME OUT NOW, YA HEAR?
Please leave me a 5 star 🌟🌟🌟🌟🌟  comment below in the comment section, all right? I would LOVE to know if you made this recipe or even if you are planning to! Of course, head on over to Pinterest, Facebook and Instagram and tag me with some photos of your creation!
I can't wait!
Ya'll know I love your comments!! ❤
A VERSE TO SHARE
Romans 12:2
Do not be conformed to this world, but be transformed by the renewal of your mind, that by testing you may discern what is the will of God, what is good and acceptable and perfect.
THE RECIPE FOR BIGGEST BADDEST BEST HAMBURGERS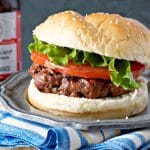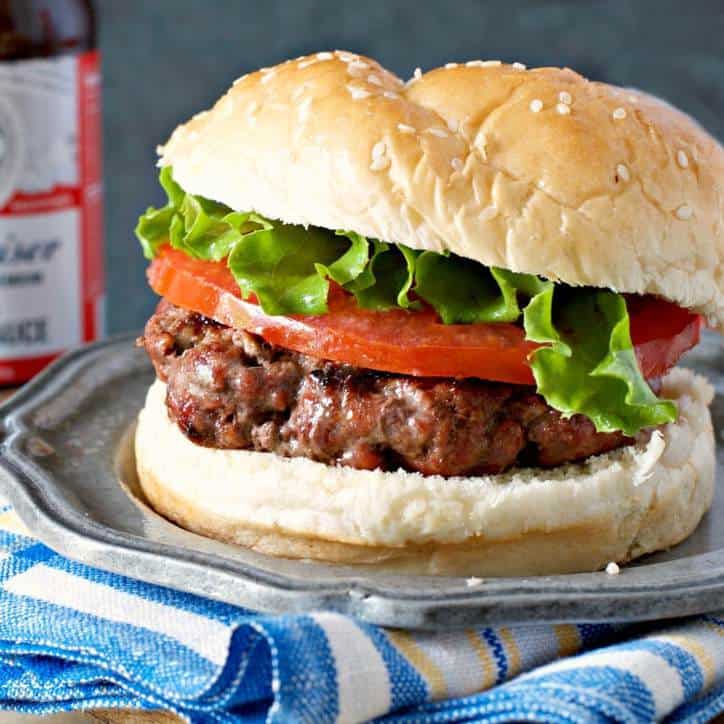 Biggest Baddest Best Hamburgers
What I can say about this burger is that it is super juicy and moist with a smoky flavorful taste that will have you BEGGING for more, even long after your belly has said, "STOP! I'm FULL!"
Keyword:
how to make the best hamburgers, hamburgers on the grill, hamburgers with barbecue sauce, best cheeseburgers, how to grill the best hamburgers ever
Ingredients
1 ½

Lbs

Sirloin Steak cut into ½ inch pieces

½

lb

ground pork

1

strip thick applewood smoked bacon

cut into about 8-12 pieces

4

Tbs

bacon grease

melted into a liquid but not hot

½

cup

Budweiser Premium Steak and Burger Sauce

Salt and Pepper to taste
Instructions
Scatter the ½ inch pieces of sirloin steak out onto a rimmed baking sheet and place into the freezer for 15-25 minutes until firm.

Using a food processor, process about ½ cup of sirloin steak chunks mixed with ¼ cup ground pork and a few pieces of bacon until it looks like ground beef (about 15-20 pulses). Dump that mixture out onto the rimmed baking sheet and process another batch. Repeat until all of the meat is processed.

Scatter the meat back out onto the rimmed baking sheet, remove any stringy gristle pieces and discard those.

Drizzle the bacon grease followed by the Budweiser Premium Steak and Burger Sauce across the top of the meat mixture

Place the baking sheet back into the freezer and allow the meat to firm back up (about 15 minutes).

Remove the baking sheet from the freezer, divide the meat into 6 equal parts. Use a single portion to and Shape the meat into a ball and gently pat out into a burger shape. Handle the burger as little as possible. Use your thumb to gently pat the sides so that they are firmed up around the rim of the burger.

Sprinkle both sides of each patty with salt and pepper liberally. Make a thumbprint dent into the center of both sides of the burgers.

Grill over medium heat until cooked through.

Serve hot on soft buns with your favorite burger toppings.
Recipe Notes
What I can say about this burger is that it is super juicy and moist with a smoky flavorful taste that will have you BEGGING for more, even long after your belly has said, "STOP! I'm FULL!"