This Easy Fast Holiday Side Dish Sausage and Rice is perfect for the upcoming holidays, when company visits or for when you need a quick dinner dish! This simple TWO ingredient dish represents everything that was tough about my childhood. OK. I might be stretching it a little. You should check it out though. Just click on through.
Childhood was rough. It was. I was forced by my parents to be different from the other kids! We never ate any of that delicious new '70's food that the other mom's were preparing, you know… macaroni & cheese made with some kind of magical orange powder, soft drinks, frozen dinners – where the mom on the commercial opened the oven and a lovely ROAST with a complete meal from a frozen dinner was in her hands.
Nope. My mom clung to making things from our garden and from scratch. I mean, occasionally we ate a canned biscuit – but rarely. Thusly, what choice have I had but to follow in her footsteps and rarely use any easy to prepare products myself (much to the dismay of my Hamburger Helper lovin hubby). Therefore, I know little about the world of flavored rices. I'm thinking I am going to get to know more though!
That said, a few weeks ago, we visited my lifetime bestie, Marcia, for the weekend. She served the MOST delicious dish for breakfast, Sausage and Rice! It was tasty and herby and simply perfect with eggs. When I asked about her recipe – she said, "It's so easy! Its just two ingredients!" followed by, "Lynn gave me the recipe". (Lynn is another one of our lifelong besties).
After coming home, I couldn't get the recipe or the thought of a TWO INGREDIENT recipe out of my head. I made some myself and it was just as good as Marcia's. I mean, how can you mess up two ingredients?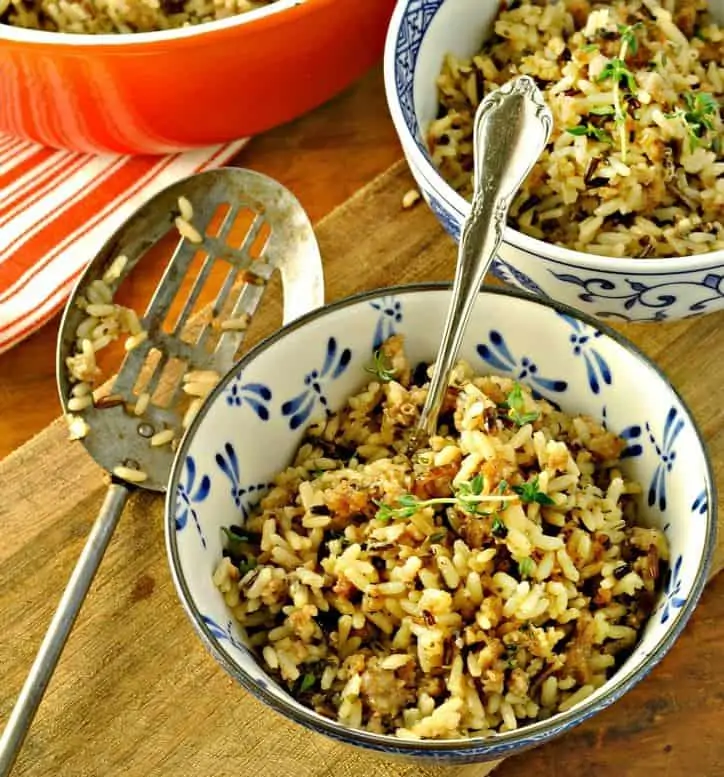 Which brings me where we are today friends. I asked Marcia if I could share her recipe and she said, "SURE!" followed by, "But it is Lynn's recipe". So, then I asked Lynn, and she said, "SURE! It was my Mom's recipe from some cooking class she attended". Lynn's Mama was a doll and I can remember some really fun conversations with Lynn talking about her Mama's holiday decorations. I bet Lynn's Mom would be so excited that her recipe is appearing on the internet in a food blog!
I'll just note – if you added in some frozen broccoli or peas to the sausage while it was cooking. You would have a complete all in one dinner! Wow! Sprinkle a little cheese on top – YUM! There is so much that you can do with this dish – but this basic Two Ingredient dish is perfect as is.
Sell your possessions and give to the poor. Provide purses for yourselves that will not wear out, a treasure in heaven that will not be exhausted, where no thief comes near and no moth destroys. 34For where your treasure is, there your heart will be also. ~ Luke 12: 33-34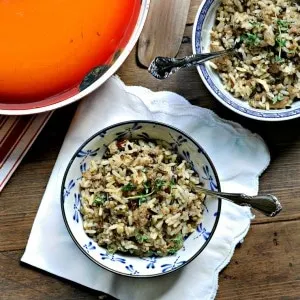 Easy Fast Holiday Side Dish Sausage and Rice
Basically everything I ever wanted in a recipe, easy, tastes great, fast, two ingredients and it looks way more fancy than it is.
Print
Pin
Rate
Ingredients
1

box of Long Grain and Wild Rice – prepared per box instructions

1

lb

of good ground pork sausage
Instructions
Prepare the rice per package instructions. Brown the sausage in a frying pan over medium heat until cooked through.

Mix the two together and serve!
Notes
Make sure to use the Uncle Bens Long Grain and Wild Rice. If you use one of the other ones, it won't taste right.
Nutrition
Nutrition Facts
Easy Fast Holiday Side Dish Sausage and Rice
Amount Per Serving
Calories 240
* Percent Daily Values are based on a 2000 calorie diet.
Did you ever wonder what goes on just outside the screen of the photos around here? Well, here is who is sitting beside me as I am photographing – our cat Jack. He usually lives outside, but since we are having a hurricane here, he is staying in for a few days. He gets tired of being photographed though.