"Mama, won't you PLEASE make THE macaroni and cheese"? That's from the 19 year old, followed by, "IT IS DEATH BY MACARONI AND CHEESE!" (big pleading smile) (daughter in law) who apparently relishes death in this manner.
I know you want a recipe that your family begs for every time you get together! It certainly won't get the reception that the squash casserole gets which you also foist upon them. OH wait, that's me, not you.
Anyway, if you are looking for a recipe with thick, rich, hearty creamy mac and cheese that is simply heart stopping in it's goodness (if not by its ingredients), then look no further. This is not a typical baked mac and cheese recipe – so, if you want the classic baked version – keep looking. But if you want to make an easy mac and cheese, you might want to try our "How to Make Kraft Mac and Cheese Better (Easy Hacks) "
If you are interested in keeping your family's waist bands at the usual size, you might want to prepare this in ramekins like I show pictured here – portion control, you know? However, if this is a special occasion and everyone just loves to scoop out their own big ol gloppy cheesy cheese pull scoop, then by all means, make this in a casserole dish.
Just do NOT leave out the secret layer of hidden cheese – that makes all the difference.
THE RECIPE FOR DEATH BY MACARONI AND CHEESE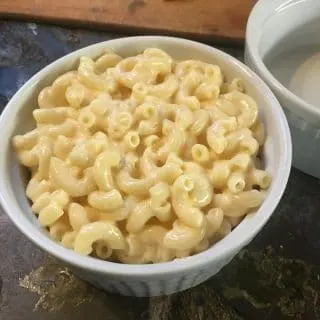 Death by Macaroni and Cheese
My families favorite mac and cheese recipe
Print
Pin
Rate
Ingredients
1

stick of butter

½

block

4oz cream cheese

1

cup

grated parmesan cheese

the real stuff is best - the green plastic can is ok.

1

Cup

heavy cream

4

oz

American Cheese Food

Velveeta cut into 1 inch cubes

4

oz

Sharp Cheddar Cheese

something like Cabots - grated.

½

tsp

onion powder

½

tsp

garlic powder

¼

tsp

fresh grated nutmeg

½

tsp

smoked paprika

salt and pepper to taste

1

lb

sometimes it is only 12 oz box of pasta - your choice in shape. We like Penne or Rotini.

4

oz

sharp cheddar or monterey jack cheese cut into slices - enough to cover a 9x13 pan.
Instructions
Preheat the oven to 350. Prepare a 9x13 baking dish with cooking spray. (Or ramekins if doing individual servings).

Put a large stock pot of water on to boil - follow the box instructions for cooking the pasta - however, do not salt the water as heavily as the box instructs - just about ½ tsp is enough.

In a medium sauce pot (heavy bottom) over medium low heat, add the butter, cream cheese, parmesan, heavy cream, American Cheese food, onion powder, garlic powder, nutmeg and paprika and stir frequently until all is melted and thick. Add the Sharp American Cheese last and stir well. Turn the heat down to low until ready to serve.

When pasta is cooked, drain well. Pour the sauce over the top of the pasta and very gently, mix well. Pour ½ of the pasta with sauce into the 9x13 baking dish (or ramekins - if using those instead).

Place the slices of cheese over the surface of the pasta.

Gently pour the remaining pasta with sauce over the top of the pasta with cheese slices.

Place in the oven and bake for 5-7 minutes until the center cheese is well melted.

Remove from the oven and serve immediately.
Notes
My Families Favorite Mac and Cheese Recipe
Nutrition
Nutrition Facts
Death by Macaroni and Cheese
Amount Per Serving
Calories 150
* Percent Daily Values are based on a 2000 calorie diet.
TIPS AND TRICKS FOR DEATH BY MACARONI AND CHEESE
You can put any kind of your favorite cheese in the center – although I wouldn't recommend either the soft cheeses like Brie or the very hard cheeses like Parmesan. I would stick with very sharp cheddars or monterey jack or gouda or any wonderful melty cheese.

You can give this dish a little "meat" – figuratively and literally by cutting up ham into small squares and mixing in or by adding some crunchy bacon. Both lovely. As you know, my kids can never agree on ANYTHING – even as grown adults – and thus, I leave it plain to best suit everyone.

You can also add some umph by adding a drained can of Tomatoes and Green Chilies (Rotel) – again – I do not do this because of the aforementioned arguing kids. I've had a lifetime of that and just do my best to downplay it.

Wedding Advice – if you don't want to end up with children who are so hard headed and strong willed – then do not marry someone who is so hard headed and strong willed – you will carry forth that gene trait. (Advice someone should have given my husband before we married).

OK- we got off into the weeds there – sorry. Back to mac and cheese. For this recipe, and only this recipe, do NOT salt the macaroni water. There is a lot of salt in cheese and it is easy to oversalt this dish by adding salt to the macaroni water.

Make SURE To taste the macaroni with the cheese sauce on it before pouring into the dish – check for salt – if it needs any, add it at that point. Add the salt to the sauce – a little at the time – mix well and give it a sec to absorb into the sauce and then retaste.

This makes a lot – so be sure to invite family or friends over to share. You could always carry some to your next door neighbor.
IF YOU ENJOYED THIS RECIPE, YOU MIGHT ALSO ENJOY…
How to Make Kraft Mac and Cheese Better
A VERSE TO SHARE
Lately a few of the young people I know have publicly stated their denial of God. It is so disturbing to me. I feel absolutely heartbroken about it. Most of my contact with these young people is through social media.
Part of me wants to "Block" and "Unfriend" and "Unfollow" them. That way, I don't have to see anything that they write. Their hate filled spewing will not be part of my world.
That is kind of like running away though when God asks me to bear witness.
The best way that I know how to do that is to remain peaceful and kind. Live a life that is an example (as best I can) and to pray.
I ask you to pray with me for the future of our world and for anyone who is lost.
Matthew 7: 1-12
Do not judge, or you too will be judged. For in the same way you judge others, you will be judged, and with the measure you use, it will be measured to you.
"Why do you look at the speck of sawdust in your brother's eye and pay no attention to the plank in your own eye? How can you say to your brother, 'Let me take the speck out of your eye,' when all the time there is a plank in your own eye? You hypocrite, first take the plank out of your own eye, and then you will see clearly to remove the speck from your brother's eye. "Do not give dogs what is sacred; do not throw your pearls to pigs. If you do, they may trample them under their feet, and turn and tear you to pieces.
Ask and it will be given to you
"Ask and it will be given to you; seek and you will find; knock and the door will be opened to you. For everyone who asks receives; the one who seeks finds; and to the one who knocks, the door will be opened.
"Which of you, if your son asks for bread, will give him a stone? Or if he asks for a fish, will give him a snake? If you, then, though you are evil, know how to give good gifts to your children, how much more will your Father in heaven give good gifts to those who ask him! So in everything, do to others what you would have them do to you, for this sums up the Law and the Prophets.