Jump to Recipe
Did you ever eat something so good that you didn't even care when someone said, "Hey, I think you have food in your hair"? What about flour on your forehead? Frankly, I think it goes perfectly with the glops of peach cobbler dribbling down your chin and landing on your chest. Yeah. That's where we are today folks. Making easy peach cobbler for two with bisquick and canned fruits.
But honestly, isn't that a measure of something delicious? I mean, really, if some of your dinner didn't end up in your ear, how would you know that it is REALLY GOOD? How would you know that you have easy peach cobbler?
WHICH REMINDS ME…
Which reminds me of my little 7 year old friend who loves to help me can things. Her mother told me yesterday, "She hopes you will pick her to help you can this year".
I'm not sure about that because there is a REALLY LONG LINE of people waiting to help break green beans for an entire Saturday this summer.
But anyway, I got off in the weeds there a little.

SO FOOD IN YOUR EAR…
The reason that food in my ear reminds me of my little friend? Because one time she was helping me freeze corn – she is an EXCELLENT helper by the way.
And she put her cute little face right down in the corn kernels and gobbled some up saying, "I just couldn't help it – they are SO GOOD!". Amen sister. Amen.
She ended up with corn up her nose and in her ear and… well, you get the idea.
EXACTLY HOW YOU WILL FEEL TOO!
And THAT is EXACTLY how you will feel when you eat some of this cobbler! You will just want to put your face right down in it! (I don't recommend that by the way – especially if it is hot).
I don't have any fresh peaches, they aren't ready yet.
So, in the meantime, we are going to use some canned peaches. If you have some YOU canned. Wonderful. If you have some that Del Monte canned (or anyone else, for that matter), that is fine too – that is what we are going to use!

THE BEST PART?
The best part? This recipe is for TWO people or one really hungry one or three to four dainty ones. I'm not dainty, so I'm gonna say its for TWO people. If I didn't share this cobbler with Mr. Loaves and Dishes, there would be trouble. That is why it is for TWO.
THE INSPIRATION FOR Easy Peach Cobbler for Two
This recipe is adapted from a recipe on the "Bisquick" website. I know. I know. We try to use all natural ingredients around here. In this case though, we used Bisquick – which in my "mom" days – was an often used staple. I love Bisquick for many reasons, but mainly for the "quick" part. For this recipe, I cut the ingredients in half – added more sugar – and added vanilla and almond. I think it is the perfect half size dessert!
You COULD use something besides Bisquick here, but frankly, I wouldn't recommend it. This cobbler is absolutely delicious – and ya'll will be licking the bowl clean saying, "why did you make such a small cobbler?".

TIPS AND TRICKS for Easy Peach Cobbler for Two
This recipe calls for MORE sugar than the original recipe (when scaled down to this size). I know. Now listen, you CAN cut the sugar. I started out attempting this recipe using less. It just wasn't as good. I'm giving you what I've tried and tested to be true. Just saying. It's been a real chore to eat peach cobbler 4 or 5 times just to get the recipe EXACTLY right. Lol. OK, that is taking it a little far – it hasn't exactly been a CHORE. Lol, but I DID make it that many times testing it for this post.

The vanilla and almond flavorings are essential and a big trek from the original recipe. Totally worth it. Make sure to use the REAL extract and not the immitation.

I am not one of those people who enjoy nuts in their cobbler – if you are – I am guessing that pecans or toasted almond slivers would work here, but really, just try it like written, I think you will like it.

If you are wanting cobbler for 4-6, double the recipe – no problems there.

If you want to be fancy, you can even divide this cobbler into ramekins – just adjust your baking time – the baking time will be less.

Be forewarned. This cobbler is like molten lava when it comes out of the oven and while you are going to WANT to put your face right in it – or shove it right in your mouth – don't. Be patient and let it cool just a little.

This cobbler is EXCELLENT with a good quality vanilla ice cream.

If you really want to be successful, I've found that these little Le Creuset baking dishes are the absolute perfect size for baking for 1 or 2 people. You can click the photo to go straight over the Amazon. I bought mine at Marshalls for a fraction of this price – you might want to look there too.
THE RECIPE FOR EASY PEACH COBBLER FOR TWO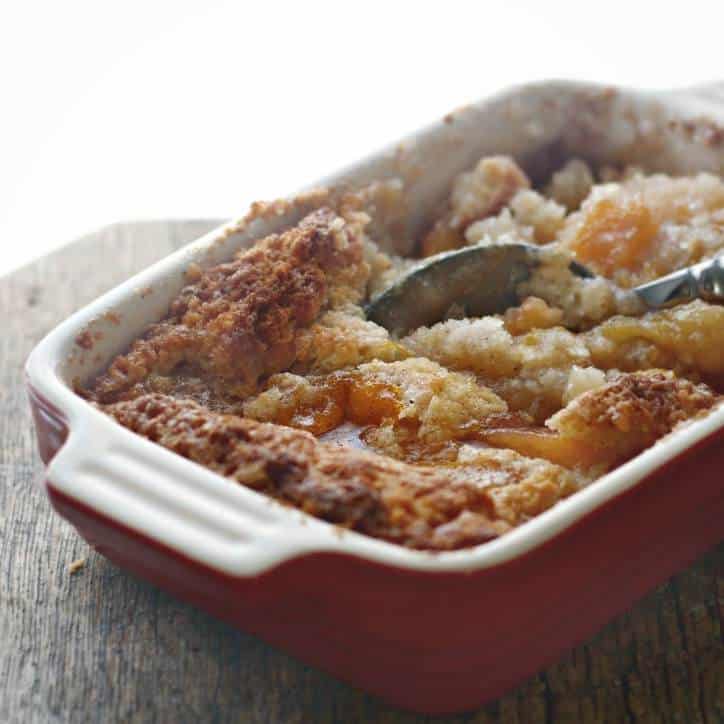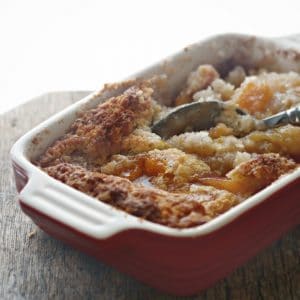 Easy Peach Cobbler for Two
If you enjoyed this recipe - come to www.loavesanddishes.net. There are a lot more to enjoy there!
Print
Pin
Rate
Ingredients
½

Cup

Baking Mix

Bisquick

½

Cup

Milk

¼

tsp

nutmeg

¼

cup

butter - melted

½

cup

sugar

1 15.9

oz

can of sliced peaches

drained

½

tsp

real vanilla extract

¼

tsp

real almond extract

½

tsp

cinnamon
Instructions
Preheat the oven to 375.

Stir together the baking mix, milk and nutmeg in a medium sized bowl then add the melted butter and mix some more. Use a 1 quart baking dish if making this dish for two people. Upgrade to a 9x9 pan if doubling to make for 4-6.

In a separate medium sized bowl, mix together the sugar, drained peaches, vanilla, almond and cinnamon. Mix well.

Pour the peach mixture on top of the batter mixture that you already put in the bottom of the 1 quart baking dish.

Bake at 375 for 40 minutes (if you double the recipe - bake a little longer). Its done when it is golden brown and bubbly and smelling like PURE heaven! Serve warm. Allow it to sit for a minute because it is like hot lava when it comes out of the oven
Notes
Increase the ingredients for more people.  
Nutrition
Nutrition Facts
Easy Peach Cobbler for Two
Amount Per Serving
Calories 150
* Percent Daily Values are based on a 2000 calorie diet.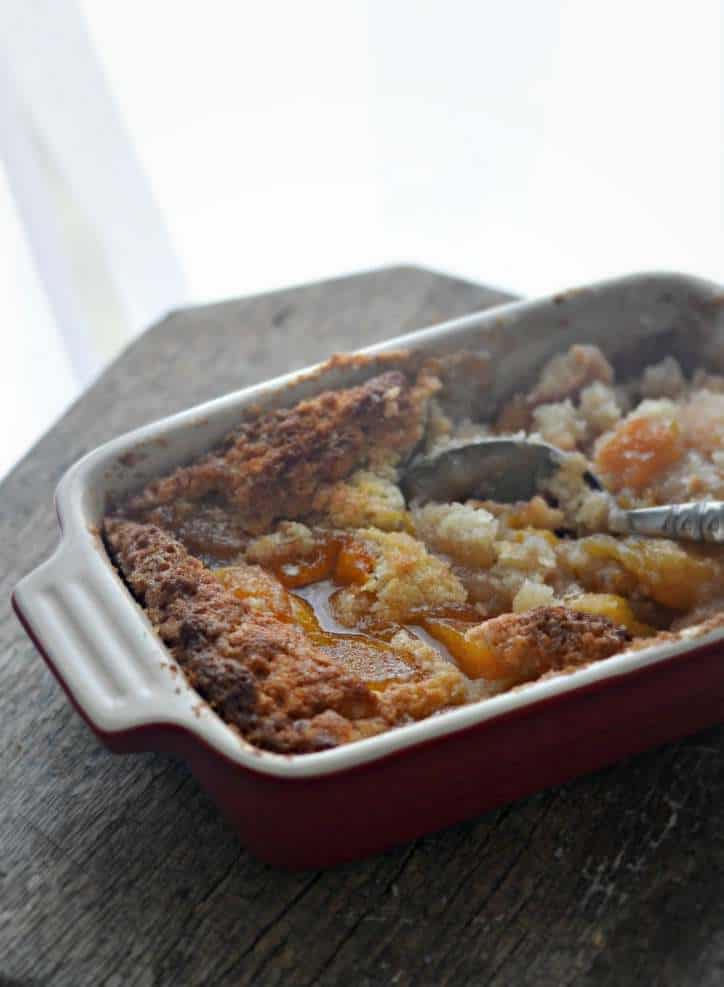 A VERSE TO SHARE
I've been suffering a little this week with my empty nest. My nest seems BIG and frankly, lonely. This old nest is WAY MORE ROOMY than it used to be! It has been used by some rowdy children – perhaps they stretched it.
For a number of years, my nest seemed WAY TOO SMALL. Some days, (most days, really) I couldn't even use the restroom by myself. No peace found. Ever.
Somehow, after 25 years, little sticky hands wrapped around your pointer finger all the time feel quite normal. Squeals and screams peeling through the air don't even raise your attention. Now, the quiet and solitude that fills my days seems very ABNORMAL.
Someone should be making a mess around here. Someone should be too noisy. Someone should be getting into something that they shouldn't.
Where are all of those little people?
Oh yeah. They grew up. They are fine adults now. I am so proud of them!
My empty nest reminds me of the gospel of Mark. You know, where we are told that God is sending a messenger ahead of Jesus. He will send someone calling into the wilderness. The gospel of Mark tells that after John the Baptist was thrown into prison, Jesus walked beside the Sea of Galilee.
He asked those men that he met to put down their nets. Put down what they had ALWAYS known and walk away with him. The Bible says that "at once" they put down their nets and followed.
Think about that for a minute. How strange it must have felt to Simon and his brother to leave all they had ever known. I wonder if they felt like I do now with my big awkward empty nest?
Maybe they didn't quite know what to do. Didn't know what to say? How to act.
I know that one thing they had in spades was FAITH. They had no way to predict what the future held. They had no way to understand the enormity of the transformation that was
happening in their lives. What they HAD to have was faith.
I think there is a lesson in that for me.
I'm just gonna have to sit here in my nest and learn a new comfort with how things are now. It isn't what I've always known – not by a long shot. Instead, I'll just have to have faith that whatever the Lord has in store for me is how it is.
Now you know why I covet your emails and website comments. Thanks for the friendly shout outs!
I encourage you to go check out the full text of Mark 1: Verse 16-20 and the whole surrounding story too. I don't think you get much out of just reading a few versus. You have to get the ENTIRE story to make it meaningful.
Mark 1: 16-20
As Jesus walked beside the Sea of Galilee, he saw Simon and his brother Andrew casting a net into the lake, for they were fishermen. "Come, follow me," Jesus said, "and I will send you out to fish for people." At once they left their nets and followed him.
When he had gone a little farther, he saw James son of Zebedee and his brother John in a boat, preparing their nets. Without delay he called them, and they left their father Zebedee in the boat with the hired men and followed him.