Guilty pleasure alert – I could eat bowl upon bowl upon bowl of Old Fashion Chicken and Dumplings. I could. I hope that after you make this recipe that you will want to too!
Dust Alert! Be sure to wear a dust mask for this next part – because it is coming straight out of the deepest archives of my brain – way on back there in the dusty area!
A bowl of these Chicken and Dumplings takes me right back to 1972 sitting at my Grandma Medlin's HUGE yellow and gray 1950's Formica topped table (you know – the one with the shiny metal legs) in the kitchen of her two story white farm house in North Carolina. The white metal cabinets of her antiquated kitchen make a distinctive "SCREECH" when they open and close. On top of the old stove is a huge heavy stock pot full of chicken that has been boiling away in a rich stock of celery and onions. The smell is heavenly. I can remember her picking the chicken meat from the bones in the streaming sunlight coming from the window over the kitchen sink. I can see her in my mind now, rolling out the dough on the countertop and gently slicing it into ribbons with her butter knife turned upside down. I knew when she carefully slid the noodles all dusty with flour into the pot – we were almost ready to eat! YIPPEEE!!!
My grandma Medlin holds one of the "most loved" status' in my life. I did not love her because she was trendy and stylish. Nope. She was completely "old fashioned". I never saw her wearing pants – always a dress and usually an apron. She was usually dirty – either with dirt from her beloved Iris beds or with flour from the kitchen. She always wore sensible shoes. Her waist length black slick hair was always tied up in a neat bun on top of her head and covered with a gauzy prayer cap. Her little round glasses made her beautiful blue eyes glisten even more brightly. She was short, wrinkly, soft, snuggly and warm. I always thought that she smelled like brown sugar. I loved her so much because she always made me feel like the center of the universe – even though I know now, and I knew then, that I am not. I'm sure that it was her own special God-given gift that she made everyone feel that way.
My grandmother was the original "farm to table" cook. I have a distinct memory of my family pulling up in her driveway in our 1970's wood paneled station wagon and my grandma standing on a ladder (wearing a dress, an apron and sensible shoes) with her arms raised into the cherry tree that was in her side yard. She was picking cherries so that she could make my favorite cherry pie. For me! I can remember her killing chickens, picking vegetables, picking apples and canning everything. All of that delicious fresh food found its way pretty quickly onto the table – and oh boy – it was GOOD!
I wish I could tell you that this is her recipe – but I can't. I wish I had any one of her recipes – but I don't. Maybe she didn't have any – I don't remember ever seeing her with a recipe – only adding things to the bowl. I created this recipe myself – doing my best to approximate the taste I remember. I am sure my grandmother never used Bisquick for Dumplings but I think it does a pretty good job. I am also sure that the bowl of chicken and dumplings she sat before me was never garnished with parsley – but I do like the look of it!
Please enjoy this and share it with your friends.
Make Dinner, Not War
For everything God created is good, and nothing is to be rejected if it is received with thanksgiving,because it is consecrated by the word of God and prayer. 1Timothy 4: 4-5
Let's Eat Ya'll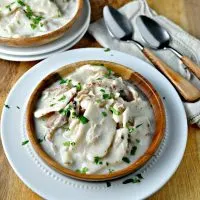 Old Fashion Chicken and Dumplings
This recipe for Old Fashion Chicken and Dumplings will take your right back to your grandmother's table at least 40 years ago. Simple and delicious.
Print
Pin
Rate
Ingredients
1

small chicken or 8 pieces of chicken

white or dark meat according to taste

3

stalks of celery – large chop

2

medium onions – large chop

3

bay leaves

2

tsp

salt

1

tsp

pepper

2

cloves

of garlic minced

2 ¼

cup

Bisquick

for making the dumplings

2/3

Cup

Whole Milk

for making the dumplings

½

Cup

Whole Milk

for adding to the liquid at the end of cooking

½

Cup

Heavy Cream

for adding to the liquid at the end of cooking

½

stick of unsalted butter

Parsley – minced
Instructions
Place chicken in a 6-8 quart stock pot and fill with enough water to fill within 3 inches of the top of the stock pot.

Add Celery, onion, bay leaves, salt and pepper to the water.

Place on stove top on medium-high and bring to a boil then reduce to simmer. Simmer until chicken meat is falling off of the bone. Add water during cooking if water level decreases below half of the stock pot

Once meat is fully cooked and falling off of the bone, Using a large slotted spoon, remove all of the chicken, celery and onion from the stock pot to a platter (keep all of the water in the stock pot) and allow chicken to cool until it is cool enough to touch. Remove all of the meat from the bones. Shred into bite sized pieces. Discard the bones and any large chunks of onion and celery. Remove the bay leaves and discard.

Replace the chicken meat back into the stock pot and set burner temperature on medium. Add garlic to the water.

As the chicken and stock reheat, mix the bisquick and 2/3 Cup milk in a large bowl. Dough will be sticky. Once mixed, turn out onto a heavily floured board and knead (adding more bisquick as needed) until the dough feels slightly rubbery and is no longer sticky. Flour the top of the dough ball and roll out into a large thin (1/8 inch thick) circle. Dough should be about 1/8" thick.

Using a butter knife (turned upside down), cut dough into long strips that are 2 inch wide noodles. Do not let the noodles stick together. Do not worry if there is a lot of extra flour on the noodles – this will only serve to thicken the liquid – which is delicious!

When the chicken stock has reached a full boil, begin adding the noodles one at a time into the boiling stock. The noodles will puff up and float to the surface and may cover the entire surface. Using a wooden spoon, gently push noodles to the side so that you can add more noodles into the space created. Add noodles quickly until all noodles are added. Do Not stir the pot as the noodles will break into small mushy pieces. You CAN use your wooden spoon to gently move them around the pan so that they all see some bubbling action in the pot.

Allow noodles to cook by floating at the top of the boiling stock for several minutes (about 5 minutes) until done. Using a wooden spoon, gently spoon hot broth over the tops of the floating noodles to help them to cook. You will know that they are ready when most of them begin to sink.

The noodles are done when they begin to sink into the broth – gently stir with a wooden spoon. You might want to get one out and test it for doneness (that is what I do). When noodles are done, reduce heat to a slow simmer and add 1/2 Cup milk, cream and butter to the stock pot. Salt and Pepper to taste. Allow the entire pot to simmer for at least 5 minutes after adding the milk and cream. This takes the "milk" taste out of the completed dish. When heated through, serve and garnish with fresh minced parsley.
Notes
Knead the dumplings until they feel stretchy. Don't worry about having too much flour on your board, it just makes the broth thicker.
Add the milk at the end and make sure that it simmers for 5-10 minutes before serving. This extra simmering scalds the milk and keeps it from tasting so milky.
Of course, if you are partial to white meat, you can use just chicken breasts, but the whole chicken (bones and all) adds a lot of flavor to the broth, PLUS, it is less expensive for an entire chicken.
If you prefer to substitute your favorite biscuit recipe for bisquick and milk, be my guest.
Some people prefer to leave the carrots and celery in the soup and if that's you, that is fine.
You can try to monkey with the ingredients to make this less calories, less carbs, less whatever your diet is looking for but please remember that you are also changing the recipe and it won't taste the same. Frankly, chicken and dumplings was never meant to be a diet dish of any kind, just enjoy a bowl in moderation and then go outside and enjoy the fresh air. Take a long walk.
Nutrition
Nutrition Facts
Old Fashion Chicken and Dumplings
Amount Per Serving
Calories 438
Calories from Fat 234
% Daily Value*
Fat 26g40%
Cholesterol 96mg32%
Sodium 1113mg46%
Potassium 372mg11%
Carbohydrates 27g9%
Protein 22g44%
Vitamin A 477IU10%
Vitamin C 4mg5%
Calcium 134mg13%
Iron 2mg11%
* Percent Daily Values are based on a 2000 calorie diet.
And now, dear faithful readers…. a post-blog dessert. I think we could use some more words like those from this wise man. Something to think about and consider…..
"The first question which the priest and the Levite asked was: 'If I stop to help this man, what will happen to me?' But… the good Samaritan reversed the question: 'If I do not stop to help this man, what will happen to him?" ~Martin Luther King Jr.