Easy, summery colors and mouthwateringly DELICIOUS! That is MY kind of recipe! (Sarah reporting here). I hope we are all headed out to a pool somewhere near – very soon – cause, guess what ya'll? It is getting HOT out there! I tried this dish out on my mom's book club a few weeks ago and EVERYONE loved it – or at least they said they did! (Maybe they were just being nice). Nice or not – you need this recipe for Easy Summer Party Bruschetta in your party arsenal. (AND SCROLL ON DOWN FOR OUR EASY SUMMER PARTY BRUSCHETTA MOVIE! – Our movie is NOT the ad that plays near the recipe – OUR movie is the one that is on down in the feed near the bottom of the post).
Did I say that, "Party Arsenal"? That sounds awful! I think I've been listening to my mom talk her crazy "Walking Dead" speak. "Arsenals" and "End of the World" and "Biters". Seriously though – If the end of the world is coming – you better be getting an arsenal of this stuff to bite into. (See what I did there?). I know – Mom told me the rules – Recipe right up top here. Here it is…
THE RECIPE FOR EASY SUMMER PARTY BRUSCHETTA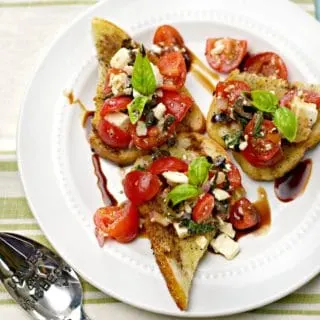 Easy Summer Party Bruschetta
This crispy bruschetta is the perfect elegant part appetizer for summer time with it's bright red cherry tomatoes and green basil. Delicious! give it a go!
Print
Pin
Rate
Ingredients
1

loaf of italian bread- sliced

4

tbs

olive oil

1

tsp

salt

1

tsp

pepper

1

small carton of cherry tomatoes

about 8 oz - quartered

1

small can of sliced black olives - chopped

6

cloves

of garlic- minced

1 ½

tbs

shallots - minced

½

Cup

Feta cheese - chopped

½

of a lemon - juice only

3

tbs

fresh basil - chopped or chiffonade

Pinch

salt

to taste

Pinch

of pepper

to taste

3

tbs

olive oil

2

tbs

rice vinegar

4

tbs

balsamic vinegar
Instructions
Preheat the oven to 450. Place the bread slices on a baking sheet and drizzle with the 4 tbs of olive oil - using more or less as desired. Sprinkle with salt and pepper. Bake at 450 for 5 minutes or until toasted.

Mix all of the other ingredients in a medium bowl (I like to do the dry ingredients followed by the wet ingredients).

When toast is ready, spoon the tomato mixture onto the bread and drizzle with balsamic vinegar. Serve immediately.
Notes
This dish is easy to assemble but only assemble just before serving otherwise, the toasts become soggy.
Nutrition
Nutrition Facts
Easy Summer Party Bruschetta
Amount Per Serving
Calories 200
* Percent Daily Values are based on a 2000 calorie diet.
TIPS AND TRICKS FOR EASY SUMMER PARTY BRUSCHETTA
I left out the feta cheese for the movie – don't ask why – because I don't know -but my original recipe has feta. (That is why the photos have fetta and the movie doesn't – our first attempt at making this movie was a bomb – and not as in a good bomb – it was the kind that had bits and pieces of video laying all over the place and in all kinds of poses – it was horrific to see, I'm glad we could spare you from that). So, just add some feta in this recipe and your mouth will be very happy! Plus it goes with that red/black and white party thing that will remind you of red white and blue on this recipe!

Don't get too crazy with the olive oil on the bread – because there is plenty in the recipe.

If you are going to a party where it might be a while before people can eat – you might want to serve the bread like a dipper for the topping – that way the bread won't get soggy. You can say, "I brought toast points and bruschetta dip" – and you will sound OH SO Fancy! We wont' tell anyone that it is just "do it yourself" bruschetta. lol.

Here is the most important tip of all – toast the bread – but only for a few minutes. If you are related to me and my mom, you might forget you have bread in the oven and burn it! Put your significant other in charge of watching the bread – safest bet all around. That significant other will feel very special.

In the photos, you will see that I garnished this dish with tiny whole basil leaves, that is really pretty – but it might not be the most tasty thing ever. Just saying.

Salt balances out bitter flavors – if anything at all tastes even the slightest bit bitter – just add some salt. It will be just fine!
THE EASY SUMMER PARTY BRUSCHETTA MOVIE!
I wish I could make this heading flash with a special MOVIE font – lightbulbs around it – old time special movie style. Alas – I have no idea how to do that – so you'll just have to view this the real old fashioned way by imagining that stuff in your head. Mom and I put this little ditty together this afternoon. (I told you our first try was a flop – totally). I love the music – so TURN IT UP and put on your dancing shoes while you whip up some Easy Summer Party Bruschetta!! AFTER you gaze upon our cute little short movie here – we would REALLY APPRECIATE it if you would share it on Facebook and if you would LOVE all over our youtube channel!
God is my strength and my power; and he maketh my way perfect. ~ 2 Samuel 22:35