This shop has been compensated by Collective Bias, Inc. and its advertiser. All opinions are mine alone. #GameDayGlory #CollectiveBias
Game Day Ideas and Recipes I don't know what it is but I have been WANTING chocolate – DAILY – FOR THE PAST THREE MONTHS! Rich, thick, gooey chocolate. You read this blog – you see that most of my recipes are savory temptations. I am not usually a candy person but for the past 3 months – guess what? I AM THE CHOCOLATE CANDY person! Right now, I'm in the middle of planning my Big Game Day Party. It's a big deal my friend. A big deal. And the worst part? I have had a little bit of Blogger Block. I can't decide what I want to serve. I have been needing Game Day Ideas and Recipes – let me share what I am thinking about with you, because I'm looking to score with my party…
As I shuffle towards the goal line in my Big Game Day Planning (see what I did there? Clever, eh?), I cruised around the internets and guess what…. I found something super cool that I never knew was a thing. Some folks go WAY beyond buffet line for their game day celebrations! People build SNACK STADIUMS to serve their guests from – can you believe it? Cool, huh? In fact, you can vote for the Best Snack Stadium out there – come on and join the #gamedayglorysweepstakes! You could even win a $100 WalMart Gift Card OR an Xbox One!!! Just follow the link below and check it out!! Seriously, go check out the Snack Stadiums and vote for the best – then come back and we can chat about recipes!
Game Day Glory Sweepstakes

Did you ever see such cool stuff for the Big Game? Some folks are so creative! Maybe you are that creative too! If you build a Snack Stadium, I hope you will show me what you did! Just share it on Instagram and give it the hashtag: #gamedayglorysweepstakes I'll be sure to be a spectator and exclaim – "Go for the GOAL LINE!" when I see what you have posted!
So, anyway, back to the recipes! As I said, I am pondering and quarterbacking on how I will make a touchdown with my game day table (see what I did AGAIN! lol). Then, suddenly, it comes to me as I am walking down the candy aisle at WalMart looking to stock up on chocolate candies. "Wendi" (that's me talking to myself), "you just need to block and tackle this thing – get back to basics- and your party will be complete!" I thought, "I need to add Crunchy SNICKERS ® Bites made with SNICKERS® Minis and also Skittles®, Pepsi™, TOSTITOS® Scoops and Chili Cheese Salsa Dip made with TOSTITOS® Medium Chunky Salsa to my Big Game Plans!" Can't miss. Easy. Everyone LOVES! Sometimes I SO OVERTHINK these things. This time – we are going with "no fuss" and "have fun". So I grabbed big bags, jars and cans of everything (and here is where you can find them too if you are shopping at WalMart…)
Back in my kitchen, carrying the ball over the goal line – here is what I am creating. I can't wait for you to try it too! What do you think? Want the recipes? GREAT! Here they are with photos of the process so you won't miss a thing! Just like an instant replay!
THE RECIPE FOR CRUNCHY SNICKERS ® BITES in GAME DAY IDEAS AND RECIPES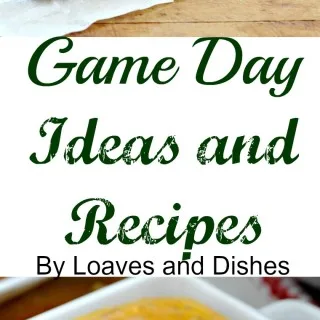 Crunchy Snickers® Bites
You can read more about this recipe on Loaves and Dishes.net
Print
Pin
Rate
Ingredients
48

small pretzels

the size of a quarter

48

SNICKERS® Minis

½

Cup

white chocolate chips
Instructions
Preheat the oven to 285. Place a sil-pat mat or a sheet of parchment paper down on a baking sheet. Evenly space the pretzels on the non-stick base layer and make sure that the pretzels are top side up (they have sides you know). You may or may not get all of your pretzels on one baking sheet.

Place a full SNICKERS® Minis on each pretzel.

Place the baking sheet in oven and bake for 12 minutes until the SNICKERS® Minis are beginning to melt and starting to ooze caramel from the bottom. Remove from the oven and set aside.

While the SNICKERS® Minis are in the oven, pour the white chocolate chips in a microwave safe bowl and microwave on high for 30 secs. Remove and stir. Repeat until the white chocolate melts into a thin liquid. If you have trouble getting the white chocolate to melt - you can add cream 1 TBS at a time and stir until it become thin enough to make a drizzle.

Using a spoon, drizzle the white chocolate over the top of the SNICKERS® Minis. Allow to cool completely. (HINT: DO NOT try to eat one while they are hot - because they are HOT! you will burn your mouth!) Ask me how I know.
STEP BY STEP PHOTO INSTRUCTIONS FOR CRUNCHY SNICKERS® BITES
Now come on in here and see what's happening next!!
THE RECIPE FOR CHILI CHEESE SALSA DIP in GAME DAY IDEAS AND RECIPES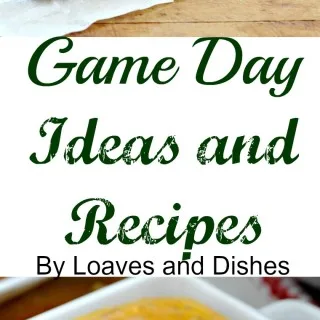 Chili Cheese Salsa Dip
If you would like more information about this recipe, please visit www.loavesanddishes.net
Print
Pin
Rate
Ingredients
1

Can of Chili with No Beans

½

Block

4oz Cream Cheese - cut into 1 inch blocks

1

Jar

oz TOSTITOS® Medium Chunky Salsa

8

oz

American Cheese Food - cut into 1 inch blocks

Green onion and tomato bits for garnish
Instructions
In a medium saucepan over medium heat on the stovetop add all of the above ingredients (except the green onion and tomato). Heat until the cheeses are well melted and the entire sauce pan contents are bubbly and hot. Garnish with green onion and tomato.
STEP BY STEP PHOTO INSTRUCTIONS FOR CHILI CHEESE SALSA DIP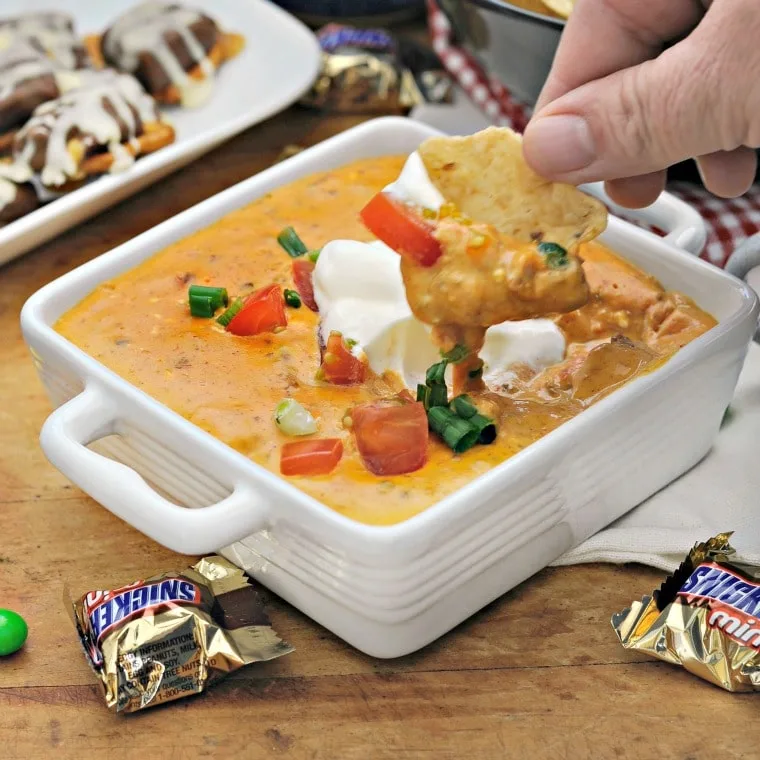 There you have it my friend. A complete game day party. And hey, with that, I'll leave the Football Analogies alone – 'cause we already carried it over the goal line! lol. No, seriously, I'm done. Tell me what you plan to do for your Game Day Party? Are you staying home? Having friends over? Going out somewhere to watch on a big screen? Are you preparing anything to take with you? Do you need to shop online? If so, check out WalMart on line where you can pick up these great products! What will your spread look like? Seriously, are you making a Snack Stadium? I would so LOVE to see your photos! Please leave me a comment and let me know what you are up to. No Monday Morning Quarterbacking on this one – it's easy – and seriously, I'm done with the Football speak. TOUCHDOWN! lol.
Whatever you have learned or received or heard from me, or seen in me — put it into practice. And the God of peace will be with you. ~ Philipians 4:9
TOUCHDOWN FOR GAME DAY IDEAS AND RECIPES!