In a comfort food show down what would win? I'm pretty sure Homemade Chicken and Drop Dumplings would be right at the top of the list for "creamy from scratch chicken goodness".
Recently, while talking to my friend Mona she asked if I knew of a recipe for Chicken and Dumplings with the drop dumplings rather than noodle dumplings. Her grandmother always made the drop dumplings and she doesn't have a recipe that works.
She has tried using biscuit mix. She tried using the ready made frozen dumplings. She has tried lots of other suggestions – I'm guessing things like using canned biscuits and tortilla shells. I didn't ask though because she made a face that said it all. "NONE OF THAT WAS ANY GOOD".
She also said that she had tried several recipes and none worked out very well.
So – I've taken that as a challenge. Personally, I grew up eating the fat flat noodle type of Chicken and Dumplings and you can find that recipe HERE. One of my favorite memories is my grandmother standing at her kitchen counter with the dough rolled out directly on the counter and her cutting long ribbons of dough with a butter knife turned backwards.
HOW TO MAKE HOMEMADE DUMPLINGS FOR CHICKEN AND DUMPLINGS?
That is the question, right? If you like the noodle style chicken and dumplings then check out the recipe HERE. If you want to know how to make the drop biscuit dumplings, then hang onto the recipe in this post.
Basically, we will precook the chicken, deglaze the pan, make a stock, pick the chicken off of the bone, put the chicken back in the pan, bring to a simmer while mixing up some biscuits from scratch and then – very carefully – we will drop SMALL pieces of the biscuit dough into the boiling stock, then cook till done. See? Simple.
You might want to know, HOW DO YOU MAKE DUMPLINGS FROM BISCUIT MIX
That is simple, but not recommended by me. Just follow the directions on the side of the box for making a biscuit and use the dough to drop into the chicken/stock mix. Seriously though, if you want genuine chicken and drop dumplings, then follow this recipe and be careful to follow the Tips and Tricks.
THE RECIPE FOR HOMEMADE CHICKEN AND DROP DUMPLINGS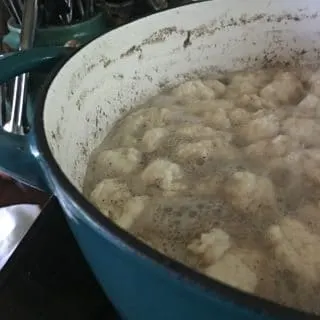 Homemade Chicken and Drop Dumplings
This delicious recipe will carry you right back to your grandmother's dining room table! Soft pillows of dumpling in a delicious thick chicken base.
Print
Pin
Rate
Ingredients
For the Chicken
3-4

lb

whole roasting chicken cut into 8 pieces

see tips and tricks

½

cup

flour

2

Tbs

unsalted whole sweet cream butter

1

medium onion - quartered

3

cloves

garlic - whole

3

carrots cut in half lengthwise and then in 3rds.

3

celery stalks cut into thirds

1

Tbs

kosher salt

1

tsp

ground black pepper

2

bay leaves
For the Dumplings
1

Cup

all purpose flour

1

tsp

table salt

2 ½

tsp

baking powder

½

cup

milk
Instructions
Rinse the chicken and pat it dry with a paper towel.

Place a heavy 6 quart stock pot or preferably a cast iron dutch oven on the stove top to heat over medium high heat while you begin preparations for the chicken.

Put another saucepan of water on the stove to boil ( 2-4 quarts).

Melt the butter in the dutch oven on the stove top.

Place the flour into a paper sack.

Put the chicken pieces one by one (as you are ready to use them) into the paper sack and shake it thus coating each piece of chicken very well with flour.

Just as the butter in the dutch oven starts to turn brown, place the chicken pieces (no more than 2 at a time) in the butter and allow the skin to brown and crisp on each side. Brown each piece on all sides and then remove from the pot to a separate plate (the chicken won't be cooked through - so don't worry about that - we are just doing this to build flavor).(Add more butter if you need to as you fry to keep the pan wet to allow the frying process to take place).

When all of the chicken has been browned and removed to a plate, add the onion, garlic, carrot and celery and let those cook in the butter to brown slightly. Then add the chicken pieces back to the pot and fill the pot with just enough boiling water to cover the chicken. (If you don't have quite enough boiling water, just add a little tap water).

Add the salt and pepper and bay leaves.

Place the lid on the dutch oven and reduce the heat to medium low until water comes to a simmer (small barely there bubbling action).

Let simmer until the chicken is tender and cooked through. The water will thicken slightly due to the flour on the chicken.

Once the chicken is cooked through, use a wire mesh skimmer to scoop the chicken, onion, garlic, carrot, celery and bay leaves from the pot and place on a clean plate (not the same one you used for the browned chicken meat). Remove the dutch oven from the heat and set aside.

Allow the chicken to cool enough that you can safely touch it and then remove the chicken meat from the bone. Discard the skin, bones and any organ tissue. Reserve the meat.

Place the chicken meat back in the cooking liquid and return to the stove top over medium heat. Not all of the chicken will be completely covered probably. That is ok.

Sift together the flour, salt and baking powder. Slowly add the milk and mix with a spoon until the batter just comes together.

Once the chicken mixture is again simmering, Drop scant teaspoonfuls of the biscuit mix into the simmering liquid. The biscuits will immediately expand and bob on the surface. Some will rest on top of pieces of the chicken. This is all desired and the way things should be.

Once all of the dumpling mix is added to the pot, put the lid back on and allow to simmer for 10 minutes. (see tips and tricks). After 10 minutes, check one of the dumplings to make sure it is cooked through - you can remove one and cut in half to see or remove one and taste it to see. If not done, replace the lid and simmer and check in 5 minute intervals until done.
Notes
Use very small spoonfuls for the dumplings or they will taste doughy.
If you want your soup thicker, coat the dumplings with an extra dose of flour before dropping in the pot.
Nutrition
Nutrition Facts
Homemade Chicken and Drop Dumplings
Amount Per Serving
Calories 350
* Percent Daily Values are based on a 2000 calorie diet.
TIPS AND TRICKS FOR HOMEMADE CHICKEN AND DROP DUMPLINGS
I know this is A LOT of tips and tricks, just read through them and hang with me. I've made a lot of mistakes making this recipe in the past and you can learn from what I have already done wrong!
This IS a fairly involved recipe. IT ISN'T hard, however. The basics are – brown the chicken, add the veggies, cover with boiling water, remove the chicken and veggies, pick the chicken, put the meat back in the pot, make the dumplings, add them to the pot and cook till done – see? Easy peasy!
Please use the right sized pot. If you use a smaller pot, you won't have room for everything and it will boil over and you will be so disappointed if that happens. Seriously, you need a dutch oven as a kitchen basic anyway and you can find a really good one online or at Target for about $50 or less. Get one that is at least 6 quarts in size. In fact, I have one that I bought at Aldi grocery about 10 years ago for $15 and I have another one I bought at Sam's Club last year for $35 – both are great. The Sam's Club one is shown in this post!
I've listed a link for one that I would recommend via Amazon (This is the precise dutch oven that I own – that I bought at Sam's Club for $35 – so check your local stores before you buy through Amazon). This is an affiliate link. You can click the photo through to the item.
In many recipes, it doesn't really matter if you boil something vs simmer it – however, in this recipe it DOES matter. When cooking the chicken, only simmer it. When bringing the nearly complete dish up to temp – just simmer. A simmer is a tiny baby boil. The liquid will bubble just slightly and steam will come off of the surface of the liquid. Big raging bubbles will not happen though.
The reason that a simmer matters: The first time, you are cooking the chicken. You want chicken that is tender and cooked through. If you hard boil the chicken, the chicken will end up stringy and tough. Also, while less important for taste, if you hard boil the chicken, the resulting stock will be very cloudy. This might not matter that much for this recipe – but as someone who cooks all the time, I like to see a beautiful clear stock. The second time, you want the liquid simmering when you add the drop biscuits. You want to GENTLY cook the biscuits – NOT knock them unconscious. They should bob along like little boats in a storm on the surface of the liquid. The steam coming off of the liquid will help to cook them too – if they are hard boiling, you are going to sink your little dumpling boats – and that would be a shame – because if they are UNDER the liquid – the steam can't get to them. Then they will be thick and gummy. Ewww.
There are two schools of thought on the chicken in the chicken and dumplings. Some people like to leave the chicken on the bone and then serve up a piece of chicken in the bowl with the soup and dumplings. We don't do it that way at my house – I go ahead and pick the chicken off of the bone – as instructed here. However, if you are a person who DOES like to have a full piece of chicken then, just skip the chicken pickin step and move forward with the rest of the recipe.
Once the chicken has cooled enough to pull it from the bone, I do so by hand. If that just grosses you out too much, then by all means, be my guest and use a fork or whatever tool you prefer.
I remove the skin and discard it with the bones – mostly because while a bit of skin tastes pretty good in the chicken and dumplings, it is usually rubbery and that isn't a nice mouth feel. I don't think that is a favorite of many people – but if you are fixing these for you – and you like that – then be my guest. You are king in your kitchen.

Regarding the carrot and celery. I am kind of a chicken and dumpling purest elitist snob. Lol The thought of that just makes me laugh – I mean, come on, if you are eating chicken and dumplings, how snobby could you possibly be? lol. Anyway, all that I want in my bowl is just chicken and dumplings – nothing else. Some people like to have the carrots or celery in their bowl. If you are one of those people, then cut yours up smaller than indicated in the directions and keep them in the pot. It's up to you. I'll just look away. We can still be friends.

THIS IS A SUPER IMPORTANT TIP – DON'T SKIP THIS ONE. I really experimented with the dumplings in this recipe. I made dumplings that ranged in size from ping pong ball size all the way down to pea size – and every size in between. The size that works best are about 1 inch pieces. I approximated the size by looking at my thumb and making the dumplings about the size of the last section of my thumb – from the last knuckle to the tip. That size is just about perfect. Tear that much dough – or scoop up that much dough – it really is a SCANT teaspoonful size – Not more than – that works. No need to roll into balls or some complicated shape – just pull it or scoop it and you are done. That works just perfectly.

Some people advocate using a little cornmeal in your biscuit batter. I have not tried it this way, but feel free to try it yourself. You would add about 1 tbs to the directions that I give here.

The way that I am accustomed to making chicken and dumplings does not involve frying the chicken in the pan first. I have to admit – this DID add A LOT of flavor to the dish and I would recommend it, and will do it this way from now on.

I went to the grocery looking for an already cut up fryer. To my surprise and near horror – that isn't something that is even available at my grocery anymore! I had to buy a whole chicken and cut it up myself (the butcher had already left for the day). If this happens to you – it is up to you. You can cut up a chicken yourself – and this is a great time to get some experience because if you hack it to death it isn't going to matter for the recipe. You can go while the butcher is there and ask him to cut up the chicken into pieces for you. You can buy the same amount (total pounds) of a single cut. If you do this, I'm going to recommend dark meat because breast meat tends to be more dry. I know some of you are ALL ABOUT white meat – it's ok – I'll just sit over here and gnaw on a leg, thanks. 🙂

Just know that this amount of meat is a SMALL bird.

If you get the dish complete and it isn't as thick as you would like, you can always add some cornstarch in the usual manner and it will thicken. The usual manner: One heaping Tablespoon of cornstarch with an equal amount of cool water in a cup – mix with a fork (it will look like milk) – and then pour it into the simmering liquid. It will begin to thicken in a few minutes. If after 8 minutes, it isn't as thick as you like, repeat. (DO NOT, however, simply add cornstarch to the hot liquid – it will clump together and leave you with a mess).

I have the photo here garnished, but I am not really in the habit of eating it that way, it just looks nicer for a photo. It does give the finished dish a nice fresh taste – and it is worth a try if you have never had it this way.

I can't think of a single more tip and trick – whew – that was a lot. 🙂 Oh wait – one more – chicken and dumplings are meant to be shared with friends and neighbors. Carry a bowl over to your neighbor – that's how we are going to get world peace! Also – pronounce dumpling – "dumplin". That is all. 🙂
A VERSE TO SHARE
The other day as I was heading into a patient's home, there was a sound. I didn't notice it much at first and then suddenly, it was on MY VERY LAST NERVE! I became irritated and aggravated and I COULDN'T WAIT to get into my patient's home and get away from that SOUND!
What was it? A LOUD wind chime with only ONE chime and the clanger. One single note. Over and over and over and over.
I am POSITIVE that when the wind chime was new, it had a lovely tune. Playing its low dong with every small breeze delighting listeners with its joyful tune. However, when all of it's other chimes had fallen off – it had only one note left. Clang clang clang. On and on.
How completely irritating, someone put it out of it's misery!
This reminded me of our own national issues right now. I would dare say that some have become a clanging gong at this point. I'm going to be completely revolutionary and say, it's time to give love a chance.
Those who cling to the same old note, never trying anything new and never adding a dimension of love to what they say are like that clanging windchime. One single note over and over getting on the very last nerve of the people they hope to inspire.
Is there ANYONE with me on that?
1 Corinthians 13: 1-13 says all we need to know about that.
If I speak in the tongues of men or of angels, but do not have love, I am only a resounding gong or a clanging cymbal. If I have the gift of prophecy and can fathom all mysteries and all knowledge, and if I have a faith that can move mountains, but do not have love, I am nothing. If I give all I possess to the poor and give over my body to hardship that I may boast,but do not have love, I gain nothing.
Love is patient, love is kind. It does not envy, it does not boast, it is not proud. It does not dishonor others, it is not self-seeking, it is not easily angered, it keeps no record of wrongs. Love does not delight in evil but rejoices with the truth. It always protects, always trusts, always hopes, always perseveres.
Love never fails. But where there are prophecies, they will cease; where there are tongues, they will be stilled; where there is knowledge, it will pass away. For we know in part and we prophesy in part, but when completeness comes, what is in part disappears. When I was a child, I talked like a child, I thought like a child, I reasoned like a child. When I became a man, I put the ways of childhood behind me. For now we see only a reflection as in a mirror; then we shall see face to face. Now I know in part; then I shall know fully, even as I am fully known.
And now these three remain: faith, hope and love. But the greatest of these is love.