Here you go – the perfect food for special occasions OR for every occasion! Seriously, Honey Chipotle Meatballs are that good. Want to know how I know? Because I have served these up on submarine rolls with provolone cheese melted over the top to my children and grandchildren and I have dished these up as a fancy little appetizer for a party. Honey Chipotle Meatballs are a success anyway you want to try them!
These start with a very basic meatball. The meatball is baked and then the delicious sauce is added over the top! SO GOOD! In fact, I think there are some in the fridge right now and my belly is grumbling for one! Be right back!
As you know, I normally make my own sauces for these kinds of things, but in this case – the bottled sauce tastes good and makes things so much easier that I simply opted for the easy way out. You can whip up your own sauce if you are so inclined – or you can use a different sauce instead. I am sure that would be delicious too –but it wouldn't be these Honey Chipotle Meatballs, now would it?
I want you to know that EVEN my grandchildren (ages 8-9) gobbled these Honey Chipotle Meatballs down and even went back for seconds. No kidding. I am surprised since they saw me making them and both said, "EWWWW SPINACH!!!!" well, actually, they said, "EWWWW GREENS!!!" but, same difference. I promised them that you can't actually taste the spinach, they just add moisture – and I guess they trusted me enough to try one. After tasting one, the rest is history.
And now – to give you a little laugh – a day in the life of a foodblogger. Saggy meatball on a stick. Won't stand up for a picture. BBQ sauce going all over my equipment
Recipe inspiration for Honey Chipotle Meatballs
As I have told ya'll about a hundred times now, we are having a baby shower this fall. (I tell you this info so much, partially because I am so excited and partially because I have to practice making food ahead of time – and I am putting it all here on the website). Anyway, back to what I was saying, these meatballs will be one of the "stars of the show" for the food table. We are doing a "classier" western theme co-ed baby shower. No little finger sandwiches or fruit and veggie tray for us!
Anyway, I had planned on using my usual meatball recipe which I lovingly call "There is some crack in there" meatballs. Meaning something about how addicting they are (not that there really is any crack). In this case, Sarah wanted me to try Alton Brown's meatball recipe. You can find that HERE. I had to modify the recipe because I knew we were heading in the Honey Chipotle direction and so this final recipe is my modification on his recipe.
I hope you enjoy these little guys as much as we have.
One night the Lord spoke to Paul in a vision: "Do not be afraid; keep on speaking, do not be silent. 10 For I am with you, and no one is going to attack and harm you, because I have many people in this city." Acts 18: 9-10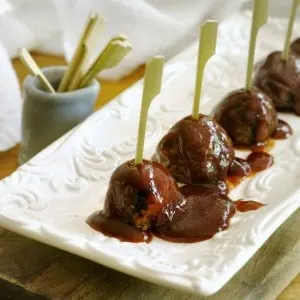 Honey Chipotle Meatballs
This recipe makes about 50 meatballs - you may half the instructions for half the number of meatballs.
Print
Pin
Rate
Ingredients
For the Meatballs
1

pound

ground breakfast sausage

1

pound

Hot Italian sausage

remove from casing

1

pound

ground hamburger

10

ounces

1 package frozen spinach, thawed and drained thoroughly

1

cup

finely grated Parmesan

use the real stuff not the stuff in the green can

2

whole eggs

3

teaspoons

dried basil

1

teaspoons

dried celery

2

tsp

dried thyme

2

teaspoon

garlic powder

2

teaspoon

kosher salt

1

teaspoon

chipotle pepper flakes

2

Tbs

honey

1

cup

bread crumbs

divided
For the Sauce
2

bottles of Honey Chipotle Barbeque sauce

I use Sweet Baby Ray's
Instructions
Preheat the oven to 400 degrees F. Line two sheet pans with parchment paper.

In a large mixing bowl, combine the two sausages and hamburger, spinach, cheese, eggs, basil, celery, thyme, garlic powder, salt, pepper flakes, and 1/2 cup of the bread crumbs. Using your hands, mix all ingredients until well incorporated. Use immediately or place in refrigerator for up to 24 hours.

Place the remaining 1/2 cup of bread crumbs into a small bowl. Using a small scoop (I used a 1 ½ inch scoop), scoop out equal size portions of the meat mixture and place on the lined sheet pans. Using your hands, roll the meatballs into rounds, roll in the bread crumbs and place the meatballs back onto the sheet trays. Bake for 20 minutes or until golden and cooked through. They will be sizzling when they are done.

Allow meatballs to cool a little and then gently place them into a crock pot or into a large sauce pan on the stove top. Cover well with the barbeque sauce and if on the stove top – heat over medium heat – stirring gently until heated through. If in the crock pot – set on medium and allow the contents to come to the same temperature. Serve when heated through. Can remain in the crockpot on low setting for a couple of hours if needed before serving.
Notes
Using store bought frozen meatballs makes this recipe super easy.
Nutrition
Nutrition Facts
Honey Chipotle Meatballs
Amount Per Serving
Calories 280
* Percent Daily Values are based on a 2000 calorie diet.