I can barely edit the pictures for this post because my mouth is leaking. Cheesy Rosemary Meatball bake is the ULTIMATE in cheesy comfort food. My mouth is remembering that right now. In fact, I think there is still some in the fridge. I'll be right back.
I know, I know. Looking at the recipe instructions for Cheesy Rosemary Meatball Bake makes you think that this is a difficult meal to fix. However, it is pretty darn simple.
1. Simply make the sauce. While that is simmering, mix and roll up those cute little meat balls. Take the sauce out of the iron skillet (or any oven safe skillet) and put the sauce in a bowl.
2. Now, put the meatballs where the sauce was in the frying pan. Let them cook – its ok if they stick to the bottom a little – that makes for MORE FLAVOR in the long run! Remember WAY on back there when we made pot roast? We didn't care if things stuck to the pan because we deglazed the pan and made a delicious juice? Same thing here.
3. So- after the meatballs are done – add them to the sauce bowl. Deglaze your pan and dump it all back in there. Give it a gentle stir and top with cheese. Slap that bad boy into the oven – and all that is left is the waiting!
OH DELICIOUS WAITING! You will know when it is done – it will speak to you with hot bubbling cheese.
This is a GREAT dish when you are sick and tired of leftover ham and turkey!
PAIRING FOR CHEESY ROSEMARY MEATBALL BAKE
This Cheesy Rosemary Meatball Bake is fantastic served over a bed of pasta – I've been using Linguini, but I think any stringy pasta would be perfect. A green leafy salad such as Arugula Caprese Salad and a bread and – poof. Perfect meal.
COMING UP
I hope you will check back on Sunday – set your alarm now – or better yet – sign up to get updates from Loaves and Dishes via email (right over there on the left hand side). Because on Sunday – we will be having THE Chocolate Cake.
For unto you is born this day in the city of David a Saviour, which is Christ the Lord. Luke 2:11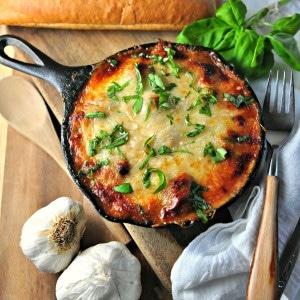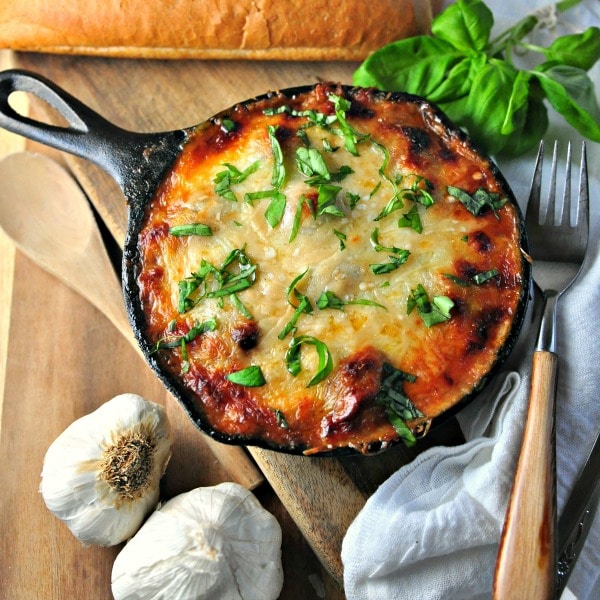 Cheesy Rosemary Meatball Bake
Cheesy Rosemary Meatball Bake is cheese pulls full of deliciousness!
Print
Pin
Rate
Ingredients
For the Sauce
1

tbs

olive oil

1

small onion – finely chopped

8

oz

mushrooms – sliced

¼

Cup

Green Bell Peppers

3

cloves

garlic – minced

1

Can crushed tomatoes with liquid - larger can - 28oz

about quart size

1

small can tomato paste

¼

teaspoon

red pepper flakes

2

tsp

raw sugar

½

tsp

cumin

Salt and pepper to taste

½

Cup

heavy cream

½

Cup

chardonnay wine
For the Meatballs
1

lb

ground beef

½

lb

ground hot sausage

½

cup

bread crumbs

1

finely minced shallot

1

tsp

dried thyme

2

sprigs fresh Rosemary chopped

½

Cup

freshly grated Parmesean Cheese

2

cloves

Garlic – minced

1

large egg

beaten

¾

tsp

kosher salt

¼

tsp

black pepper

2

tbs

olive oil
To Finish
4

oz

fresh mozzarella shredded

4

tbs

fresh grated mozerella

2/3

tbs

minced fresh basil for garnish
Instructions
For the sauce

Heat olive oil in large oven proof skillet over medium high heat. Add the onion, mushroom and pepper and sauté till softened – about 3-4 minutes. Add the garlic and cook for an additional minute. Add the crushed tomatoes, tomato paste, red pepper, sugar, cumin, salt and pepper. Stir and reduce heat to medium low - allow to cook down while making the meat balls – will thicken. Remove from the heat and place in a bowl – add the cream.

For the meatballs

In a large mixing bowl, combine the ground meat, bread crumbs, shallot, thyme, rosemary, parmesan, garlic, egg, salt and pepper. Using your hands, mix ingredients together until well combined. Form into 1 ½ inch meatballs.

In the skillet that the sauce was cooked in, heat olive oil over medium high heat. Cook meatballs (may need to cook in batches) – turning occasionally. The meatballs may stick to the skillet a little and that is ok – will deglaze in a moment. Once meatballs are browned on all sides, remove meatballs to the same bowl that the sauce is in.

Turn the burner up to medium high. When skillet is hot, add wine (can substitute chicken or beef broth). Scrape the browned bits from the bottom of the pan and allow the wine to bubbly and reduce by about half (5 mins). Remove skillet from the heat and add the bowl of sauce and meatballs to the skillet.

To finish:

Preheat the oven to 400. Sprinkle the mozerella and paremesean over the top of the meatballs and sauce and bake until heated through and cheese is melted and bubbly – about 15 minutes. Garnish with fresh basil. Serve warm.
Notes
cheese pulls and delicious!
Nutrition
Nutrition Facts
Cheesy Rosemary Meatball Bake
Amount Per Serving
Calories 400
* Percent Daily Values are based on a 2000 calorie diet.
Here is the post blog Dessert for today – IT'S CHRISTMAS. Hallelujah. A newborn king.