Tasty, smoky and grilled to perfection. When you know how to grill chicken wings, a whole new world of grilling opens up to you. Soon you'll be serving up tender, tasty, perfectly cooked chicken wings to your friends and family!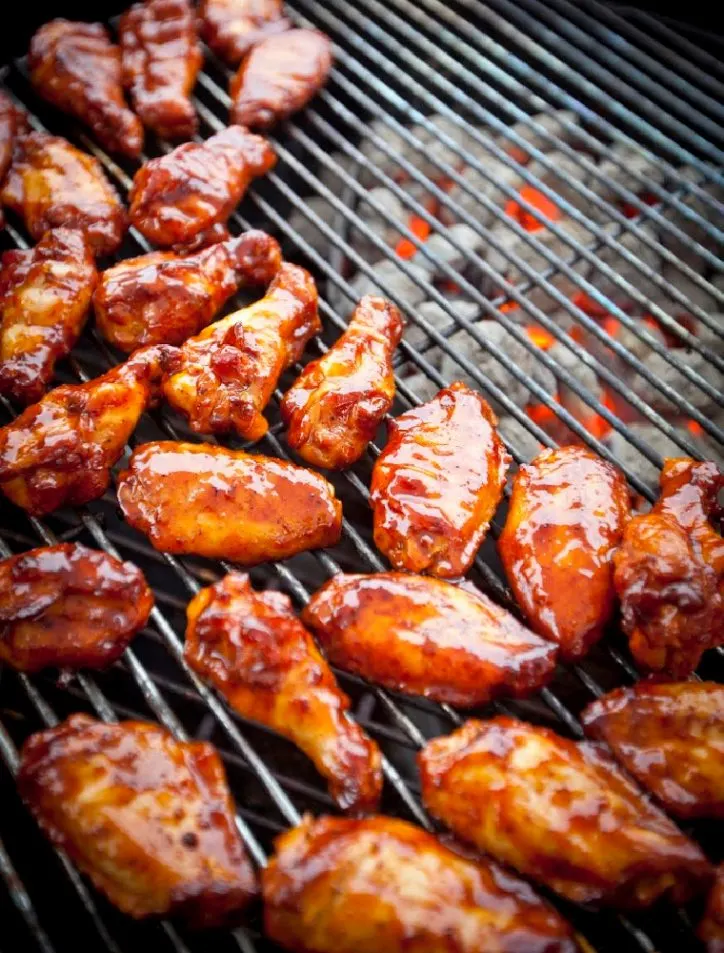 How Long to Grill Chicken Wings
The first question everyone asks is "how long do I grill these chicken wings". The answer may surprise you because it might be longer than you think!
I mean, seriously, wings are so small (especially if you have them cut into flats and drummies) but it takes just a bit.
The most important thing is not to over cook wings because then they turn out dry and stringy and no one wants that!
No worries, we will cover it all shortly.
The answer? Usually, you will grill wings for about 4 minutes on one side and 3 minutes on the other.
Ever wonder how to freeze pizza?
Here's What You'll Need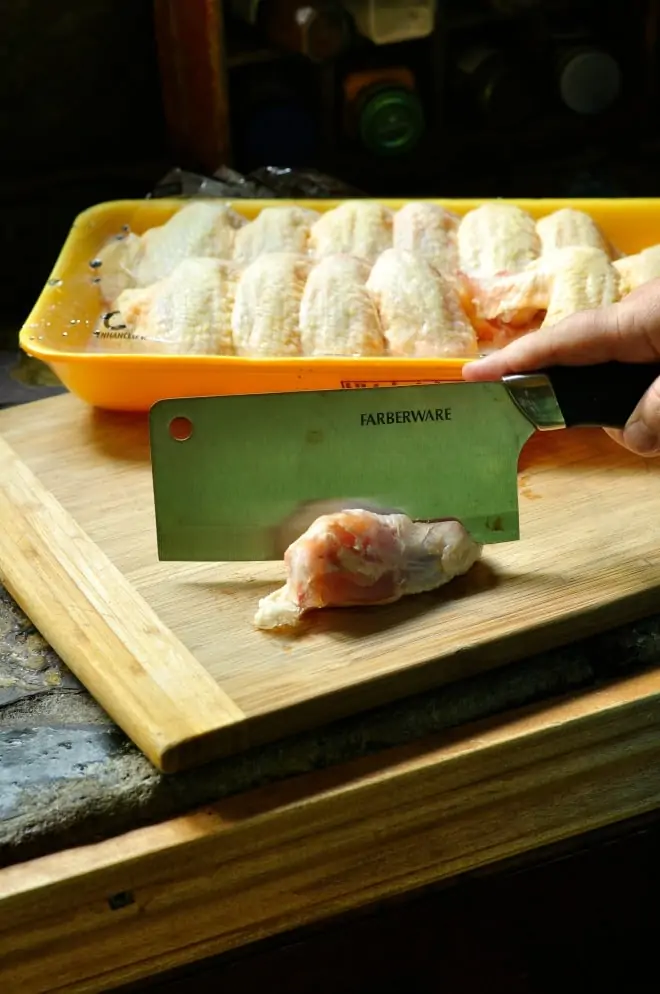 (Some of these are affiliate links, I am an Amazon affiliate and although it doesn't change your price, I do receive a commission for products purchased through these links, so thank you!)
You'll need:
Wings cut into flats and drummies.
vegetable oil
salt and pepper
Here's the Equipment You'll Need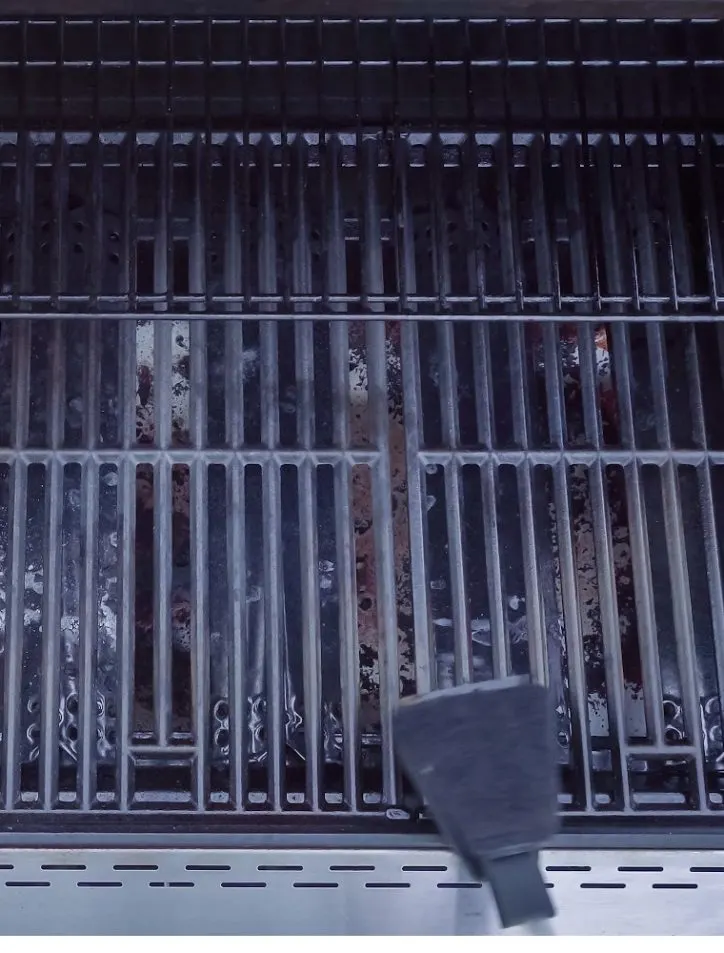 Here's How Its Done, The Basics
Prep the wings
Marinate the wings (if you plan to).
Preheat the grill.
Cook the wings.
Douse in sauce, if that's your thing.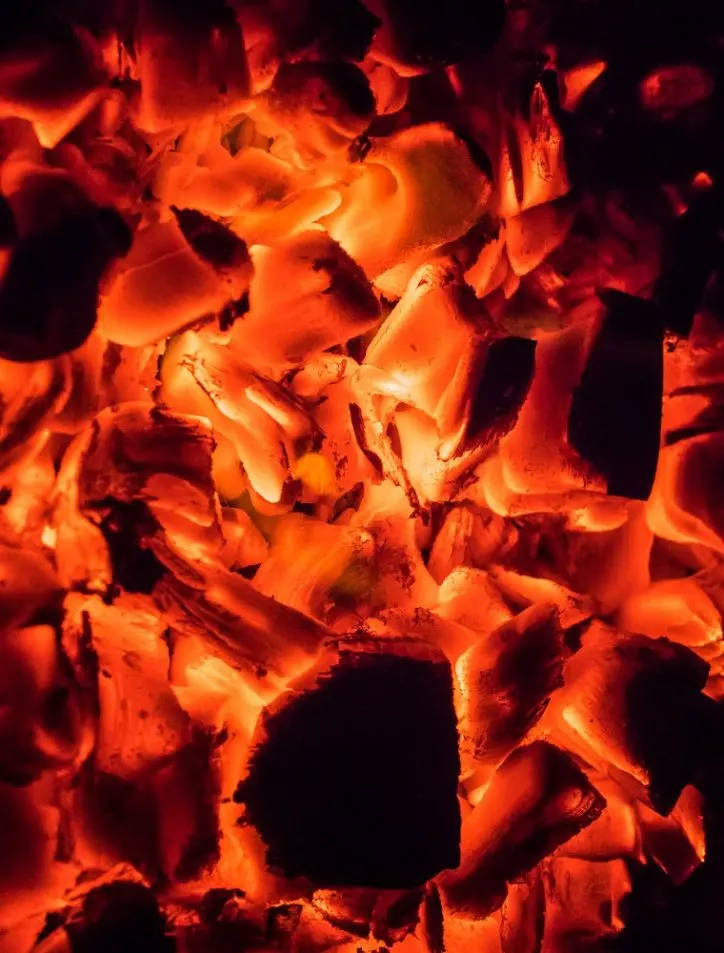 Frequently Asked Questions (FAQ's)
How Long to Grill Wings?
For wings cut into flats and drums, you'll want to grill for about 4 minutes on one side and 3 on the other. Keep grill at 350-400. Go to an internal temp of 165.
How to Grill Wings on a Gas Grill?
For a gas grill, be sure that the grill is fully heated through before putting the wings on to cook. Set the grill on medium and put the lid down to allow thorough heating. Then grill the wings to an internal temp of 165.
How do I get my Wings Crispy?
If crispy skin on grilled wings is your thing. The easiest way to ensure crispy skin is to heat the oven broiler before you start grilling. Once the wings are cooked through, place them on a sheet pan and blast them with the broiler for a couple of minutes before serving. This will ensure crispy delightful skin!
At What Temp Should I Grill Wings?
Grill your wings between 350-400 and cook to an internal temperature of 165.
Should I Use a Marinade?
Marinades are great on wings especially if you aren't already an accomplished wing grilling person. A marinade will give you flavor and help your wings stay juicy as you learn to cook them on the grill. See the recipe notes below for hints and tricks related to marinades.
How to Grill Wings on a Charcoal Grill?
Fire up those charcoals and let them burn until they are mostly white. Keep the lid on the grill while this is happening. Place the wings on the grill when it is thoroughly heated. Grill wings to an internal temp of 165.
How Do You Know When Chicken Wings are Done?
Chicken wings are done when the juices run clear and when an instant read thermometer reads 165 for internal temperature.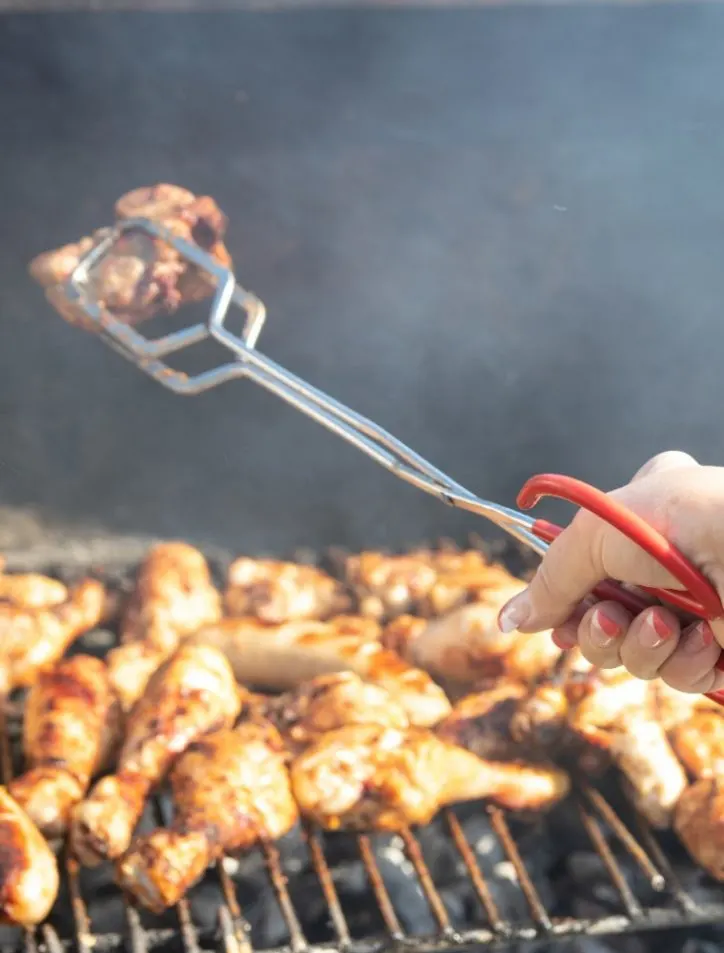 Tips and Tricks for Perfect Wings
Because wings cook pretty quickly, it's important to know what you plan to do and to have all of your equipment and supplies ready to go before you start. Once you start cooking, you'll need to keep your eye balls trained on your wings.
If you've never cooked wings before, plan to use a marinade. A marinade will help you have juicy wings and help prevent overcooking. See recipe notes.
If crispy skin in the thing you like, then while you are cooking the wings, go ahead and let your oven broiler heat up. You'll want it on point when your wings come off the grill.
Want to cook some wings on the grill with me? You can check it out on YouTube.
When choosing wings, if you have never prepped wings before, look for the ones that the butcher has already cut into flats and drummies. Cutting the wings is a whole skill.
Use a very sharp knife to cut chicken wings.
Serving with a hot sauce? Also offer a cool sauce like Ranch or Blue Cheese so that people can cool their mouth with those.
Always have lots of water available if you are serving beer or other alcoholic drinks with hot chicken wings.
Watch How to Grill Chicken Wings
Can You Give Me a Hand?
Please leave a 5 STAR rating in the comment section below. That helps others to find the recipes at Loaves and Dishes.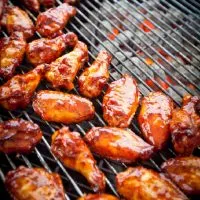 How to Grill Chicken Wings
Tender, smokey, juicy and perfectly cooked! When you know how to grill chicken wings, you are ready for a party where everyone will be begging for more!
Print
Pin
Rate
Ingredients
3

lbs

chicken wings

3

tbs

vegetable oil

1/2

tsp

salt

1/2

tsp

ground black pepper
Instructions
Using a sharp knife, cut the chicken wings into drummettes and flats. Save the wings ends for another application. If using a marinade, go ahead and marinate the wings for the recommended length of time.

If grilling immediately, sprinkle with salt and pepper.

Fire the grill and preheat to 350-400 degrees. Oil the grill grates with vegetable oil and place the prepared wings onto the grill grates. Grill for 4 minutes on side one and 3 minutes on side two. Heat to an internal temperature of 165. Juices should run clear.

Serve hot with sauce for dipping.
Notes
See post at Loaves and Dishes for how to cut chicken wings if you are not familiar.
If you have never grilled wings before, you may want to marinate them to help maintain juiciness and flavor without over cooking them. A good option is to use zesty italian salad dressing for any of the McCormick brand marinades. If you plan to use a Buffalo sauce at the end, be sure to pick a marinade that will go with that (Zesty Italian doesn't really).
To crisp the skin after grilling (if it isn't crispy enough to your liking), preheat the broiler on the oven. Place the chicken wings on a sheet pan with plenty of space between. Broil for 3 minutes to develop a nice char and to crisp the skin.
Sauces are terrific for dipping wings. For primary sauces like buffalo or bbq, warm the sauce slightly. For cooling sauces like ranch and blue cheese, keep these in the refrigerator until ready to use.
Nutrition
Nutrition Facts
How to Grill Chicken Wings
Amount Per Serving (4 g)
Calories 327
Calories from Fat 207
% Daily Value*
Fat 23g35%
Cholesterol 113mg38%
Sodium 340mg14%
Potassium 232mg7%
Carbohydrates 1g0%
Protein 27g54%
Vitamin A 217IU4%
Vitamin C 1mg1%
Calcium 19mg2%
Iron 1mg6%
* Percent Daily Values are based on a 2000 calorie diet.
My friend hates to argue and so when others are discussing things, rather than state her opinion, she just keeps quiet. Sometimes she even shakes her head yes or makes small noises, as if to agree even if she doesn't.
Recently, I referred back to the conversation and said, "You know when we were talking about this and you agreed?".
She said, "I never said that, you might have thought I said that, but I never did".
The wind was really knocked out of my sails. I demanded that she had, in fact, said that. On looking back, maybe she did not actually say, "yes, I agree and that is what I will do" but she remained silent and that indicated her agreement. If she had disagreed, she would have said something, right? That's how most people operate and what is considered truthful.
When someone withholds their feelings, thoughts and planned actions, it is deceitful. Is that how God calls us to be? I keep thinking, what if we arrive at the throne one day and Jesus says, "I never said that".
Whoa.
1 Peter 3:10
For, "Whoever would love life and see good days must keep their tongue from evil and their lips from deceitful speech.