Occasionally, dinner time around here resembles an episode of "Chopped". We had one of those nights this week. Halleluiah and DANG! Sometimes those mystery ingredients can turn out a pretty darn good dish! Let me introduce you to Lamburger Gouda Mac.
I know, I know. You might be under the impression that we eat like royalty for every meal. (Laughing). I guess that is true, if royalty eats hot dogs and pizza about once per week.
This week, the fridge is nearly empty and no one has been to the grocery. Someone didn't even do the dishes last night. I'm not pointing any fingers or anything. The kids are complaining, "There isn't anything to eat around here", but somehow the sink fills up with dishes every day. How can that be?
I don't know – you probably don't have those problems like I do.
So, anyway, it is time for dinner and I have NO idea what we are going to have. The contents of the fridge look like that game show I mentioned before. Let's see, what can we make out of a pound of ground lamb, a half a block of cream cheese, the remainder of the parmesan cheese container, a stick of butter, some half and half creamer, a piece of smoked Gouda cheese and a 1 lb box of noodles?
HELLO LAMBURGER GOUDA MAC!
This dish came together in about 20 minutes and it fed FIVE HUNGRY TEENAGERS and TWO HUNGRY ADULTS with a little left over. I managed to scrounge enough green stuff together to make a salad and BOOM! Like Magic – we have dinner!
Besides that, it was GOOD! So good, in fact, that I am going to share it with you as if it were a dish I slaved over creating for weeks and weeks and weeks. You would believe that, right?
With that, I'll leave you with some Lamburger Gouda Mac. And YES! You can use Hamburger instead of Lamburger and it will be delicious!
As always, shop locally. This Ground lamb came from our local farmers and you can check out your local lamb producers at American Lamb. My local producer is Buffalo Creek Farm in Germanton, NC You can find them HERE
Our Redeemer–the LORD Almighty is his name– is the Holy One of Israel. ~ Isaiah 47:4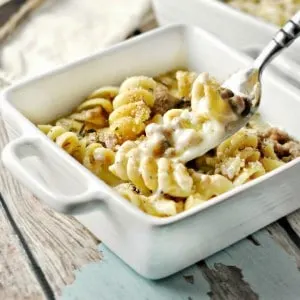 Lamburger Gouda Mac
This recipe is nothing short of a dream! Easy and delicious!
Print
Pin
Rate
Ingredients
1

lb

of macaroni type noodles

rotini, penne, whatever you like

1

tbs

vegetable oil

1

lb

of Ground Lamb or Ground Beef

1

tsp

onion powder

1

tsp

garlic powder

½

tsp

salt

½

tsp

pepper

1

stick of butter

½

stick

4 oz cream cheese

½

cup

grated parmesan cheese

1

cup

half and half

you can use milk or cream if that is what you have

4

oz

smoked gouda

you could use regular gouda too

1

tbs

bread crumbs

optional
Instructions
Put on a large pot of water and cook the noodles per package instructions to al dente. Make sure to salt the water

In a frying pan heat the vegetable oil and then brown the ground lamb (or hamburger) over medium heat until cooked through. Add the onion and garlic powder and the salt and pepper while browning and stir well. Remove from heat and set aside until the noodles and the sauce are finished.

In a medium sauce pan, over medium heat combine the butter, cream cheese, parmesan, half and half and smoked gouda. Stir frequently until all is melted and heated through.

When noodles are cooked, drain well. Add the lamb (or hamburger) and the sauce to the noodles and stir well. You can spread this into a 9x13 casserole dish, sprinkle with bread crumbs and heat under broil until the top is crusty – or simply serve as is.
Notes
If you don't have lamburger, you can just use ground beef or even sausage and this dish will still be perfect!
Nutrition
Nutrition Facts
Lamburger Gouda Mac
Amount Per Serving
Calories 330
* Percent Daily Values are based on a 2000 calorie diet.