Can we talk for a minute? Isn't it a shame that comfort food takes such a beating? I mean, here we are on the cusp of one of the greatest comfort food holidays of the year and folks get so judgy. I mean, think about it, we could potentially be faced with mounds of heaping, cold, left-over mac and cheese that is just biding its time to be "elevated" into an exquisite luscious show stopper of a meal. The centerpiece of a comfy and quiet dinner made simply of a bowl of Mac and Cheese Soup. Ahhhhhh.
Imagine, the weather turns colder and nothing feels better than a hot, creamy, hedonistic and epicurian bowl of left-over mac and cheese soup while you curl up on the couch covered with your soft blanket and the TV turned to your favorite show. I don't want you to miss out on that kind of good time. So what am I gonna do? I really can't take responsibility for what you might do with this recipe.
I'll tell you what. I'm gonna show you how I make Mac and Cheese soup and then let you decide what you will do with your own leftovers. Be King (Queen) of your domain, I say. Perhaps your arteries are too big and you need something to help stop them up a little. I mean, let's think positively for once.
Besides, I can not help that I have been on a bender of fanatical "I've got to stop throwing food away" preoccupation lately. This fixation has allowed me to meet some really lovely people and has me thinking that I can create BRAND NEW RECIPES. (LAUGHING at SELF). So here is what happened….
This morning at 6:30 am the Loaves and Dishes kitchen was cranking with new found enthusiasm for this newly dreamed up recipe. (and 6:30 is the time because that is when sweet hubby walks out the door to work) – and you know, I have to keep up appearances. I let him think that I don't do anything all day (except work from home, go around in my pj's and track the interactions of the dog, cat and rabbit). But I had to wrap up this soup before I started my paying job at 7am. I smiled and waved good bye at the back door with my coffee cup in hand and as SOON as the backdoor banged closed on its frame, it was like an episode of my favorite food game show over here ya'll! Cheese, butter, garlic, onions and left overs went aerial as I zipped around the kitchen. And just as the iphone alarm sounded for me to run to the sun room to start the day job – the soup was done. 5, 4, 3, 2, 1. DING!
With that, my arms flung in the air and I scampered to the sun room. 7:01am – signed on! Hot soup on the stove top. BOOM!
So, if you are that person with the "Wide Load" arteries OR if, like me, you can't stand to see another left-over go in the trash, whip up some of this soup today. Believe me, you won't be sorry!
RECIPE TIPS FOR MAC AND CHEESE SOUP
This recipe is pretty versatile. I added two left over chicken breasts and about a cup of left over steamed broccoli and that turned this soup into a complete meal!
RECIPE INSPIRATION FOR MAC AND CHEESE SOUP
Ok, OK – so, I didn't look around on Pintrest until AFTER I was done creating this soup and I have to say, I was SHOCKED to learn that someone thought of this before me. I totally came up with this on my own and it made me MAD to see recipe after recipe for Mac and Cheese Soup. But just like someone said on a Food Blogger Pro Pod Cast I was listening to, "nothing in cooking is truely original, we all get ideas from here and there and so you should site where your ideas come from". All I can say is, I wish I knew and I really did make this one up out of thin air – and you haters who got this to press before me – I know who you are. lol.
I have told you these things, so that in me you may have peace. In this world you will have trouble. But take heart! I have overcome the world." ~ John 16:33
RECIPE FOR MAC AND CHEESE SOUP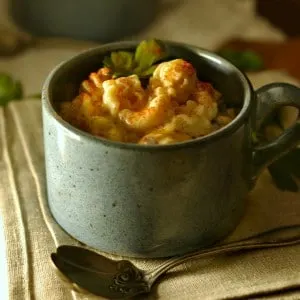 Mac and Cheese Soup
If you enjoy wrapping up in a blanket and snuggling on the couch then this is the soup for you!
Print
Pin
Rate
Ingredients
2

Tbs

unsalted sweet cream butter

½

onion chopped

2

cloves

of garlic

minced

1

quart

of chicken stock

3-4

cups

left-over Mac and Cheese

8

oz

Velveeta

or any processed cheese food really

½

cup

parmesan cheese

4

oz

cream cheese

½

cup

heavy cream

or whole milk – but you know, cream is creamier – you've gone this far, just go the rest of the way

Salt and pepper to taste

Smoked Paprika for garnish and parsley if you are in the mood
Instructions
In a heavy sauce pan melt the butter over medium heat on the stovetop. Cook the onions until translucent 3-4 minutes. Add the garlic and stir. Cook until fragrant – about 30 more seconds.

Add the chicken stock, stir in the mac and cheese. Add the velveeta, parmesan and cream cheeses. Stir occasionally until all are melted and mixed thoroughly. Add the heavy cream (or milk) and stir till heated through. Remove from the heat, add salt and pepper to taste. Serve. Garnish with smoked paprika and/or parsley. If you add in some left over protein (beans, chicken, pork, etc) and a veggie (broccoli, carrots, peas, etc) – then you have a complete meal in one bowl!
Notes
You'll want to start with an excellent recipe for mac and cheese , which you can find right here.
Nutrition
Nutrition Facts
Mac and Cheese Soup
Amount Per Serving
Calories 240
* Percent Daily Values are based on a 2000 calorie diet.