I know. I know. As you are reading this recipe, you are thinking, "My GOD, what is that woman trying to do to her family and guests with all of that cream, cheese, cream cheese and (gasp) cheese food?" In my own defense, I have to tell you, this began innocently enough many years ago- I was simply using up some things in my fridge and invented this recipe. And quite honestly, I have thought about not even sharing this recipe for the Best Ever Macaroni and Cheese with you because of the ingredients – knowing that someone would probably faint dead away at the site of such luxurious and indulgent ingredients. So – let me say – this was never ever intended as a diet food. I do not recommend eating more than a ⅓ Cup at any meal. However, if you want to be transported to macaroni and cheese heaven, my children say that this macaroni and cheese recipe will send you there.
When we have a family get together, I ALWAYS hear, "Mama, PLEASE make THE macaroni and cheese!!!" In fact, some of you have probably visited my site before looking for the Yum Yum Sauce, Shrimp Sauce, White Sauce – like you would get from a Japanese Restaurant? This macaroni and cheese is how I was able to trade for that recipe! Totally bribery of two chefs who came home with my daughter in search of "my mama's" macaroni and cheese. So – with that – I'll share the recipe – but there is more that I want to tell you – in the tips and tricks. More that I want to share about the background of this recipe- join me after the recipe for the "rest of the story".
THE RECIPE FOR THE BEST EVER MACARONI AND CHEESE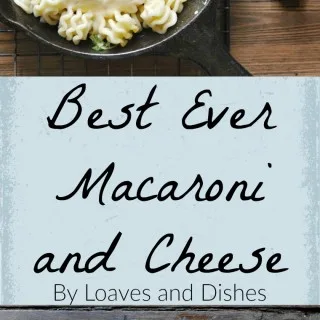 Best Ever Macaroni and Cheese
This recipe for the Best Ever Macaroni and Cheese is perfect for guests or family as a side dish or main dish. Keep in your kitchen arsenal. Kids love it. If you would like to know all of the tips and tricks for this recipe - please refer back to the post at www.loavesanddishes.net
Print
Pin
Rate
Ingredients
1

stick of butter

½

block

4oz cream cheese

1

cup

grated parmesan cheese

the real stuff is best - the green plastic can is ok.

1

Cup

heavy cream

4

oz

American Cheese Food

Velveeta cut into 1 inch cubes

4

oz

Sharp American Cheese

something like Cabots - grated.

1/2

tsp

onion powder

1/2

tsp

garlic powder

¼

tsp

fresh grated nutmeg

½

tsp

smoked paprika

salt and pepper to taste

1

lb

sometimes it is only 12 oz box of pasta - your choice in shape. We like Penne or Rotinni.
Instructions
Put a large stock pot of water on to boil - follow the box instructions for cooking the pasta - however, do not salt the water as heavily as the box instructs - just about ½ tsp is enough.

In a medium sauce pot (heavy bottom) over medium low heat, add the butter, cream cheese, parmesan, heavy cream, American Cheese food, onion powder, garlic powder, nutmeg and paprika and stir frequently until all is melted and thick. Add the Sharp American Cheese last and stir well. Turn the heat down to low until ready to serve.

When pasta is cooked, drain and then place in serving dish. Just as guests are ready to serve their plates, pour the cheese sauce over the pasta and stir. Serve immediately. The sauce becomes sticky and sinks to the bottom of the bowl after a few minutes, so, it is important not to put the sauce on until just ready to serve.
Notes
Choose different cheese for slightly different flavors.
Nutrition
Nutrition Facts
Best Ever Macaroni and Cheese
Amount Per Serving
Calories 330
* Percent Daily Values are based on a 2000 calorie diet.
TIPS AND TRICKS FOR THE BEST EVER MACARONI AND CHEESE
As the recipe says, do not put the sauce on the noodles until just ready to serve. Very important.

If you have to wait for a while to put the sauce on the noodles, the sauce could become a little 'over thick'. If this happens, simply add a little more cream and it will thin down.

You really can add just about any other cheeses besides the parmesan and the American Cheese Food – but you do NEED those two. Over the years, I have added Guyrere, Fontina, hoop cheese and others – all tasted great! Experiment some – no one will mind – they will be too busy gobbling it down. Just be forewarned – there is hardly EVER any of this left. If you have some left – make macaroni and cheese soup – YUM!

You can add some ham, peas or broccoli to this recipe – that is yummy too – but my family enjoys the unadulterated version.

Cook your noodles to "al dente" – I say this because the sauce is pretty heavy and you need the springiness of the noodles to handle the heavy sauce.

Serve this dish with something lighter – then no one has to feel like they are going so overboard on their diet by eating this.

Kids LOVE this dish.

If you don't have fresh nutmeg to grate – don't worry too much about it- just use the already prepared nutmeg – or don't use any at all – it simply adds some depth to the flavor.
RECIPE INSPIRATION FOR MACARONI AND CHEESE
I based this recipe off of my Fettuccini Alfredo sauce recipe – and simply changed out the cheeses for macaroni and cheese. Pretty simple. No secrets.
I hope you add this recipe to your kitchen arsenal. I find that this is one of my stock and standard recipes that is a never fail. It is easy and can be prepared in less than 30 minutes. Again, never meant to be a diet food – but is filling and so satisfying. A REAL COMFORT Food. Some day, I'll share my "grown up" mac and cheese recipe with you, which I love (my adult friends do to) – but the kids not so much ….. I guess because it is "grown up". lol
Be strong and courageous. Do not be afraid or terrified because of them, for the LORD your God goes with you; he will never leave you nor forsake you." ~ Deuteronomy 31:6