This post sponsored by Bertolli.
BUONE FESTE! No. 113 – Happy Holidays and Happy New Year!!! (Where did I learn that? – you will see). Imagine my Tuesday evening: The Time: 5:30 pm. I am Starving (or at least my stomach is saying so very loudly). I have made NO plans for dinner. I haven't even dreamed up Mushroom Bacon Calzone yet. Want to know why? Because a wonderful surprise happened! During my lunch break – when normally, of course, I plan our supper while I eat my lunch (doesn't everyone do this?), my new baby grandson stopped by for a visit! At this point in the story, I need to confess something. I have turned into THAT grandmother. The one with a phone full of pictures and stories of how smart the baby is. I won't make you suffer through that though. Anyway, because of celebrating the wonders of sweet baby right through my lunch break, I didn't plan dinner (and I wouldn't change a thing). Life is hectic and short, we have to seize the moment and enjoy what is in front of us!
Just a quick time out here, this post is sponsored by my new friends over at Bertolli. As always, all of the opinions and the recipe you find here is mine.
Thankfully, I had the perfect ingredients on hand to make a delicious, quick and easy dinner for the family which required no planning and was in the oven in about 15 minutes thanks to my new friends over at Bertolli. Mushroom Bacon Calzone is one of my quick "go to" recipes that you should put in your kitchen arsenal too. Stock up on a few pantry supplies and you are ready to bring Tuscany homemade flavors to your table in minutes, any time! Seriously, where in the world would you get 150 years of tradition like this anywhere else?
RECIPE FOR MUSHROOM BACON CALZONE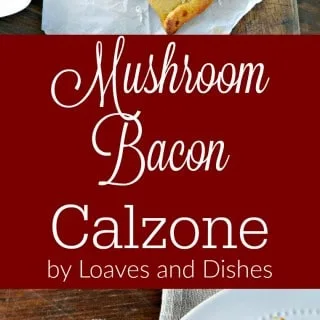 Mushroom Bacon Calzone
If you would like to read the tips and tricks for this Mushroom Bacon Calzone or if you would like to find other great recipes - I personally invite you back to www.loavesanddishes.net. Thanks!
Print
Pin
Rate
Ingredients
1

tbs

butter

10

quarter sized mushrooms

mix of buttons and baby bella's work best - sliced

1

clove

garlic - minced

½

large shallot - minced

salt and pepper

1

refrigerated "original" crust pizza dough

find with the refrigerated biscuits and crescent rolls

16

tsp

Bertolli's Riserva Marinara Sauce Plus more for dipping

4

strips cooked bacon - cut into bits

2

Cups

shredded mozerella cheese

4

slices

provolone cheese

1

egg - for egg wash - beaten

1

pinch

kosher salt

2

tbs

grated parmesan cheese
Instructions
Heat 1 tbs butter on the stovetop over medium heat in a skillet. Preheat the oven to 375. Once butter is melted, add the mushrooms, garlic and shallot to the pan. Cook until the mushrooms soften and the garlic and shallot are translucent and fragrant. Add salt and pepper to taste. Remove from the heat.

Open the can of pizza crust and unroll the crust so that the long side of the crust is facing you. Cut in half from top to bottom and again in half from side to side. Place a small amount of flour on a cutting board and roll the crust slightly to stretch the dough to a full 6x8 piece. (It will want to return to about 5x7 and that is ok). Lay out each of the pieces of pizza crust and apply 4 tsp of Bertolli Marinara to each one followed by ¼ of the bacon pieces, ¼ of the mushroom/garlic/shallot mix, ¼ of the mozzarella and one slice of provolone.

Using a pastry brush or finger tips, wet the edges of the calzone with water so that the dough will stick together well when folded. Gently fold the top half over the bottom half and using a fork, press the edges together well. Once pressed, roll the edges and pinch well.

Brush the top of the calzone with the beaten egg, sprinkle with kosher salt and a pinch of grated parmesan. Using a sharp knife, cut three vent holes in the top of each calzone. Gently place the calzone onto the prepared baking sheet and place in the oven, center rack on 375. Bake for 20 minutes and check. The calzone is done when the pastry is nicely browned and slightly crisp. Remove from oven, cool for 5 minutes and then serve immediately with Bertolli's Riserva Marinara for dipping.
Nutrition
Nutrition Facts
Mushroom Bacon Calzone
Amount Per Serving
Calories 300
* Percent Daily Values are based on a 2000 calorie diet.
TIPS AND TRICKS FOR MUSHROOM BACON CALZONE
You can use baking spray for the baking sheet or parchment. The parchment is easier.

Use Bertolli's Riserva Marina Sauce for this recipe, it really makes a difference. This sauce will make things taste just like homemade – which you know, I prefer.

It is REALLY super important to seal the edges of your calzone well – otherwise, you end up with an exploded and busted out side. The cheese gets out. I don't know about you, but I want my cheese INSIDE my calzone.

Store your leftover mushrooms in a paper bag Tip 30!

You do not have to brush the top of the calzone with egg – but trust me, it is much more appetizing that way. Same regarding the sprinkle of salt and the grated parmesan. I mean, let's celebrate life a little. Who celebrates with a plain calzone shell? Ummm… no one.

Pour yourself A LOT of sauce for dipping. YUM!
RECIPE INSPIRATION FOR MUSHROOM BACON CALZONE
Every time I come up with a recipe, I think I am a genius! Same this time. I didn't realize that Mushroom Bacon Calzone would be a thing until I searched for it later. Oh well. I made a Mushroom Bacon Pull apart bread about a year ago and was thinking about that when I created this Mushroom Bacon Calzone. Mushroom and Bacon are two great tastes together!
STEP BY STEP PHOTO INSTRUCTIONS FOR MUSHROOM BACON CALZONE