Sunday afternoon church basement carry in lunches – do you remember that one lady's Pecan Pie? Me too! This pie is it!
I am kind of at a loss as to what to say about this pie – because, well, its just that good. I'm kind of speechless.
I have made this pie for at least 20 years and it is a recipe that comes from a recipe that was given to my mother by Pauline Beard, one of the WONDERFUL cooks at the church where I grew up. (See – it really is old fashioned!) I have taken only a few liberties with the original recipe and it is – well, its simply delish. It's easy to make too.
You can make this one with your stand mixer- or you can simply mix it by hand – your choice. I have always mixed by hand – but this morning I used my stand mixer – and that made it even easier.
Have fun and enjoy this one with friends.
Let's eat ya'll!
But godliness with contentment is great gain. For we brought nothing into the world, and we can take nothing out of it ~ 1 Timothy 6:6-7
IF YOU ENJOY CHESS PIES (PECAN PIE IS A CHESS PIE) YOU MIGHT ENJOY THESE…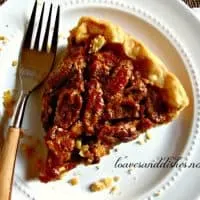 Old Fashion Pecan Pie
This delicious pie is the one you remember from your childhood!
Print
Pin
Rate
Ingredients
1

Cup

White Sugar

1

heaping Tbs flour

¼

tsp

salt

3

eggs – room temp

2/3

Cup

dark corn syrup

½

stick of butter – melted

1

tsp

vanilla

¾

Cup

pecan halves

¼

Cup

chopped pecans

1

unbaked pie shell
Instructions
Mix sugar, flour and salt thoroughly.

Add eggs one at a time and beat until mixed thoroughly but do not mix too fast.

Add corn syrup, melted butter and vanilla. Gently mix in the pecan halves and pieces. Pour into an unbaked pie shell .

Bake in the center of the oven at 350 for 55 minutes. The pie is done when the pie gently wiggles when the side of the pie pan is gently shaken. If the pie appears too loose when gently shaken, bake 5 more minutes at a time until done.
Notes
You can use half pecans if you want OR you can use chopped pecans OR use a mix of the two.
Nutrition
Nutrition Facts
Old Fashion Pecan Pie
Amount Per Serving
Calories 280
* Percent Daily Values are based on a 2000 calorie diet.
And for my faithful readers – a post blog dessert. This is Seymour. Seymour has been hanging around for about as long as this recipe. I gave Seymour to my mother as a mother's day gift when I was in college. Some years ago – my mother gave Seymour to me saying, "here you gave me this plant and it has taken over my sun room – I'm giving it back to you". Seymour was much much smaller when I originally gifted him! Anyway, Seymour shares my office now since the weather has turned cold. I'm ready for warm weather again so that he can go back on the deck!