This is a sponsored post by Collective Bias for Smithfield Pork. I'm going to admit it, right here, right now. Lately, I've been TIRED! I have been working hard and not feeling like cooking dinner. Yet, when I roll in the door, I really would like to have something tasty for dinner! I have a feeling that you might know exactly what I am talking about! It's probably verging on too much information to tell you what a mad house my place can be at dinner time. Instead, I'll just say, "Come on, let's throw this stuff on the grill and then let's put our feet up and rest, because I have the perfect recipe for this situation!" What we all need is MORE easy 30 minute recipes like Pork Pepper Kabobs Over Noodles! "Real Flavor, Real Fast"! It is even less than 30 minutes if you do your prep ahead of time!
As you know, we get right to the recipe here at Loaves and Dishes and today is no different. So, get right on in there and grab this recipe and then head on over to WalMart, like I did and pick up your Smithfield® Marinated Fresh Pork. I used the Smithfield® Portobello Mushroom Loin Filet which IS 100% pork. Since you recipe seekers are here just for the recipe, I would be remiss if I didn't show you EXACTLY where in the store I picked up this delicious Smithfield® Marinated Fresh Pork Filet. At MY WalMart, it was a little difficult to find! Look in the fresh meat section – with the other pork cuts – but in MY WalMart, the Smithfield® Marinated Fresh Pork was in a separate case near the poultry. Keep looking at your WalMart store, you will find it! If you are having trouble, ask the butcher.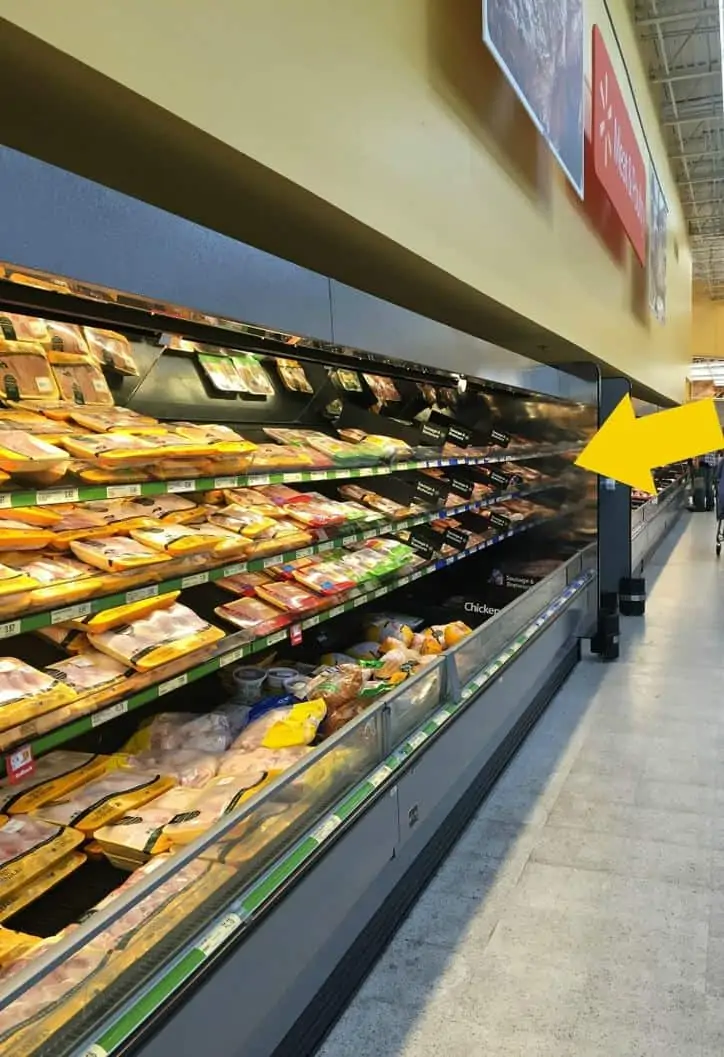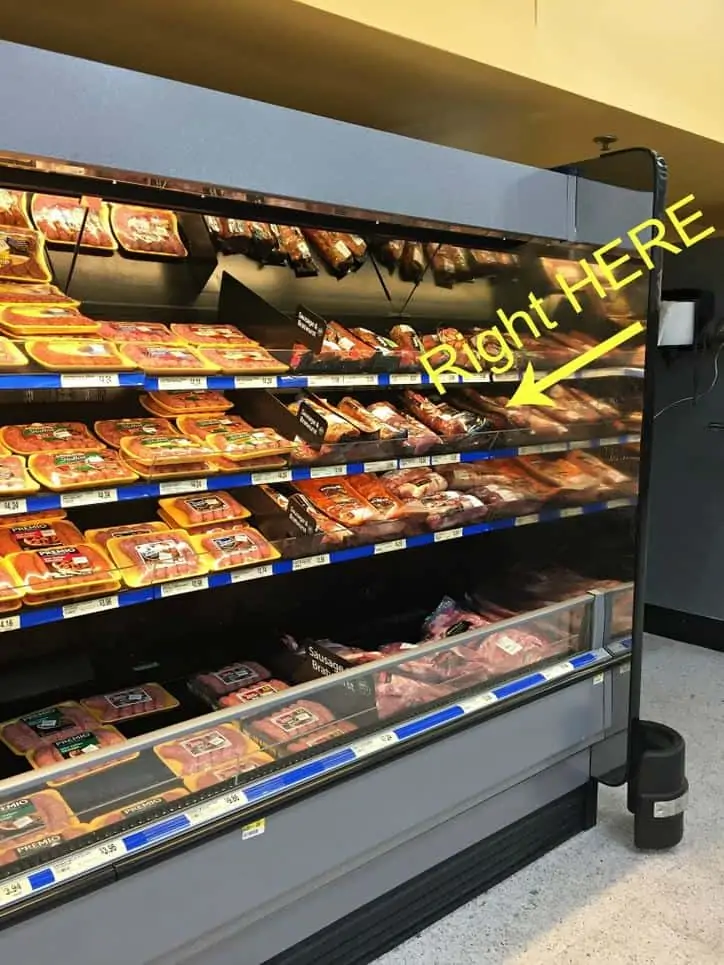 THE RECIPE FOR PORK PEPPER KABOBS OVER NOODLES

Pork Pepper Kabobs
If you enjoyed this recipe for Pork Pepper Kabobs, please visit us again at Loavesanddishes.net
Print
Pin
Rate
Ingredients
1

Smithfield® Marinated Fresh Pork Portobello Mushroom Filet - cut into 1 inch cubes

1

Green bell pepper - cut into 1 inch squares

1

Yellow Bell Pepper - cut into 1 inch squares

1

Red Bell Pepper - cut into 1 inch squares

1

Small sweet onion - cut into quarters

1

large Portobello Mushroom head

about 4 inches in diameter - cut into 1 inch cubes

3

Tbs

soy sauce

Kosher salt

4

Tbs

Olive oil

½

Stick unsalted Butter

4 Tbs

2

large cloves of garlic - minced

1

tsp

capers - drained

Spaghetti Noodles - enough for 6 people - cooked per package instructions

6-10

cherry tomatoes

halved.

Parmesan Cheese - grated - as garnish

Basil - cut chiffonade - as garnish
Instructions
Put on a large (5-6 quarts) stock pot of water over high heat for the spaghetti noodles. Turn the grill on medium and allow to heat. Cut all of your veggies and meat. (This is the step that takes the longest - if you do this ahead as prep - in the morning or the night before - then your dinner will be ready in minutes!). Cut the mushrooms first and while you are cutting everything else, sprinkle the soy sauce onto the mushroom gills and sprinkle with a small amount of kosher salt. Place the ½ stick of butter, the minced garlic and capers in a small sauce pot and place on low heat on the stove (if you are using an older pot that isn't that important to you, you can simply place the butter on the grill with your skewers - but this could lead to your pot getting smoked - which isn't so pretty and can be difficult to remove).

Once all of the veggies and meat are cut into cubes, slide them onto a skewer alternating as you go, meat, mushroom, bell peppers, onion, repeat.

Once all of the skewers are made, sprinkle with olive oil (to help keep from sticking to the grill). Sprinkle with salt and pepper. By the time you have done all of this, your water should be ready for the spaghetti noodles. Put the noodles in to cook and put the meat/veggies on the grill. Allow the skewers to cook for about 6 minutes on one side and then flip. (Don't forget to stir the spaghetti noodles). Cook for another 5 minutes and remove from the grill and place on a platter. Place tin foil tented over the top and allow to rest for 5 minutes. Your spaghetti should be ready at about the same time as the skewers, pour the noodles into a colander and drain. Remove the butter from the stove top.

Once everything is removed from the heat, you are ready to serve! Serve the skewers with the noodles and offer the butter as a sauce! Garnish with the fresh cherry tomatoes, Parmesan and basil.
Nutrition
Nutrition Facts
Pork Pepper Kabobs
Amount Per Serving
Calories 280
* Percent Daily Values are based on a 2000 calorie diet.
TIPS AND TRICKS FOR PORK PEPPER KABOBS OVER NOODLES
Make sure to cut your pepper pieces and your onion pieces all about the same size so that they cook evenly

The Smithfield® Marinated Fresh Pork Filets are already marinated, so there is no reason that you should need to add a rub or marinade! It is all IN THERE!!! YAY!

As you know – if you love tomatoes like I do – a good one can be almost impossible to find this time of the year! I use the cherry tomatoes, roma tomatoes or sometimes I can find a good hothouse tomato. You just have to be on the lookout! The good news? Garden tomatoes are JUST AROUND THE CORNER!

The OTHER good news? This IS TOTAL comfort food – it is filling and yummy. However, it is also nutritious and super easy to fix!

When you open Smithfield® Marinated Fresh Pork Filets

there is A LOT of marinade in the package – make sure you open it over the sink or you might have a mess.

These Smithfield® Marinated Fresh Pork Filets are really good! I am pretty excited to try another one! I noticed when I was picking mine out that they are available in a BUNCH of flavors.

Let's talk leftovers for a minute. This one Pork Pepper Kabob dish is WAY MORE than Mr. Loaves and Dishes and I can eat in one meal! I know this will freeze well. Some of these kabobs might end up in the freezer for a super quick meal in the coming few weeks.

Since my hens have been laying eggs on overtime, don't be surprised if you see this pork, peppers and onions turned into a quiche a little later this week too! Oh boy! Now, I'm kind of excited to taste that delicious combo of soft eggs, yummy cheese and these skewers. YUM! I've also been thinking that the leftover kabobs would make excellent ingredients to include in eggrolls, tacos, burritos, salads and even could be created into a pork salad (like chicken salad – only using pork instead!). Lots of ways to use these leftovers.

If you are having any problems with those Bell Peppers, Doug the Kitchen Professor did a guest host spot here a few months ago and covered how to slice a Bell Pepper and you can find that HERE.
OTHER STUFF BESIDES PORK PEPPER KABOBS OVER NOODLES
I often write these posts and say something about how crazy it is at my house. There's no telling what you must think. I know I sound like my mother whose favorite saying is "Don't ever retire because you will be busier than you were when you were working". She is probably right, but I would like to test it! lol.
I know young families have a lot to do, but when does it slow down? Around here, even though our children are getting older, there is always more and more to do. For example, Sarah is getting ready to graduate. My youngest will graduate next year. We had ALL THE KIDS (in the neighborhood) here this weekend before for prom. I really do mean ALL THE KIDS. If you know a kid who lives in the Piedmont of North Carolina, then he and she were at my house squealing, laughing, eating and getting ready. The garden needs to be planted. The horse is CONTINUALLY breaking out of her pasture. The chicken coop needs to be cleaned out. The attic is overrunning and needs to be cleaned out. See what I mean? Let's don't even start talking about home repairs – because I've got painting, yard work, floors to be refinished, and on and on.
So, how do you handle things at your house? How do you make time? I cut corners on the laundry – I keep promising that one day I will show you a picture of my laundry pile just to scare you. It hides behind my bedroom door where no one can see it – except me and Mr. Loaves and Dishes. It is starting to threaten me while I sleep. In fact, if I stop showing up here – you might want to send me an email just to make sure that it didn't actually get me. Send a search party to my bedroom – have them be very careful near the bedroom door.
Anyway, the comment section is down near the bottom of the page, I hope you will share with me how you save time and what is important or just not important at all to you (like my laundry pile).
I'll see you next time. Save a little time with these Kabobs, put your feet up and relax some! The laundry can wait!
I can do all things through Christ who strengthens me. ~ Phillipians 4:13.