This is the easiest and most American take on Chicken Curry you will ever try! Pressure Cooker Chicken Curry is so simple and easy to do, besides, this Americanized dish is one that nearly everyone will love! Ready in literal minutes!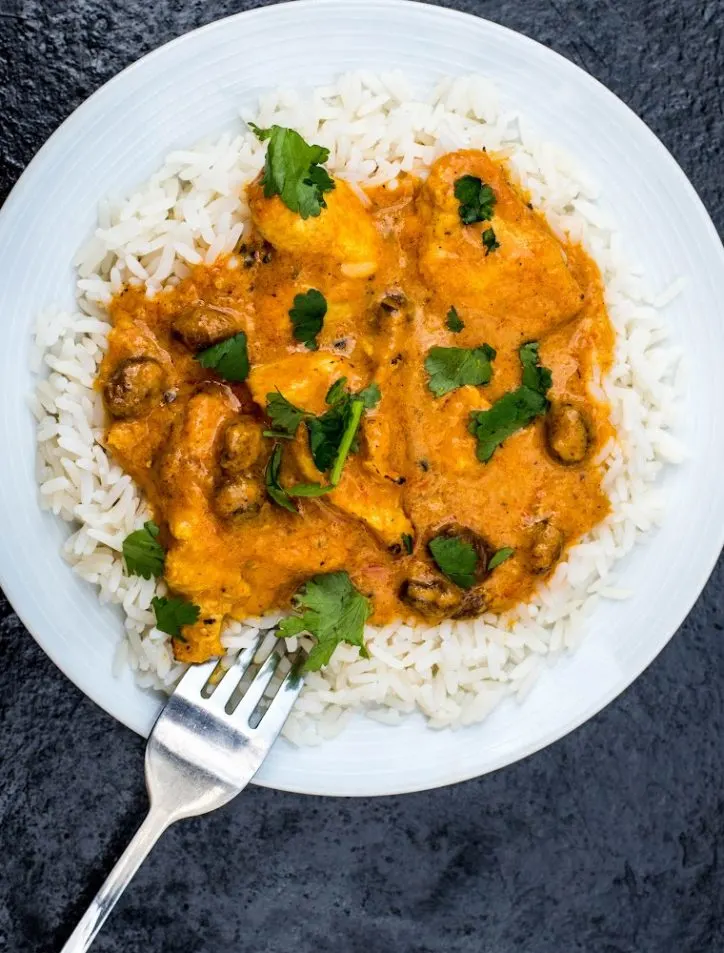 Pressure Cooker Indian Curry
A super simple, throw it all in, set the pressure cooker and walk away recipe!
Just serve it over rice, mashed potatoes, baked potatoes or even noodles.
Sprinkle a little something green and fresh over the top and watch everyone gobble it down!
Just so you know, a REAL Chicken Curry involves a BUNCH of ingredients and it takes quite a bit longer to cook. In this instance, I'm giving you the basics that will match the flavor with a western twist so I know you'll find it enjoyable.
No sweat there. Your family will gobble up each and every bite. Just like they did with that Honey Mustard Curry Chicken I showed you last summer but this one is even easier!
Here's What You'll Need

Chicken Thighs – Cut into 1-2″ chunks, it adds a deep flavor. Feel free to use breast instead but if you do, increase the curry powder by 1/2 and the butter x 2.
Curry Powder – if you don't want to go heavy on a hot spice, then avoid the spicy curry and go with a regular mild curry like you'll find at most American groceries. Badia makes a good mild inexpensive version.
Fresh ginger – just the right touch of fresh flavor.
Garlic Powder – for an added punch of flavor.
Onion Powder – a familiar tang
Full Fat Coconut Milk – gives a light creaminess.
Chicken Broth Concentrate – for deep chicken goodness.
Frozen Baby Peas – wonderful freshness and color (and is available at my grocery even when cilantro isn't).
Salt and Pepper – to taste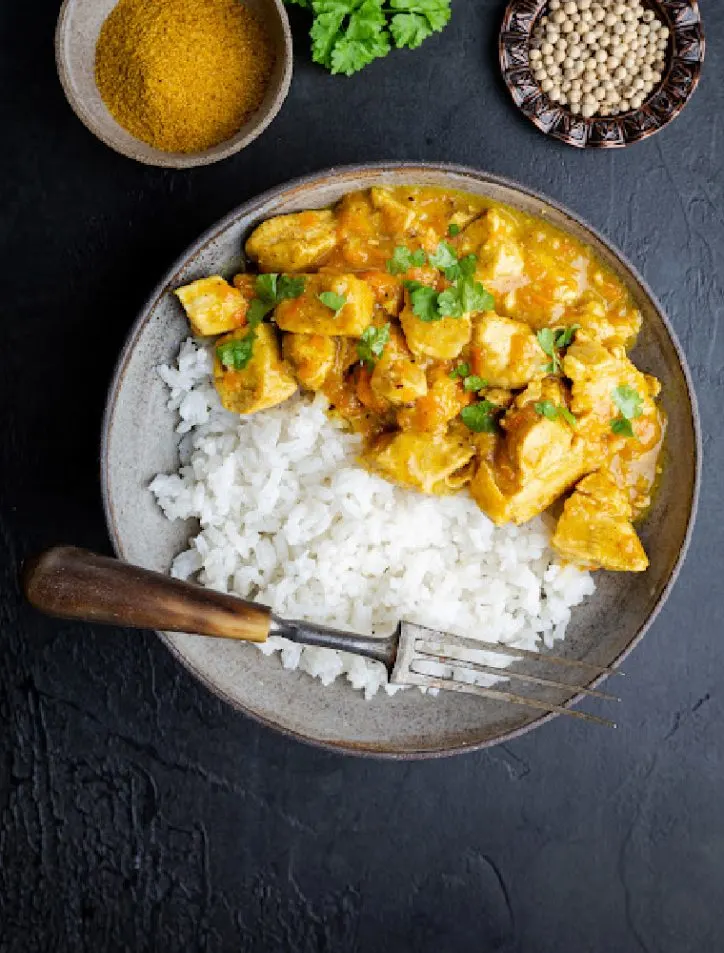 Here's How To Do It
Put it all in the pressure cooker and bring to full pressure to cook for 10 minutes.
Allow a natural release.
Serve hot over a bed of rice, potatoes or noodles. You won't be sorry.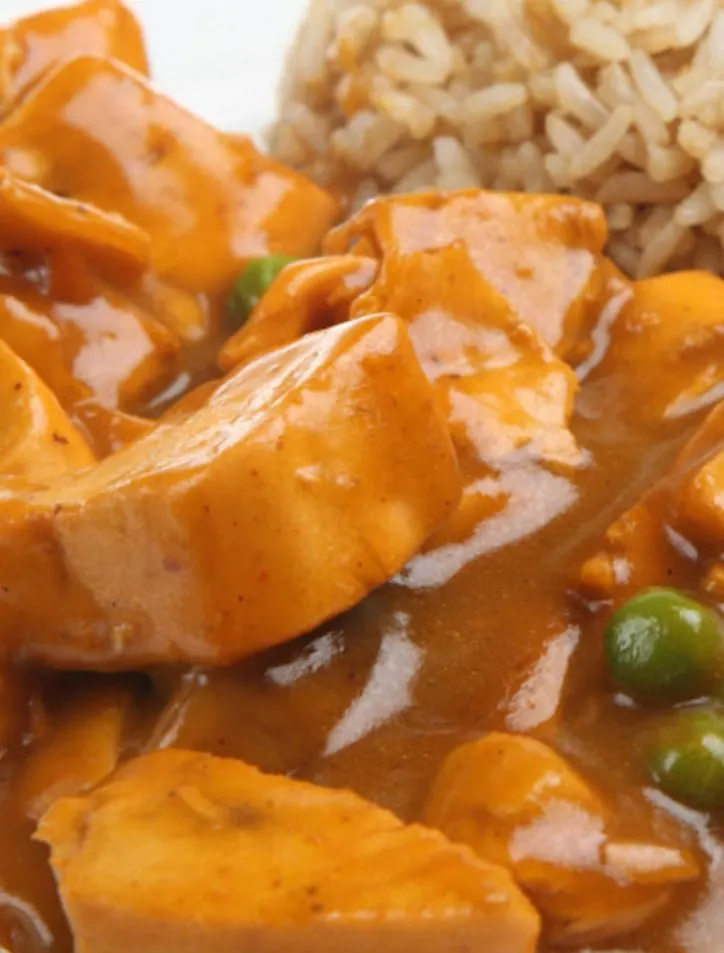 How To Do It in an Instant Pot
Add the ingredients to the Instant Pot Pressure Cooker just as described in the recipe. See Recipe Notes for instructions related to size of pressure cooker.
Select Manual
10 minute Cook.
After timer goes off, wait for the instant pot to give you the little tune that says that it is all done and the pressure has fully released.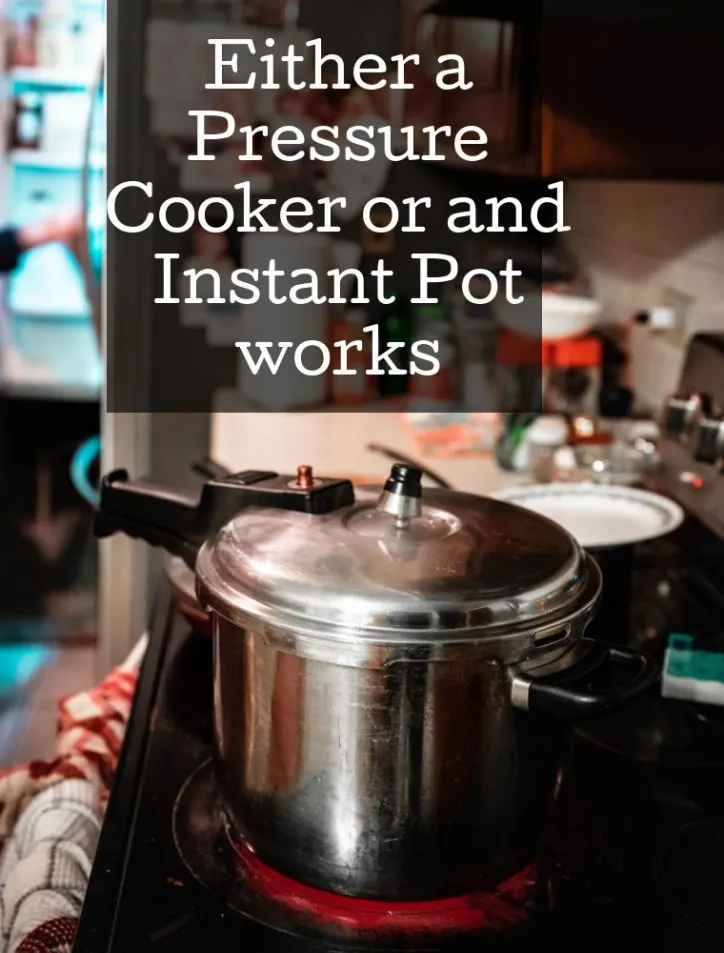 Tips and Tricks for Perfect Pressure Cooker Chicken Curry
Cut your chicken into even sized pieces – about 1-2″ each.
Use boneless skinless thighs because they are the most forgiving and flavorful in the pressure cooker.
It's fine to substitute a butter substitute for the whole butter in this recipe.
Use full fat coconut milk. Shake it very well first, otherwise it will have a big ol chunk of coconut fat in it. Just a note that you won't be using the entire can.
Use tomato paste in a tube (like toothpaste) for the most economical use. However, it is the same thing as what is in the little tiny can, so either works.
If you don't have the bouillon concentrate, then use a bouillon cube and do not add salt until you can taste it at the end and then add salt to taste.
In most pressure cooker recipes, you need to add water, however, because you are adding the coconut milk, you do not need to add any extra water. If you want it to be a little thinner at the end, add more of the coconut milk that is left in the can.
Watch Me Make It
Frequently Asked Questions (FAQ's)
Is There a Difference Between Chicken Curry and Curry Chicken?
Yes, actually, there is. Chicken curry is like a gravy with cut up pieces of chicken in a gravy like sauce. Curry Chicken is chicken with a curry seasoning.
Is this a Jamaican Dish or an Indian Dish?
It's neither if you want to know the truth. This is a dish bent so far towards my own southern tastes that it doesn't really resemble where it came from to start with. But isn't that the beauty of cooking? We share and use bits and pieces from here and there to make our own unique dish? I mean, nothing is much more southern than a rice and gravy dish, right?
Is this a good recipe if I've never used Curry before?
The best.
Why is it so yellow?
Because curry has turmeric in it and that turns everything yellow – so be sure to avoid getting it on you while cooking! It does stain clothes and sometimes counter tops and I've even stained my cutting board.
If You Enjoyed This Recipe, You Might Also Enjoy…
How to Cook Chicken In the Pressure Cooker
Pressure Cooker Chicken Essence
Can You Give Me A Hand?
Please leave a 5 STAR comment in the comment section below, that helps others to find the recipes at Loaves and Dishes.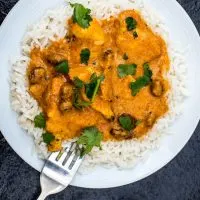 Pressure Cooker Curry Chicken
This flavorful Chicken Curry recipe is a winner for a Western Curry flavor! It's mild, creamy coconut curry sauce is made with just 6 ingredients, It's unbelievably simple, easy and ready in minutes when you use your pressure cooker!
Print
Pin
Rate
Ingredients
1

lb

Chicken Thigh

Cut into 1-2" pieces

1

tbs

butter

1

Tbs

garlic powder

If you prefer a less garlic forward dish, then decrease to 1-2 tsp garlic powder or you can substitute 3 cloves minced fresh garlic

1

tsp

onion powder

substitute 1/2 chopped fresh onion

2

inch

fresh ginger

minced or grated. Do not substitute ground ginger powder.

3

tsp

curry powder

use mild if you don't want it to be spicy.

1

cup

coconut milk

use full fat variety, shake well and incorporate the coconut fat. Reserve remainder of can, you may want to add some at the end.

1

tsp

chicken stock concentrate

substitute bouillon cube if you must, but leave off the salt until the end and then just add to taste

1/2

tsp

salt

check salt content of your curry powder, if it has salt, leave this off until the end and then just add to taste.

1/2

tsp

black pepper

2

Tbs

Tomato Paste

Can substitute 1/2 cup diced tomato, drain well.

1

Cup

Frozen baby peas

Optional: Do not add to the pressure cooker until after pressure cooking is complete or the peas will disintegrate.
Instructions
Chop the chicken into bite size pieces. Add everything to the pressure cooker except the peas and green onion (unless your curry powder has salt, in which case, leave that off too).

Pressure cook on high pressure for 10 minutes and allow a natural release.

As soon as natural release occurs, add the baby peas and stir well. Serve by sprinkling green onion over the top for garnish. Serve hot over rice, potatoes or even noodles. Add the reserved coconut milk as a drizzle or to slightly thicken your curry if it isn't thick enough.
Notes
The baby peas add color and flavor, if you don't like peas or prefer a different vegetable, simply cut small and add at the end. Frozen veggies are already cooked and can simply be heated.
Traditional dishes are garnished with cilantro, but if your grocery is like mine, finding cilantro is iffy at best so that's why I used the peas here.
I use chicken thighs in this recipe because they tend to have more flavor and are more juicy and forgiving with cooking.
You can use this recipe with other proteins like chicken breast or thin cuts of beef. You will want to increase the curry powder by 1/2 and will need to add a little more butter as well.
If you prefer curry to be more spicy, either use a spicy curry powder or add cayenne powder. Start with 1/4 tsp and increase according to your tastes.
Use the full fat coconut milk for the most flavor. If you have never used coconut milk before, be sure to shake it well before opening the can. You may notice that the fat is in a chunk inside the can. If you see this, it's ok, just break it up as best you can with a spoon. It will melt into the sauce in your pressure cooker as it cooks.
Our family enjoys this recipe best served over rice. If you have access to a flat bread, that works best as well. You can also try it over a baked potato or noodles!
***IMPORTANT NOTE**** These instructions are written for a 6 quart pressure cooker, if using larger, add 1/2 cup of water or stock to your recipe (in addition to the coconut milk)
PRO TIP: If you've never tried curry before, this is a good Americanized dish that you will enjoy. If you already know that you love curry, add more of the curry powder (about 1/2 as much more) and it will have a stronger flavor and go with the full garlic powder in the recipe.
Nutrition
Nutrition Facts
Pressure Cooker Curry Chicken
Amount Per Serving
Calories 409
Calories from Fat 279
% Daily Value*
Fat 31g48%
Cholesterol 111mg37%
Sodium 586mg24%
Potassium 586mg17%
Carbohydrates 11g4%
Protein 22g44%
Vitamin A 514IU10%
Vitamin C 17mg21%
Calcium 46mg5%
Iron 4mg22%
* Percent Daily Values are based on a 2000 calorie diet.
Sometimes you have to read the entire verse and then go back and read the whole chapter.
1 Corinthians 11: 11-12
Nevertheless, in the Lord woman is not independent of man nor man of woman; for as woman was made from man, so man is now born of woman. And all things are from God