Come on ya'll! It's Time to make WHOOPIE! (PUMPKIN SPICE WHOOPIE COOKIES, THAT IS!) 'Cause, you know, pumpkin spice everything! These cookies are full of that pumpkin flavor WE love and are SO EASY to make you won't even believe it.
Here is what happens when you make WHOOPIE the Loaves and Dishes way…..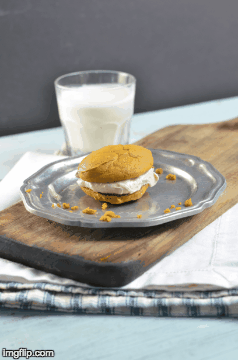 All members of my, "Bring on Pumpkin Spice" Fan club have sampled these cookies and all tests have been passed. Just bring your hungry mouth right on over here for a full flavor wallop of pumpkin spice in a whoopie cookie form. Son in law said, "Know what was even more addicting? The plain cookies with no cream on them". Which is strange since they are pretty low in the sugar department. But there you go.
In an effort at absolute transparency, I'm gonna share with you what my sweet hubby told me after dinner. "That cookie I ate before dinner is making me feel bloated and making my belt tight." Never mind the full plate of BBQ, baked potato, beans and huge roll he ate for dinner on top of the cookie- surely it was the cookie. So, consider yourselves warned. Words directly out of the mouth of Sweet Hubby, Mr Loaves and Dishes.
THE RECIPE FOR PUMPKIN SPICED WHOOPIE COOKIE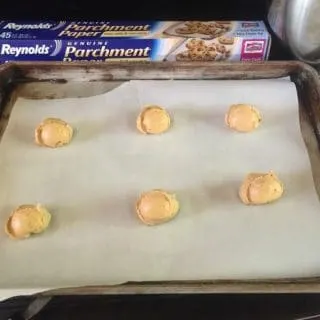 Pumpkin Spice Whoopie Cookies
If you enjoyed this recipe and want more good stuff to get in your mouth, visit www.loavesanddishes.net
Print
Pin
Rate
Ingredients
For the Cookie
1

Can Canned Pumpkin

not canned pumpkin pie mix - just straight up pumpkin

⅓

Cup

Butter - softened to room temp

1

box spice cake mix

The one I got was Duncan Hines

2

eggs

⅓

cup

whole milk
For the Icing Filling
2

Cups

powdered sugar

1

tsp.

ground cinnamon

1/2

tsp

ground nutmeg

6

oz.

cream cheese

room temperature.

4

Tbs.

unsalted butter

1 stick, room temperature
Instructions
Preheat the oven to 375. Line a cookie sheet (you are gonna want to have two of these) with parchment paper or silpat mat. In a large mixing bowl (I used my Kitchen Aid mixer, but you could also use a hand mixer) on medium speed beat pumpkin and butter till smooth. Add the cake mix, eggs and milk and beat on a low speed until combined and then turn up to a medium speed for 1 minute.

Scoop by even heaping tablespoons onto the cookie sheet. I used a little kitchen scoop for this to make sure that I got equal amounts of batter for each cookie.

Bake for 15 minutes, remove from the oven and allow to cool for a few minutes and then remove to a wire rack to finish cooling. While that is cooling, switch to your other cookie sheet to bake the next round.

Once all cookies are baked, mix up the icing. Simply place all ingredients in a large mixing bowl and using a hand mixer or a stand mixer, mix on medium low until well blended and fluffy. Using a Tablespoon, spoon a heaping amount on the bottom of one cookie and then use the bottom of another cookie as a lid. Serve. Offer these with a napkin - they get a little messy sometimes.
Notes
Pumpkin spice whoopie cookies
Nutrition
Nutrition Facts
Pumpkin Spice Whoopie Cookies
Amount Per Serving
Calories 200
* Percent Daily Values are based on a 2000 calorie diet.
TIPS AND TRICKS FOR PUMPKIN SPICE WHOOPIE COOKIES
Use two cookie sheets so that the first one can cool off while you are cooking with the second one. If you try to put cookie batter on a hot cookie sheet – that never turns out well. Trust me.

I only had to bake mine exactly 15 minutes and they were perfect. I have a far from perfect oven – so, as long as they are not jiggly anymore, you are fine. They will burn easily – so set an alarm and take them out at 15 minutes.

Don't try to take them right off of the cookie sheet – let them set for a minute to cool slightly.

If they seem to stick to the parchment paper at all (mine didn't) then get a new piece of paper before you make more.

The icing is seriously sticky – always serve these with a napkin – unless you don't like the person you gave one too – and make sure they aren't eating it inside your house. Send them to their car so that they will get the nobs of their radio sticky.

Only give these to kids if you like to experience small children on a sugar rush. If you don't, give them the plain cookies – they don't have much sugar at all.

These are in danger of being counter surfed by the dog – just saying. That bad Pete.

The scoop I use for these things – and for most every other thing like this in my kitchen is this one. Well worth the purchase price. I bought mine at a yard sale – but I thought you would want to know what I am talking about.
***CLICK THE PHOTO IF YOU WOULD LIKE TO BE TAKEN TO AMAZON TO CHECK OUT THIS SCOOP*****
I do receive a small single digit percent commission on the purchase price of any items purchased this way through this site. In the life of Loaves and Dishes, I haven't even earned the baseline of $25 for them to send me a check though, however, if they ever do – you need to know, I will tithe 10% and the remainder will go to support this website.
PHOTO PROCESS FOR PUMPKIN SPICE WHOOPIE COOKIES
CREDIT FOR THE WHOOPIE COOKIE RECIPE
The recipe for the actual cookie comes from a magazine cut out that I got at an estate sale. What a magnificent day that was! Anyway, I do not know what magazine it came from. I don't know how old it is – but judging from the yellowed magazine paper – I'm gonna guess, old. I wrote about that treasure trove activity HERE.
The recipe for the icing is my own and is similar to the icing recipe that I used on my son's wedding cupcakes. You can find that recipe HERE.
A VERSE TO SHARE
Remember last time we talked about worrying? I told you about how I learned to chant the Lord's Prayer for my own nervous peace? I finally came to the understanding of what Matthew is telling us here through Jesus' words. What a great comfort. "Jesus loves me, this I know, for the Bible tells me so".
30 But if God so clothes the grass of the field, which today is alive and tomorrow is thrown into the oven, will he not much more clothe you, O you of little faith?31 Therefore do not be anxious, saying, 'What shall we eat?' or 'What shall we drink?' or 'What shall we wear?' 32 For the Gentiles seek after all these things, and your heavenly Father knows that you need them all. 33 But seek first the kingdom of God and his righteousness, and all these things will be added to you.
34 "Therefore do not be anxious about tomorrow, for tomorrow will be anxious for itself. Sufficient for the day is its own trouble.